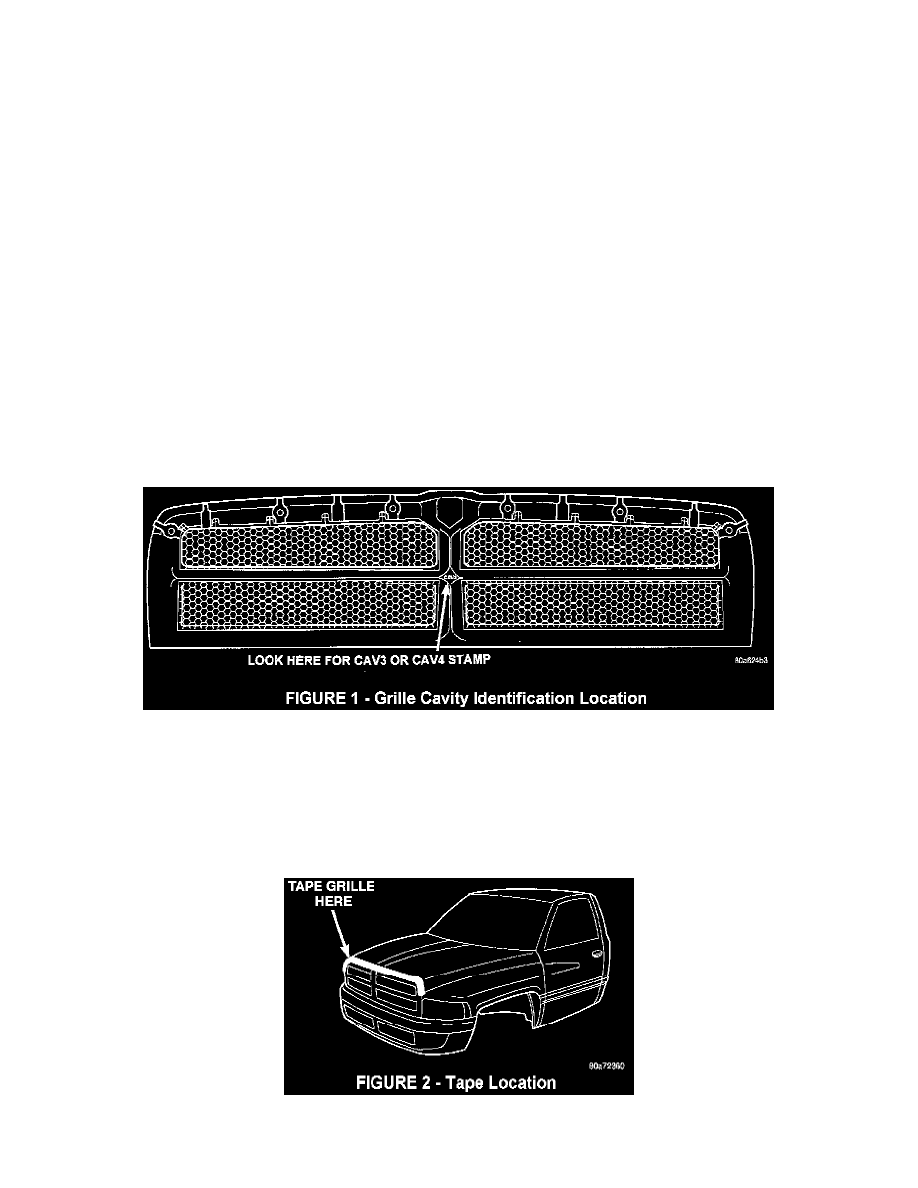 Grille: Customer Interest
Hood/Grille - Wind Noise at Highway Speeds
NO: 23-25-97
GROUP: Body
DATE: May 2, 1997
SUBJECT: 
Windnoise (Whistle) Around Grille Area
THIS BULLETIN SUPERSEDES TECHNICAL SERVICE BULLETIN 23-27-96, DATED APR. 19, 1996, WHICH SHOULD BE REMOVED FROM
YOUR FILES AND NOTED IN THE 1996 TECHNICAL SERVICE BULLETIN MANUAL (PUBLICATION NO. 81-699-97010). 1997 VEHICLES
HAVE BEEN ADDED TO THE MODEL LIST AND VEHICLES UTILIZING CAVITY 4 GRILLES ARE NOW INCLUDED. ALL REVISIONS
ARE HIGHLIGHTED WITH **ASTERISKS**.
MODELS: 
1996 - **1997** (BR) Ram Truck
SYMPTOM/CONDITION:
Vehicles may exhibit a condition where a windnoise whistle occurs from the front of the vehicle. This condition can occur while driving the vehicle at
highway speeds between 45 - 65 mph or at slower speeds when driving into a headwind.
DIAGNOSIS:
Check the cavity number on the back side, center of the grille (Figure 1). If CAV3 or **CAV4** is stamped on the grille, continue on with the diagnosis.
If CAV3 or CAV4 is not stamped on the grille, then the grille is not the likely source of the windnoise.
NOTE: 
THIS REPAIR WILL NOT CORRECT THE ABOVE CONDITION IF CAV3 OR **CAV4** IS NOT STAMPED ON THE GRILLE.
Test drive the vehicle between 45-65 mph in non-turbulent conditions (not in another vehicles wake). Verify that the windnoise whistle occurs from the
front of the vehicle.
Tape the hood-to-grille gap as shown in Figure 2.