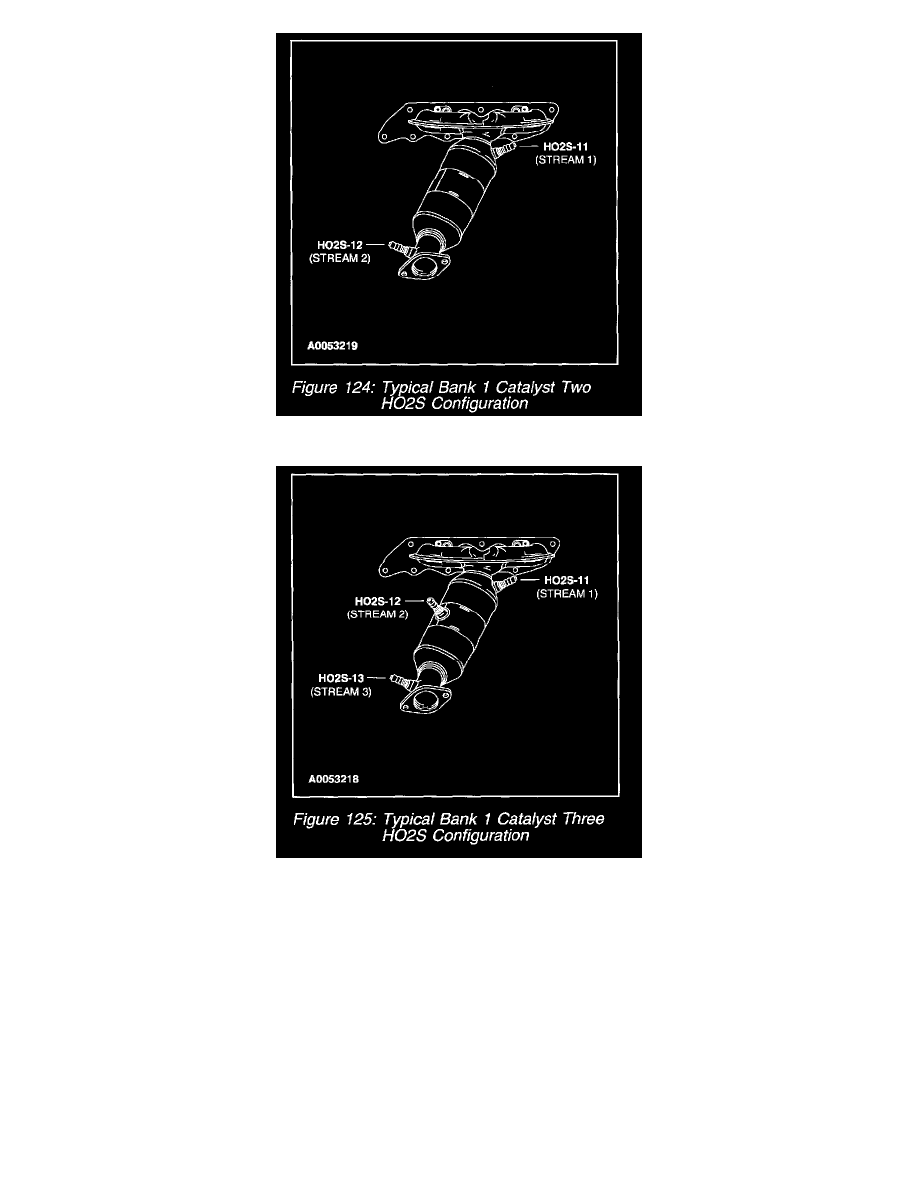 Typical Bank 1 Catalyst Two HO2S Configuration
Typical Bank 1 Catalyst Three HO2S Configuration
The purpose of the exhaust system is to convey engine emissions from the exhaust manifold to the atmosphere. Engine exhaust emissions are directed
from the engine exhaust manifold to the catalytic converter through the front exhaust pipe. An HO2S is mounted on the front exhaust pipe before the
catalyst. The catalytic converter reduces the concentration of carbon monoxide (CO), unburned hydrocarbons (HCs) and oxides of nitrogen (NOx) in
the exhaust emissions to an acceptable level. The reduced exhaust emissions are directed from the catalytic converter through another HO2S mounted
in the rear exhaust pipe (Figure 124) and then on into the muffler. Lastly, the exhaust emissions are directed to the atmosphere through an exhaust
tailpipe.
Note on some Partial Zero Emission Vehicles (PZEV), there will be a total of 3 HO2S in the exhaust stream. One near the exhaust manifold (stream
1), one in the middle of the light-off catalyst (stream 2) and the third (stream 3) is mounted after the light-off catalyst (Figure 125).
Underbody Catalyst
The underbody catalyst is located after the light off catalyst. The underbody catalyst may be in-line with the light off catalyst, or the underbody
catalyst may be common to two light off catalysts, forming a "Y" pipe configuration. For an exact configuration of the catalyst and exhaust system for
a specific vehicle, refer to the Exhaust System for that vehicle.