< PREV PAGE
NEXT PAGE >
H3 L5-3.7L (2007)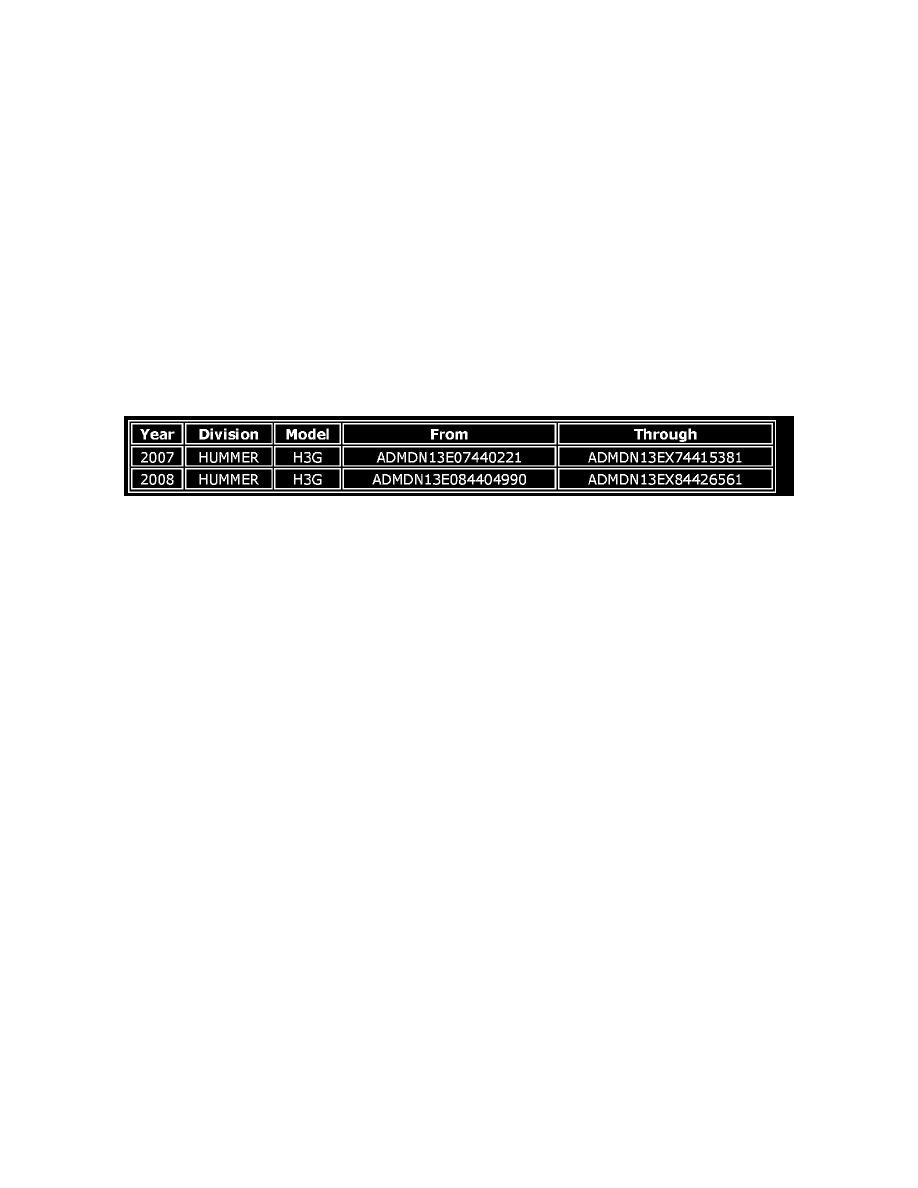 Technical Service Bulletin # 07348
Date: 080402
Campaign - EBCM Reprogramming (Export Vehicles Only)
# 07348: Customer Satisfaction - HUMMER H3G ECBM Programming (Export)
(Apr 2, 2008)
Subject: 
07348 -- HUMMER H3G ECBM Programming
Models: 
H3G MY08 
H3G MY07
Condition 
When driving at approximately 60 Km/h and swaying the vehicle abruptly from side to side as if avoiding an obstacle, the stability control light
illuminates and warns of a traction failure and logs DTC C-0550. When this occurs that stability control ramps down. This is re-activated at the next
ignition cycle. No loss of normal braking is experienced.
Reprogramming of the Electronic Brake Control Module. (EBCM).
Vehicles Involved
Involved are certain 2007-08 model year HUMMER H3G built within the VIN breakpoints shown.
Important:
Dealers/retailers are to confirm vehicle eligibility prior to beginning repairs by using the system(s) below. Not all vehicles within the above
breakpoints may be involved.
For dealers/retailers with involved vehicles, a listing with involved vehicles containing the complete vehicle identification number, customer name, and
address information has been prepared and will be provided through the applicable system listed below. Dealers/retailers will not have a report available
if they have no involved vehicles currently assigned.
-- Export dealers - sent directly to dealers
The listing may contain customer names and addresses obtained from Motor Vehicle Registration Records. The use of such motor vehicle registration
data for any purpose other than follow-up necessary to complete this program is a violation of law in several states/provinces/countries. Accordingly, you
are urged to limit the use of this report to the follow-up necessary to complete this program.
Parts Information 
Do not attempt to order the calibration number from GMSPO. The calibration numbers required for this service procedure are programmed into control
modules via a Techline Tech 2(R) scan tool and TIS 2 WEB website with the following calibration updates:
2007/2008 HUMMER H3G: Use data version 12.5 for 2007 or later, available on TIS 2 Web 12/17/07; Calibration File Name = 24300635
If you cannot access the calibration, call the Techline Customer Support Center and it will be provided.
Courtesy Transportation 
The General Motors Courtesy Transportation program is intended to minimize customer inconvenience when a vehicle requires a repair that is covered
by the New Vehicle Limited Warranty. The availability of courtesy transportation to customers whose vehicles are within the warranty coverage period
and involved in a product program is very important in maintaining customer satisfaction. Dealers are to ensure that these customers understand that
shuttle service or some other form of courtesy transportation is available and will be provided at no charge. GM Dealers should refer to the General
Motors Service Policies and Procedures Manual for Courtesy Transportation guidelines.
< PREV PAGE
NEXT PAGE >