Bumper - Test Label, Hawaian Vehicles|Page 2842 >
< Lock Cylinder Switch|Locations
Impulse Hatchback L4-1809cc 1.8L DOHC (4XF1-W) (1992)
Body and Frame
Bumper
Component Information
Technical Service Bulletins
Bumper - Test Label, Hawaian Vehicles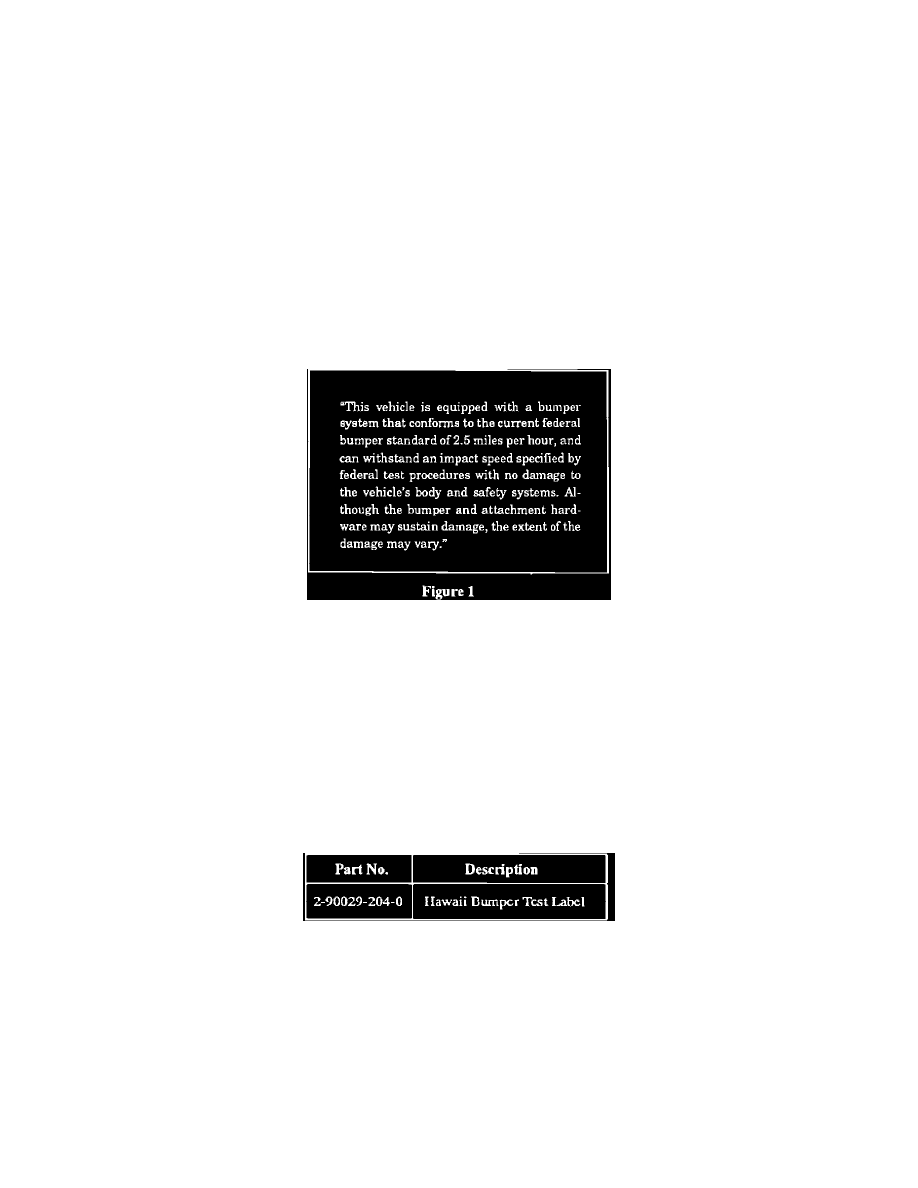 Bumper: Technical Service Bulletins
Bumper - Test Label, Hawaian Vehicles
BULLETIN NUMBER 
SB92-14-004
ISSUE DATE 
September 17, 1992
GROUP 
MISCELLANEOUS
IMPULSE (JT) AND STYLUS (JS) BUMPER TEST LABEL (HAWAII ONLY)
AFFECTED VEHICLES
1992-on Impulse (JI) and Stylus (JS) models.
SERVICE INFORMATION
A new Hawaii State Law requires that passenger cars imported after May 27, 1992 have a label affixed to the window, specifying the speed at which the
vehicle sustains no bumper or safety system damage during the National Highway Traffic and Safety Administration (NHTSA) test. A sample of the
label is shown in Figure 1.
Beginning May 27, affected vehicles have the bumper test label affixed to the window (next to the Monroney label) at the port of entry. Vehicle in dealer
stock before May 27 and vehicles shipped from the port before May 27 do not require the label.
Only vehicles shipped after May 27, 1992 are required to display this label.
Fines can be imposed by the State of Hawaii if the bumper test label is removed, altered or defaced prior to delivery to the customer.
If the bumper test label is missing from an Impulse or Stylus shipped to a Hawaii dealer after May 27, 1992, or if the label is accidentally removed,
replacement labels are available from American Isuzu Part Distribution Network (AIPDN).
PARTS INFORMATION
Body and Frame
Bumper
Component Information
Technical Service Bulletins
Bumper - Test Label, Hawaian Vehicles
Bumper - Test Label, Hawaian Vehicles|Page 2842 >
< Lock Cylinder Switch|Locations