NEXT PAGE >
XJ (X351) V8-5.0L SC (2010)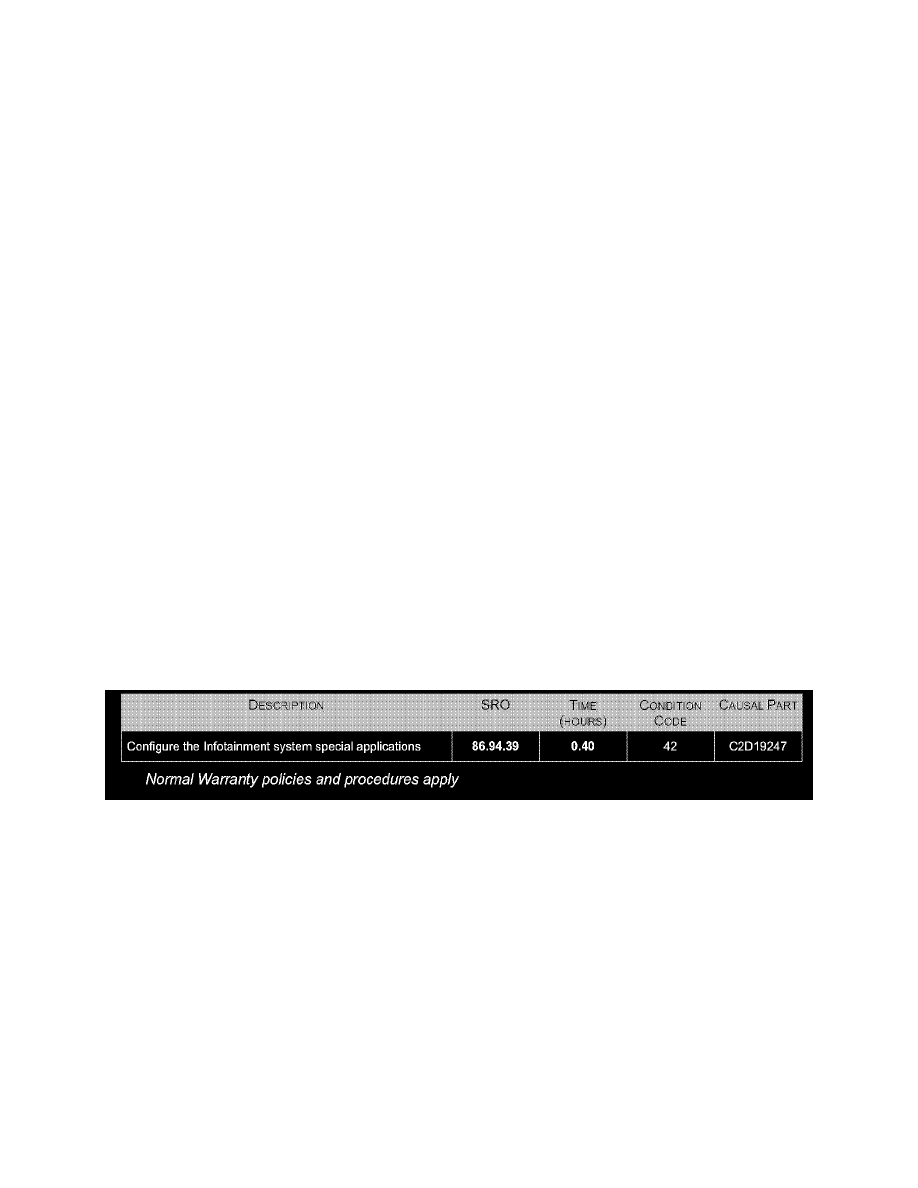 Entertainment System Control Module: All Technical Service Bulletins
Entertainment System - 'No Playable Video' Message
No: JTB00218
Issue: 1
Date: 31 JAN 2011
SECTION: 415
'No Playable Video' Message Displayed
AFFECTED VEHICLE RANGE:
XJ (X351)
VIN: V00001 - Onwards
Model Year: 2010 - Onwards
CONDITION SUMMARY:
Situation: 
A No Playable Video message may be displayed on the High Level Display Front (HLDF) touchscreen and DVD video discs may not be able to be
played. This may be a result of HLDF software updating and the Audio Control Module (ACM) incorrectly detecting five Car Configuration Code (CCF)
DVD region code changes, causing the ACM to permanently set the last region code value as the default code. The correct DVD region code for North
America is "1".
Action: 
In the event of a customer concern of the above, refer to the Repair Procedure outlined below to configure the Infotainment system special applications.
PARTS:
No parts necessary
TOOLS:
IDS with latest IDS-DVD and Calibration File; first available on IDS-DVD124_V6.03 Calibration File 61 Jaguar-approved Midtronics Vehicle Power
Supply
Three (3) 1 - 4GB USB memory sticks (two with at least 256MB free space; one with MP3 / WAV/ AAC audio files)
WARRANTY:
NOTE:
Repair procedures are under constant review, and therefore times are subject to change; those quoted here must be taken as guidance only. Always refer
to DDW to obtain the latest repair time.
DDW requires the use of causal part numbers. Labor only claims must show the causal part number with a quantity of zero.
REPAIR PROCEDURE
CONFIGURE THE INFOTAINMENT SYSTEM SPECIAL APPLICATIONS
CAUTION:
Ensure all ignition "ON"/ ignition "OFF" requests are carried out; failure to perform these steps may cause damage to control modules in the vehicle.
CAUTION:
NEXT PAGE >