< PREV PAGE
NEXT PAGE >
XK (X150) V8-4.2L (2008)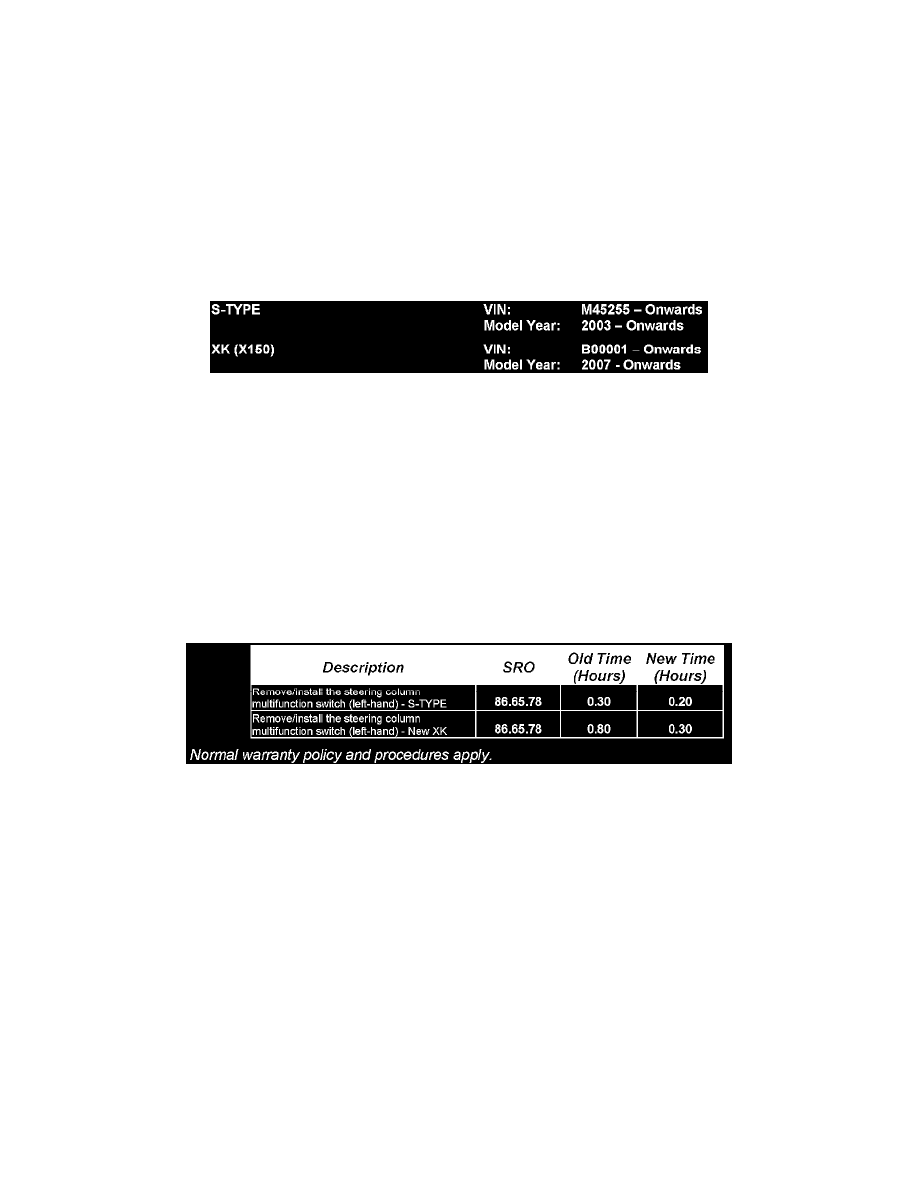 Wiper Switch: Technical Service Bulletins
Electrical - Multi-Function Switch Replacement
*NUMBER: JTB00068
(VERSION 2)*
MODEL: S-TYPE, XK
*DATE: DECEMBER 12, 2007*
THIS BULLETIN SUPERCEDES JTB00068, ISSUE 1. UPDATED INFORMATION IS SHOWN WITH ASTERISKS.
SECTION: 417-00
New Workshop Procedure: Left-hand Steering Column Multifunction Switch Removal/Installation
AFFECTED VEHICLE RANGE
CONDITION SUMMARY:
REVISED REMOVAL/INSTALLATION PROCEDURE FOR LEFT-HAND STEERING COLUMN MULTIFUNCTION SWITCH
Situation: 
A revised procedure for the removal and installation of the *left-hand* steering column multifunction switch has been released. It is no longer necessary
to remove the left-hand side lower fascia panel.
Action: 
In the event it is necessary to remove the switch, refer to the Repair Procedure below.
WARRANTY
NOTE:
Repair procedures are under constant review, and therefore times are subject to change; those quoted here must be taken as guidance only. Always
refer to DDW to obtain the latest repair time.
DDW requires the use of causal part numbers. Labor only claims must show the causal part number with a quantity of zero.
NOTE:
Other SROs affected by this procedure will also change..
REPAIR PROCEDURE
REMOVING THE LEFT-HAND MULTIFUNCTION SWITCH
NOTE:
Global Technical Reference (GTR) lookup sequence is as follows:
GTR Home> NAS> Model > Service Information> Model Year> Workshop Manuals >Chassis> 211-05 - Steering Column Switches >
Steering Column Multifunction Switch LH (86.65.78).
< PREV PAGE
NEXT PAGE >