< PREV PAGE
NEXT PAGE >
Commander 4WD V8-4.7L VIN N (2006)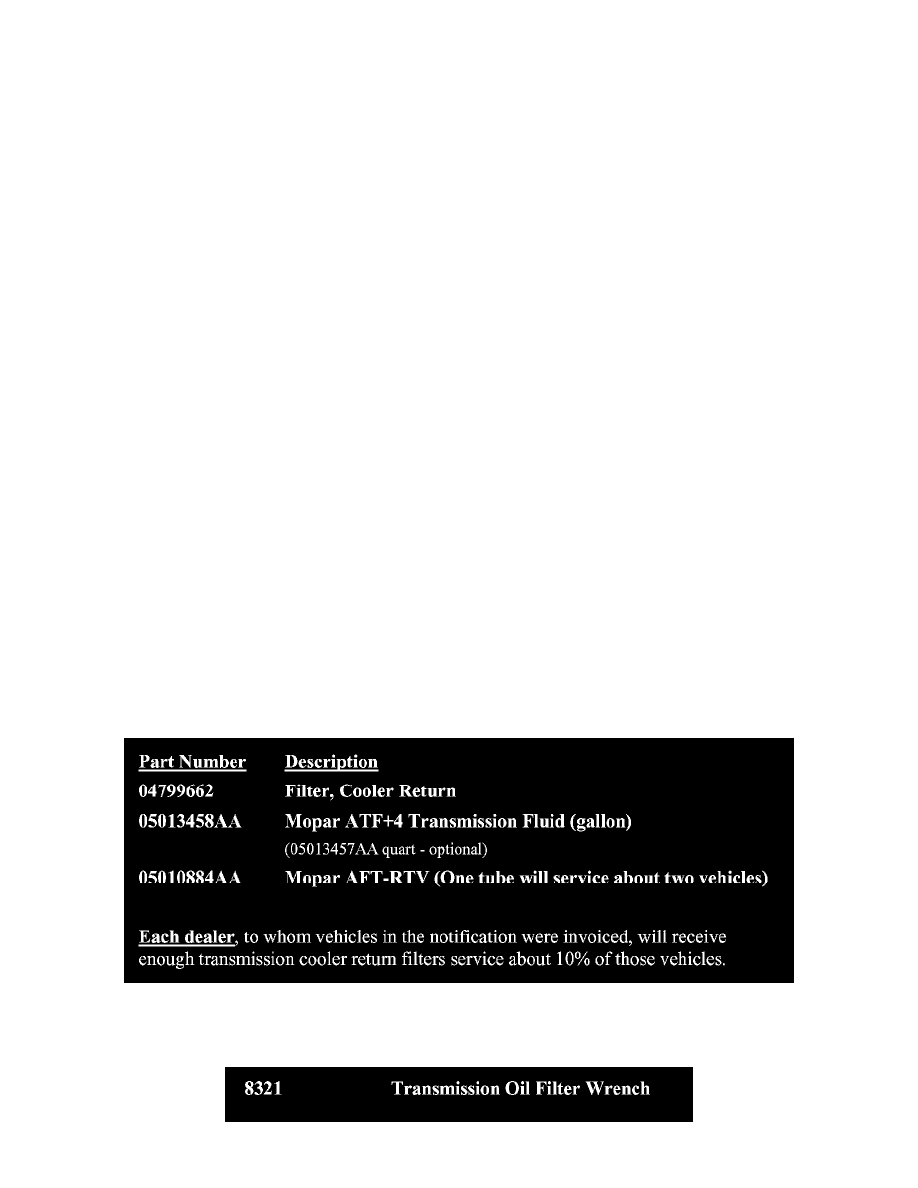 Technical Service Bulletin # E16
Date: 051001
Campaign - A/T 545RFE Cooler Return Filter Replacement
October, 2005
Dealer Service Instructions for:
Customer Satisfaction Notification E16
Transmission Cooler Return Filter
Effective immediately, all repairs on involved vehicles are to be performed according to this notification. Service Bulletin # 21-016-05 is cancelled for
2006 vehicles. Those vehicles that have already had this repair performed, as determined by our warranty records, have been excluded from this
notification.
Models
2006
(DR)
Dodge Ram 1500
2006
(DH)
Dodge Ram 2500
2006
(D1)
Dodge Ram 3500
2006
(HB)
Dodge Durango
2006
(ND)
Dodge Dakota
2006
(KJ)
Jeep Liberty
2006
(WK)
Jeep Grand Cherokee
2006
(XK)
Jeep Commander
NOTE: 
This notification applies only to the above vehicles equipped with a 545RFE automatic transmission (sales code DGO) and a transmission built date
code from TJ1015 through TJ2315. Many of the vehicles built within this date range were repaired before shipment to dealers and therefore have
been excluded from this notification.
IMPORTANT: 
Some of the involved vehicles may be in dealer vehicle inventory. Dealers should complete this repair on these vehicles before retail delivery.
Dealers should also perform this repair on vehicles in for service. Involved vehicles can be determined by using the VIP inquiry process.
Subject
The transmission on about 17,200 of the above vehicles may experience a delayed engagement when the shifter is placed into gear after the engine has
been off for more than 12 hours.
Repair
The internal transmission cooler return filter must be replaced.
Parts Information
Special Tool Information
< PREV PAGE
NEXT PAGE >