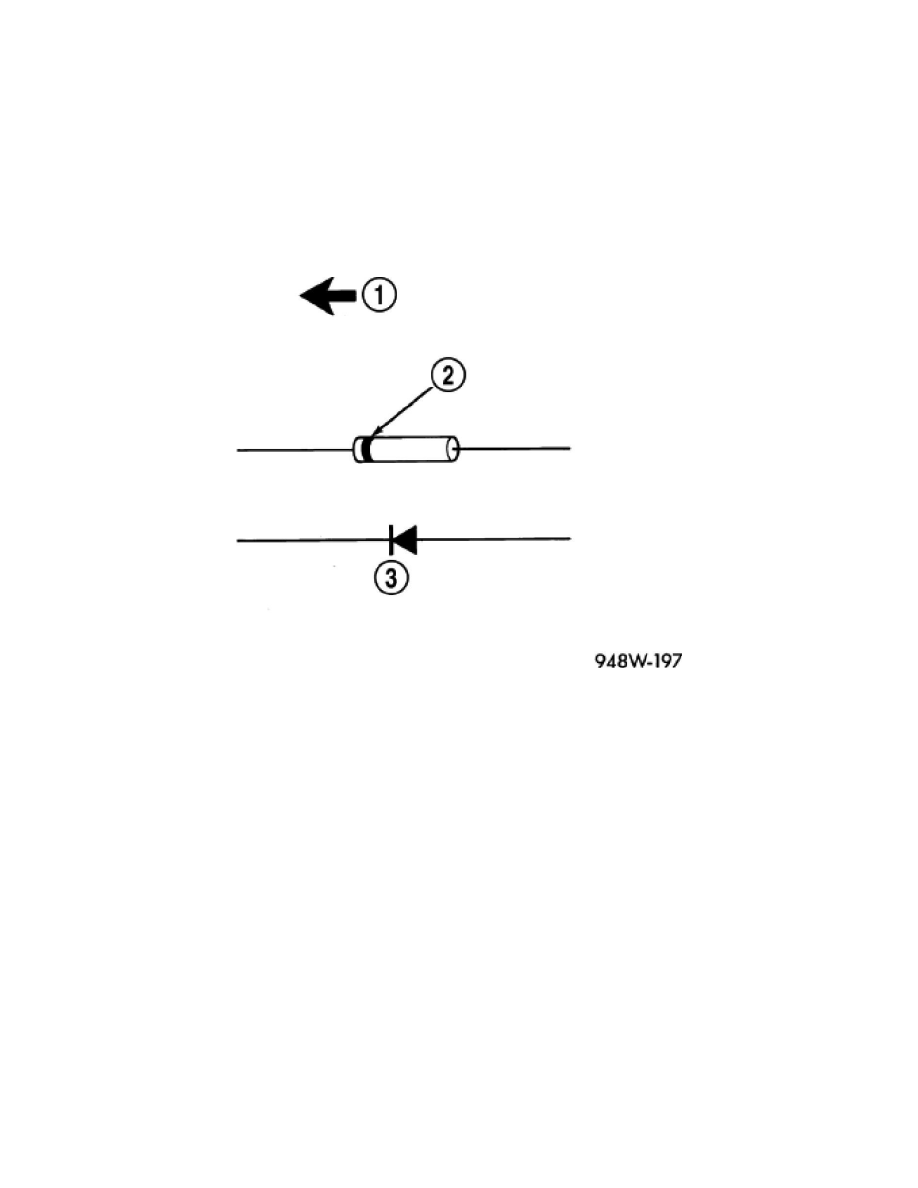 INSTALLATION
1. Insert the removed terminal in the same cavity on the repair connector.
2. Repeat steps for each terminal in the connector, being sure that all wires are inserted into the proper cavities. For additional connector pin-out
identification, refer to the wiring diagrams.
3. When the connector is re-assembled, the secondary terminal lock must be placed in the locked position to prevent terminal push out.
4. Replace dress cover (if applicable).
5. Connect connector to its mating half/component.
6. Connect battery and test all affected systems.
Removal
REMOVAL
1. Disconnect the battery.
2. Locate the diode in the harness, and remove the protective covering.
3. Remove the diode from the harness, pay attention to the current flow direction (1) (2) (3).
Installation
INSTALLATION
1. Remove the insulation from the wires in the harness. Only remove enough insulation to solder in the new diode.
2. Install the new diode in the harness, making sure current flow is correct. If necessary, refer to the appropriate wiring diagram for current flow.
3. Solder the connection together using rosin core type solder only. Do not use acid core solder. 
4. Tape the diode to the harness using electrical tape. Make sure the diode is completely sealed from the elements.
5. Re-connect the battery and test affected systems.
Removal
REMOVAL
1. Follow steps for removing terminals described in the connector removal section.
2. Cut the wire 6 inches from the back of the connector.
Installation
INSTALLATION
1. Select a wire from the terminal repair kit that best matches the color and gage of the wire being repaired.
2. Cut the repair wire to the proper length and remove one-half (1/2) inch of insulation.
3. Splice the repair wire to the wire harness (see wire splicing procedure)See: Service Procedures/Wire Splicing.
4. Insert the repaired wire into the connector.