< PREV PAGE
NEXT PAGE >
Sephia Sedan L4-1.6L SOHC 16V (1993)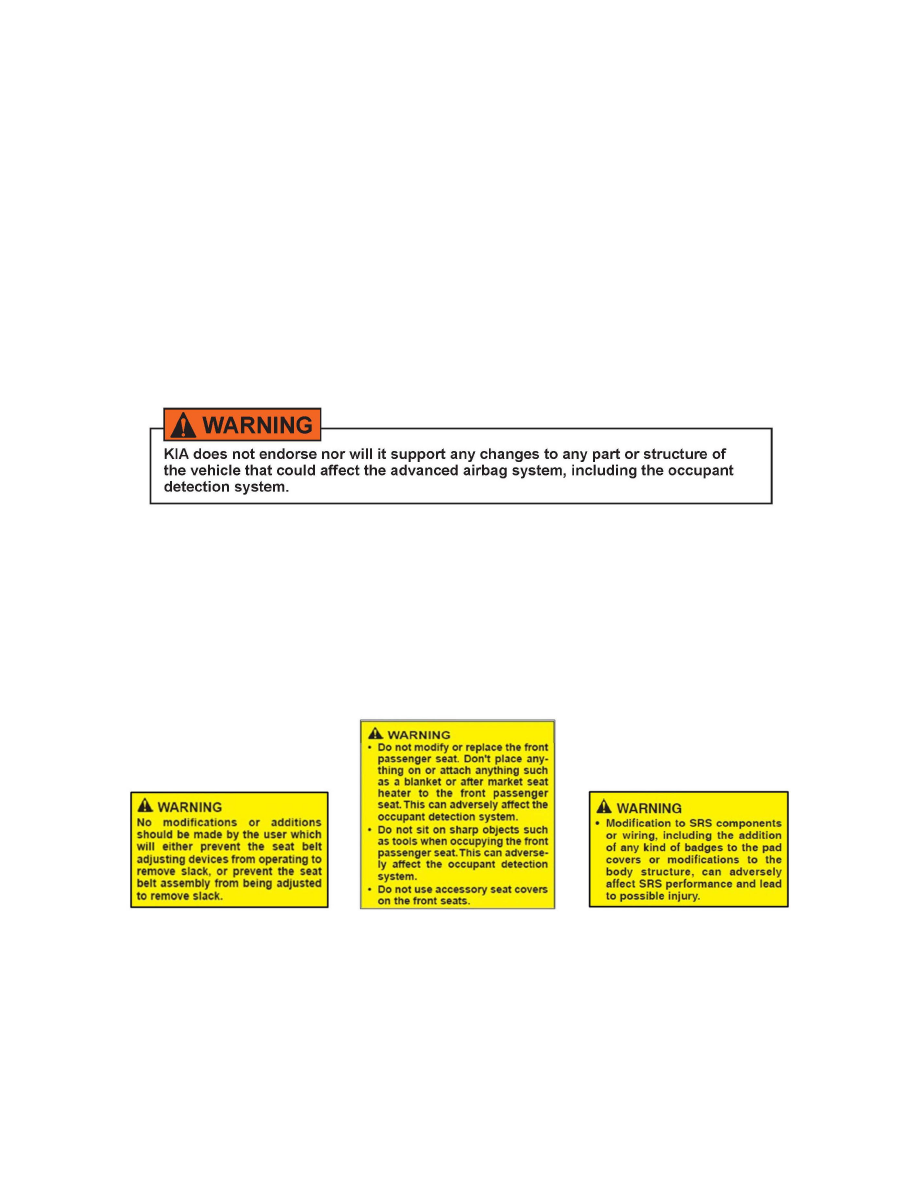 Head Restraint System: Technical Service Bulletins
Interior - Seat/Seat Cover/Seat Belt Modification Info.
GROUP 
GEN
NUMBER 
050
MODEL
All
Models
DATE 
March 2011
SUBJECT: 
AFTERMARKET MODIFICATION WARNINGS, (SEAL SEAT COVER, SEAT BELTS, ETC.)
Kia Dealers may receive inquiries from customers about aftermarket seat covers re-upholstering seats and/or questions related to modifications of seats
seat covers seat belts etc. To assist dealers in responding properly to these inquires Kia is providing the following information:
Kia's current Owners Manuals contain a number of very specific Instructions Cautions and Warnings in Section 3; Safety Features Of Your Vehicle. The
pages of that section provide information about the use and care of Seat Belts and components of the Secondary Restraint System (SRS); Air Bags Side
Air Bags and Occupant Detection Systems (ODS). Note that the Owner's Manuals include the following statement:
The Owner's Manuals contain specific warnings against making any modifications to the SRS, Air Bags/Side Air Bags or related systems or structures.
Additionally the Owner's Manual specifically cautions against the use of seat covers, after market seat heaters etc. and informs how their use may
influence the operation of the Air Bag/Side Air Bag or ODS systems.
Should customers inquire about the possible installation of seat covers, aftermarket (re)upholstery or otherwise request information about making any
changes or modifications to the restraint systems, please refer them to Section 3 of the Owner's Manual and review the appropriate paragraphs with them.
Sample page excerpts from 2011 MY Optima shown below; other models are similar.
For complete information and full details always refer to the appropriate Owner's Manual.
< PREV PAGE
NEXT PAGE >