< PREV PAGE
NEXT PAGE >
300Tdi Discovery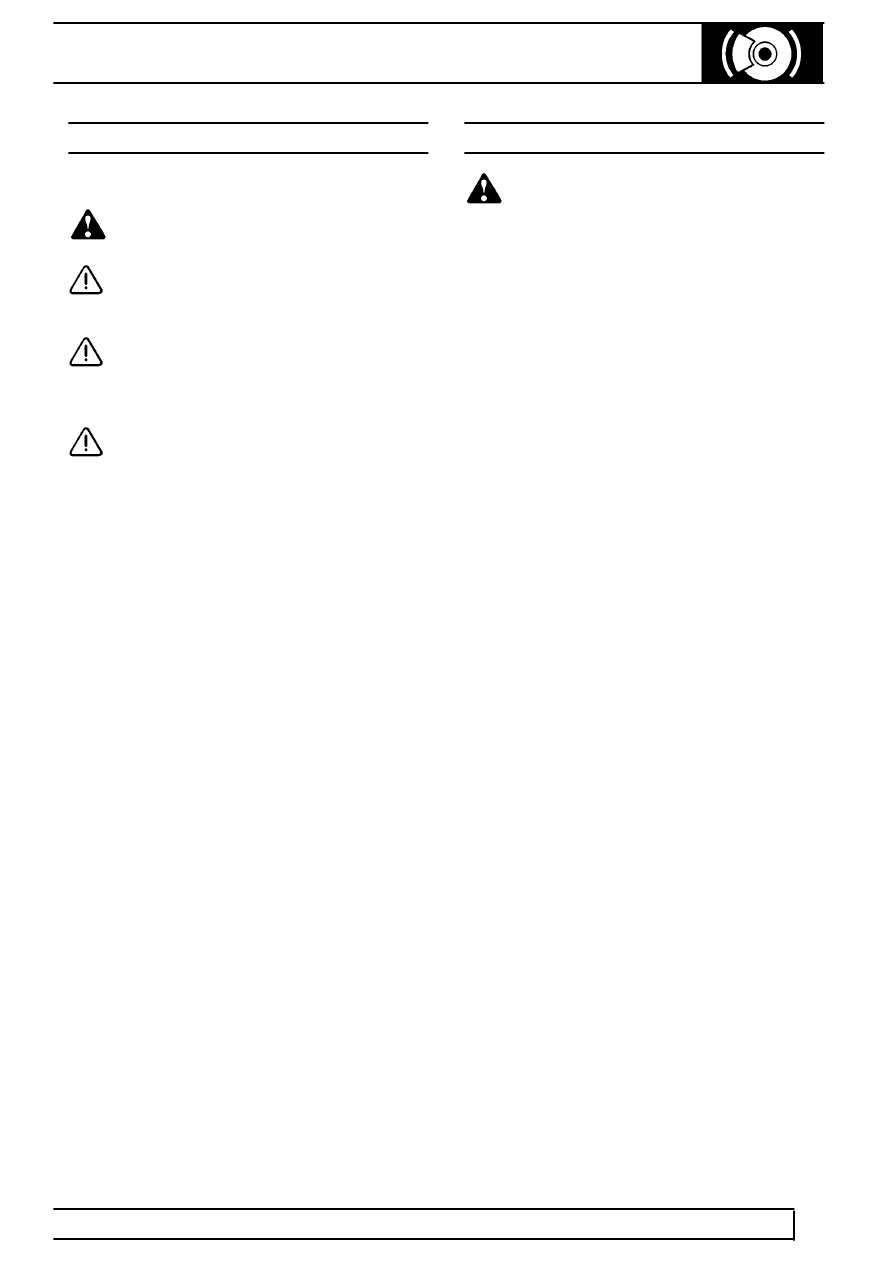 BRAKES
1
REPAIR
GENERAL BRAKE SERVICE PRACTICE
Brake fluid precautions
WARNING: Do not allow brake fluid to
come into contact with eyes or skin.
CAUTION: Brake fluid can damage
paintwork, if spilled wash off immediately
with plenty of clean water.
CAUTION: Use only correct grade of brake
fluid. If an assembly fluid is required use
ONLY brake fluid. Do NOT use mineral oil,
i.e. engine oil etc.
CAUTION: Thoroughly clean all brake
calipers, pipes and fittings before
commencing work on any part of the brake
system. Failure to do so could cause foreign
matter to enter the system and cause damage to
seals and pistons which will seriously impair the
efficiency of the brake system.
•
To ensure the brake system efficiency is not
impaired the following warnings must be
adhered to :-
•
DO NOT use any petroleum based cleaning
fluids or any proprietary fluids containing
petrol.
•
DO NOT use brake fluid previously bled from
the system.
•
DO NOT flush the brake system with any fluid
other than the recommended brake fluid.
The brake system should be drained and flushed
at the recommended service intervals.
Cover all electrical terminals carefully to make
absolutely certain that no fluid enters the
terminals and plugs.
FLUID LEVEL CHECK / TOP UP
WARNING: Clean reservoir body and filler
cap before removing cap. Use only fluid
from a sealed container.
1. Park vehicle on level ground.
2. Check level is between 'MIN' and 'MAX' marks.
3. If level is below 'MIN' mark top up fluid level to
'MAX' mark on reservoir, using correct fluid.
See
LUBRICANTS, FLUIDS AND CAPACITIES,
Information, Recommended Lubricants and
Fluids
Do not fill reservoir above maximum line
< PREV PAGE
NEXT PAGE >