< PREV PAGE
NEXT PAGE >
Freelander Service Procedures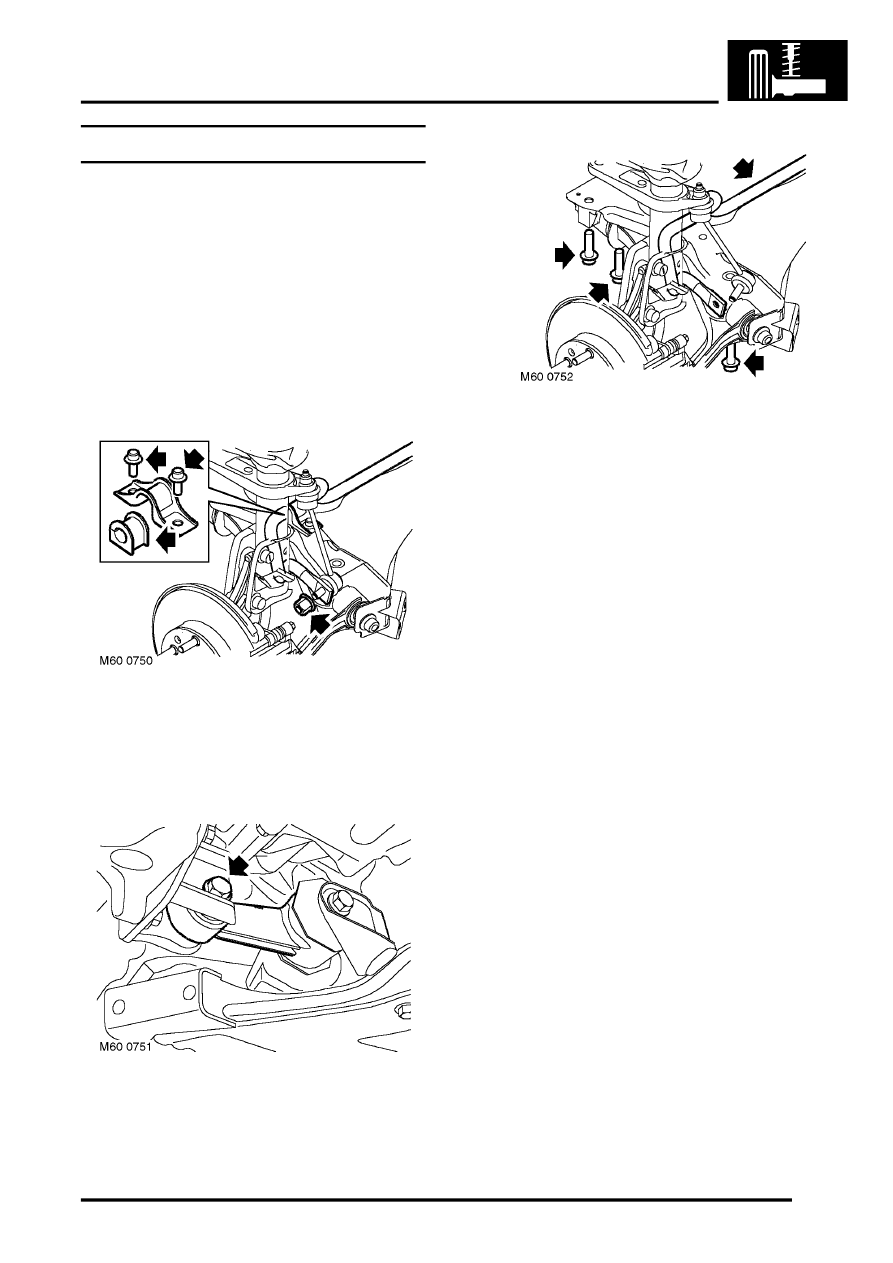 FRONT SUSPENSION
REPAIRS
60-1
FRONT SUSPENSION
REPAIRS
Anti roll bar
$% 60.10.01
Remove
1. Raise front of vehicle.
WARNING: Do not work on or under a 
vehicle supported only by a jack. Always 
support the vehicle on safety stands.
2. Remove road wheel(s).
3. Remove underbelly panel.
4. Using a backing spanner, remove 2 nuts 
release anti-roll bar links from anti-roll bar.
5. Remove 4 bolts securing anti-roll bar saddle 
clamps to subframe, collect saddle clamps and 
rubber bushes.
6. Remove bolt securing engine tie bar to sump.
7. Support the weight of front subframe.
8. Remove 4 bolts securing both lower arm rear 
bush housings.
9. Remove and discard 2 bolts securing front 
subframe to body.
10. Lower front subframe to release anti-roll bar.
11. Remove anti-roll bar.
Refit
1. Position anti-roll bar.
2. Raise front subframe and align to body.
3. Fit new bolts securing front subframe to body 
and tighten to 190 Nm (140 lbf.ft).
4. Fit  bolts securing  lower arm rear bush 
housings and tighten to 105 Nm (77 lbf.ft).
5. Align engine tie bar and tighten bolts to 100 Nm 
(74 lbf.ft). 
6. Position anti-roll bar rubbers and saddle 
clamps.
7. Fit saddle clamp bolts and tighten to 23 Nm (17 
lbf.ft).
8. Align anti-roll bar links to anti-roll bar, fit new 
nuts and tighten using a backing spanner to  45 
Nm (33 lbf.ft).
9. Fit underbelly panel.
10. Fit road wheel(s) and tighten nuts to 115  Nm 
(85 lbf.ft).
11. Remove stands and lower vehicle.
< PREV PAGE
NEXT PAGE >