< PREV PAGE
NEXT PAGE >
Freelander Service Procedures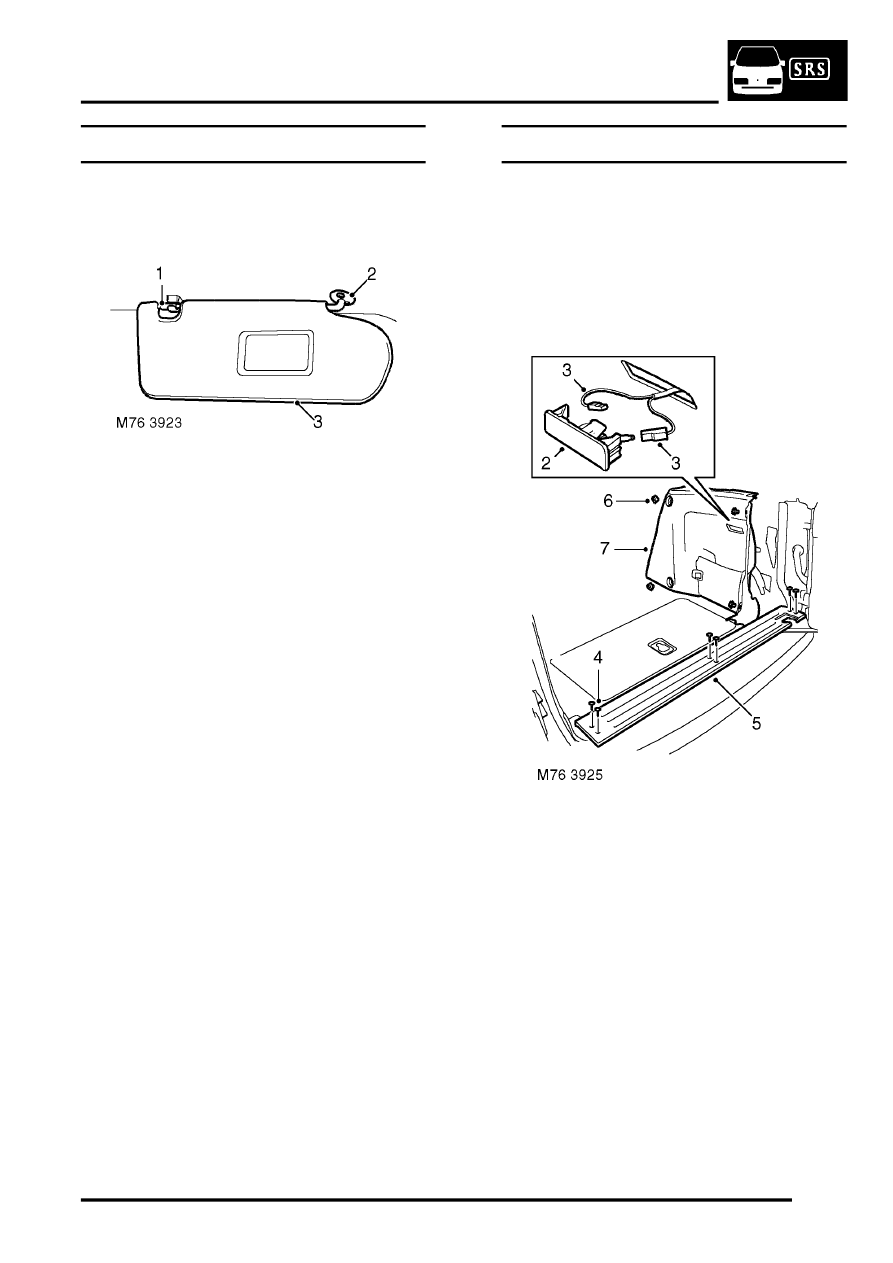 INTERIOR TRIM COMPONENTS
REPAIRS
76-3-1
INTERIOR TRIM COMPONENTS
REPAIRS
Sun visor
$% 76.10.47
Remove
1. Release sun visor from retaining clip.
2. Remove 2 screws securing sun visor to roof.
3. Disconnect multiplug from sun visor.
4. Remove sun visor.
5. Remove screw securing sun visor clip to roof 
and remove clip.
Refit
1. Fit sun visor clip to roof and secure with screw.
2. Fit sun visor to roof and secure with screws.
3. Fit sun visor to clip.
4. Position sun visor and connect multiplug.
Trim casing - rear quarter - lower - 3 door
$% 76.13.12
Remove
1. 03MYRemove body side rear trim casing.
REPAIRS, Trim casing - body side - rear - 3 
door.
2. Release rear seat squab and fold seat forward.
3. Release load space lamp from trim casing.
4. Disconnect 2 Lucars and remove load space 
lamp.
5. Remove 6 Torx screws securing luggage 
compartment carpet retainer.
6. Remove carpet retainer.
7. Release 4 turn buckles securing trim casing.
8. Release and remove trim casing from luggage 
compartment.
Refit
1. Fit trim casing to luggage compartment and 
secure with turn buckles.
2. Fit luggage compartment carpet retainer and 
secure with Torx screws.
3. Position load space lamp to casing, connect 
Lucars and secure lamp to casing.
4. Reposition rear seat.
< PREV PAGE
NEXT PAGE >