< PREV PAGE
NEXT PAGE >
Freelander Service Procedures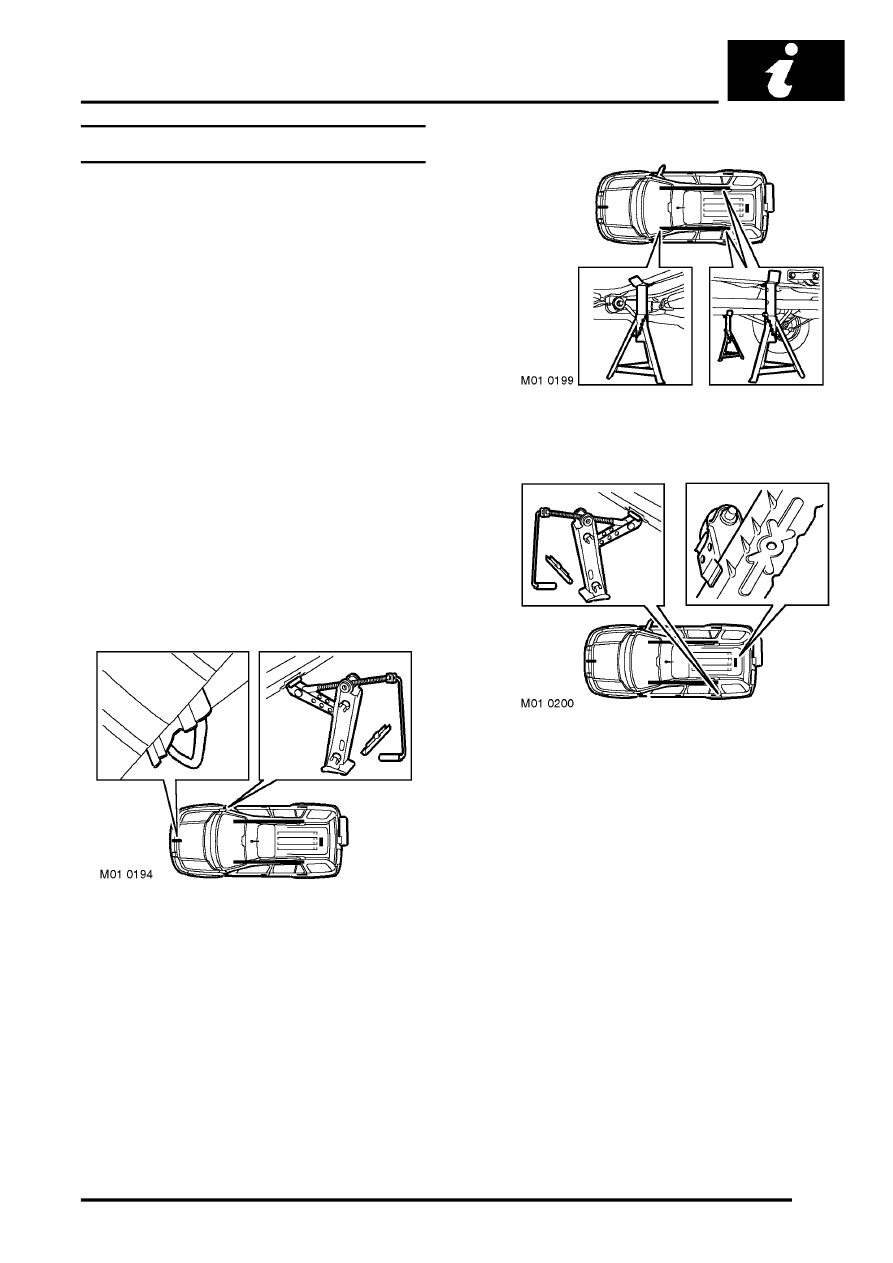 LIFTING AND TOWING
08-1
LIFTING AND TOWING
Jacking
The following instructions must be carried out before  
raising the vehicle off the ground:
l
Use a solid level surface.
l
Apply parking brake.
l
Select 1st. gear in main gearbox and ensure 
HDC is not selected.
CAUTION: To avoid damage to under body 
components of the vehicle, adhere to the 
following jacking procedures:
DO NOT POSITION JACKS OR AXLE STANDS 
UNDER THE FOLLOWING COMPONENTS:
l
Bumpers
l
Brake or Fuel lines
l
Exhaust pipe
l
Suspension components
l
Steering rack and linkages
l
Fuel tank
l
Engine sump
l
Gearbox
l
IRD unit
Jack or support vehicle only on approved jacking 
points as detailed in the following illustration:
Front (hydraulic jack) and side (vehicle jack) jacking 
points
Safety stand positions under longitudinal members
Rear (hydraulic jack) and side (vehicle jack) jacking 
points
Vehicle jack
 The jack provided with the vehicle is only intended to 
be  used in an emergency, for changing a tyre. Do  
NOT  use the jack for any other purpose. Refer to the 
Owner's Handbook for vehicle  jack location points 
and procedure. Never work under a vehicle only  
supported by the vehicle jack.
Hydraulic jack
A hydraulic jack with a minimum 1500 kg (3,300 lbs) 
load capacity must  be used.
WARNING: Do not work on or under a vehicle 
supported only by a jack. Always support the 
vehicle on safety stands.
< PREV PAGE
NEXT PAGE >