< PREV PAGE
NEXT PAGE >
Freelander Service Procedures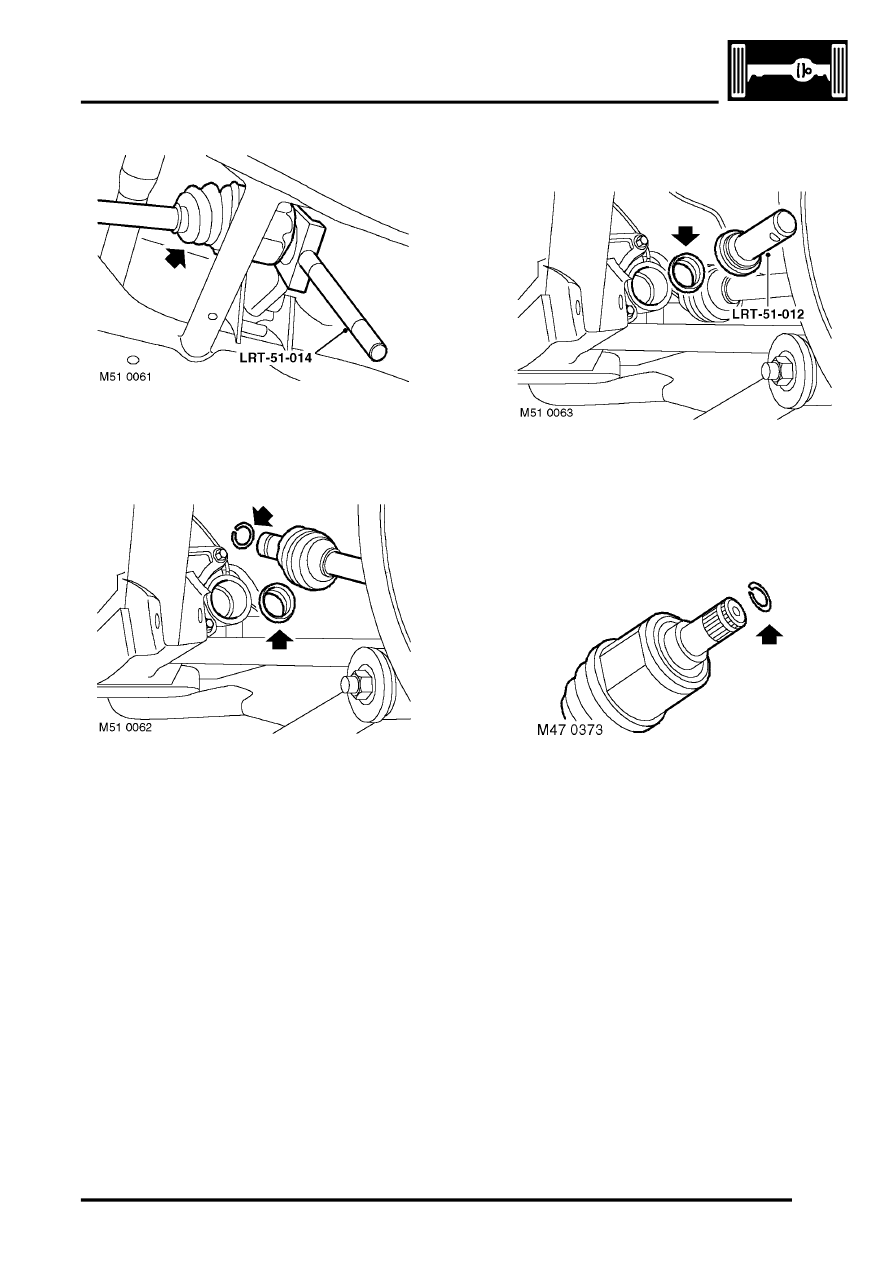 REAR AXLE & FINAL DRIVE
REPAIRS
51-7
9. Taking care not damage  oil seal 'flinger', 
release drive shaft from differential using LRT-
51-014 and position shaft aside.
10. Remove and discard circlip from  drive shaft.
11. Remove differential oil seal.
Refit
1. Clean drive shaft oil seal recess in axle casing.
2. Fit new oil seal using LRT-51-012.
3. Clean end of drive shaft and location in 
differential.
4. Check condition of oil seal  'Flinger',  renew if 
damaged.
5. Fit new circlip to drive shaft.
6. With assistance fit drive shaft to differential, 
push drive shaft fully home to  engage circlip.
7. Fit nut and bolt to fixed transverse link and 
tighten to 120 Nm (89 lbf.ft).
CAUTION: Nuts and bolts must be tightened 
with weight of vehicle on suspension.
8. Fit nut, bolt and dynamic damper to adjustable 
transverse link and tighten to 120 Nm (89 lbf.ft).
9. Fit spacer, nut and bolt to trailing link and 
tighten to 120 Nm (89 lbf.ft).
10. Fit bolt securing handbrake cable clip and 
tighten to 22 Nm (16 lbf.ft).
11. Fit road wheel(s) and tighten nuts to 115 Nm 
(85 lbf.ft).
12. Check differential oil level. 
13. Remove stands and lower vehicle.
< PREV PAGE
NEXT PAGE >