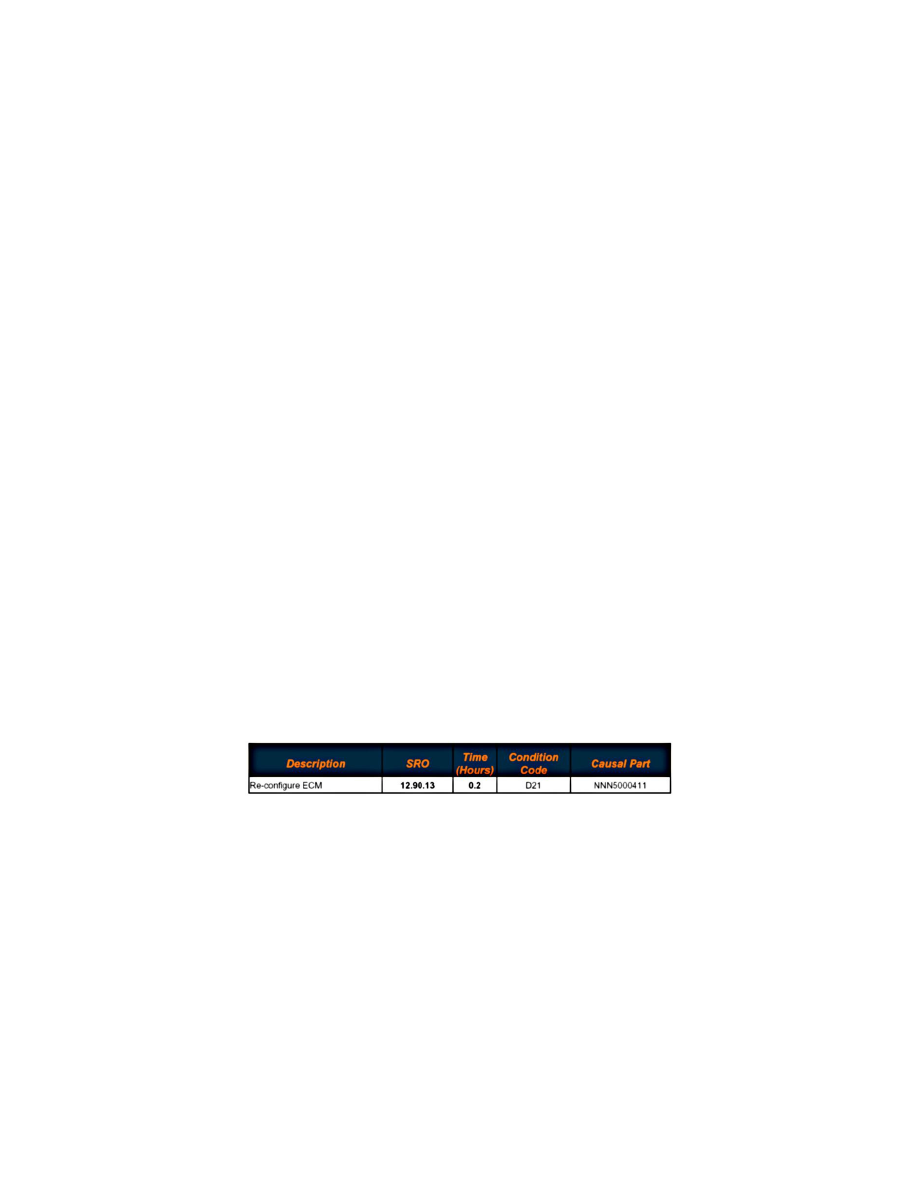 PROM - Programmable Read Only Memory: All Technical Service Bulletins
Engine Controls - Poor Acceleration from 62-75 MPH
No: LTB00010
Issue: 1
Date: 15 Jan 2007
SECTION: 303-14 - ELECTRONIC ENGINE CONTROLS
Poor Acceleration from 62 to 75 mph (100 to 120 kph) After Cruising
LR3 (LA)
(V8 Only)
VIN: 5A000360 to 6A413981
Range Rover Sport (LS)
(Normally Aspirated Only) VIN: 6A900129 to 6A983116
New Range Rover (LM)
(Normally Aspirated Only) VIN: 6A194480 to 6A239035
AFFECTED VEHICLE RANGE:
CONDITION SUMMARY:
SLOW ACCELERATION AFTER CRUISING SPEED
Situation: With the engine at normal operating temperature, a customer may report very slow acceleration from approximately 62 to 75 mph (100 to
120 kph) after steady cruising. A customer may also complain about a low frequency cabin boom type noise and vibration when accelerating in this
speed range.
Action: Should a customer express a concern, refer to the Repair Procedure detailed in this bulletin to re-configure the Engine Control Module (ECM)
using the Integrated Diagnostic System (IDS).
PARTS:
No parts required. This bulletin provides concern resolution information only.
TOOLS:
IDS DVD104 with Patch File 2 or later software
WARRANTY:
NOTE:  Repair procedures are under constant review, and therefore times are subject to change; those quoted here must be taken as guidance only.
Always refer to DDW to obtain the latest repair time.
DDW requires the use of causal part numbers. Labor only claims must show the causal part number with a quantity of zero.
Normal warranty policy and procedures apply.
REPAIR PROCEDURE
RECONFIGURE ENGINE CONTROL MODULE (ECM)
CAUTION:  This procedure requires IDS DVD104 with Patch File 2 or later software.
CAUTION:  A Midtronics PSC-550 Vehicle Power Supply must be connected to the vehicle battery during diagnosis and module configuration.
1. Connect the Midtronics PSC-550 power supply to the vehicle battery.
2. Connect IDS to the vehicle and begin a new diagnostic session, by entering the correct VIN for the current vehicle.
3. Follow the IDS prompts to read the vehicle configuration.
NOTE:  Any associated diagnostic routines should be carried out as a separate Warranty claim.
4. Carry out any associated diagnostic routines and clear any fault codes.
5. When prompted 'Do you wish to read diagnostic trouble codes?', select 'NO' and then press the 'tick' button to continue.
6. When the 'Content Model' is displayed select 'Vehicle Configuration' tab.
7. From the Vehicle Configuration Menu, select Module Programming > Configure Existing Modules > Petrol Powertrain Control Module and then