< PREV PAGE
NEXT PAGE >
Range Rover (LP) V8-4.6L (2001)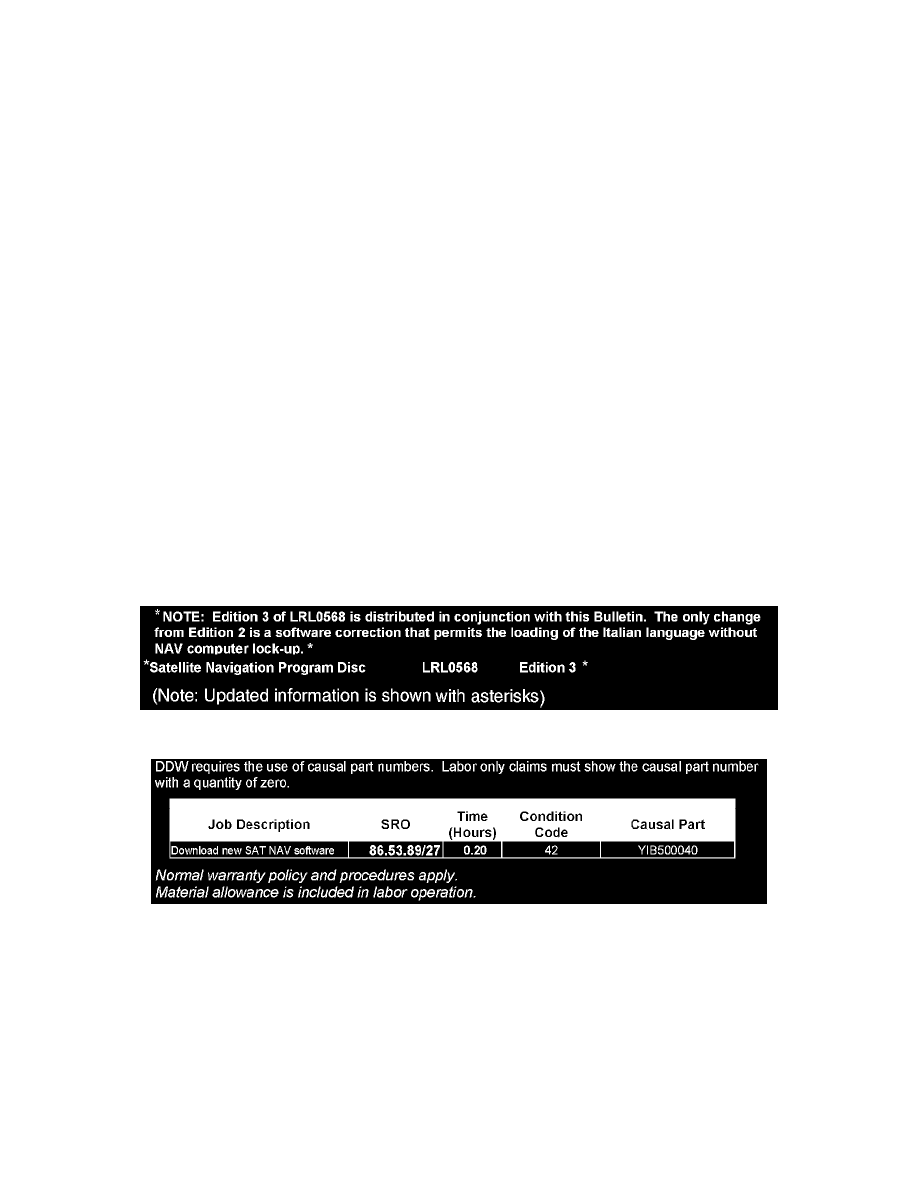 Navigation Module: All Technical Service Bulletins
Navigation System - Inoperative in Cold Weather
No: 86/14/03/NAS
Ref:
*Issue: 2*
Date: April 30, 2004
NAV Display Inoperative in Cold Weather Conditions
AFFECTED VEHICLE RANGE:
New Range Rover (LM) up to 4A153286 (B134 corrects in stock vehicles)
Range Rover (LP) All 2001, 2002 equipped with NAV with symptoms
Updated information is shown with asterisks.
SITUATION:
INOPERATIVE NAV DISPLAY
Vehicles can exhibit a condition where the NAV display will not function in cold ambient conditions. Cold temperature can affect the internal
communications during NAV system start-up. * The condition may also cause a loss of radio functions during the warm-up period. Both radio and NAV
will return to normal operations once the vehicle has warmed.*
RESOLUTION:
INSTALLATION OF NEW SOFTWARE CONFIGURATION
* When a customer complains of the blank screen symptoms, update the Satellite Navigation system software utilizing the latest navigation CD
(LRL0568 Edition 3).*
TOOL INFORMATION
DDW WARRANTY CLAIMS
REPAIR PROCEDURE
INSTALL NEW NAV SOFTWARE OBSERVING ALL CAUTIONS AND NOTES TO PREVENT NAV COMPUTER DAMAGE
NOTE:
It is important to ensure that the engine remains running until the software re-configuration procedure is complete and that electrical loads are
minimized.
1.
Apply handbrake and start the engine.
2.
Verify that the radio/audio system is turned off.
< PREV PAGE
NEXT PAGE >