< PREV PAGE
NEXT PAGE >
B3000 DS Cab Plus 2WD V6-3.0L OHV (2001)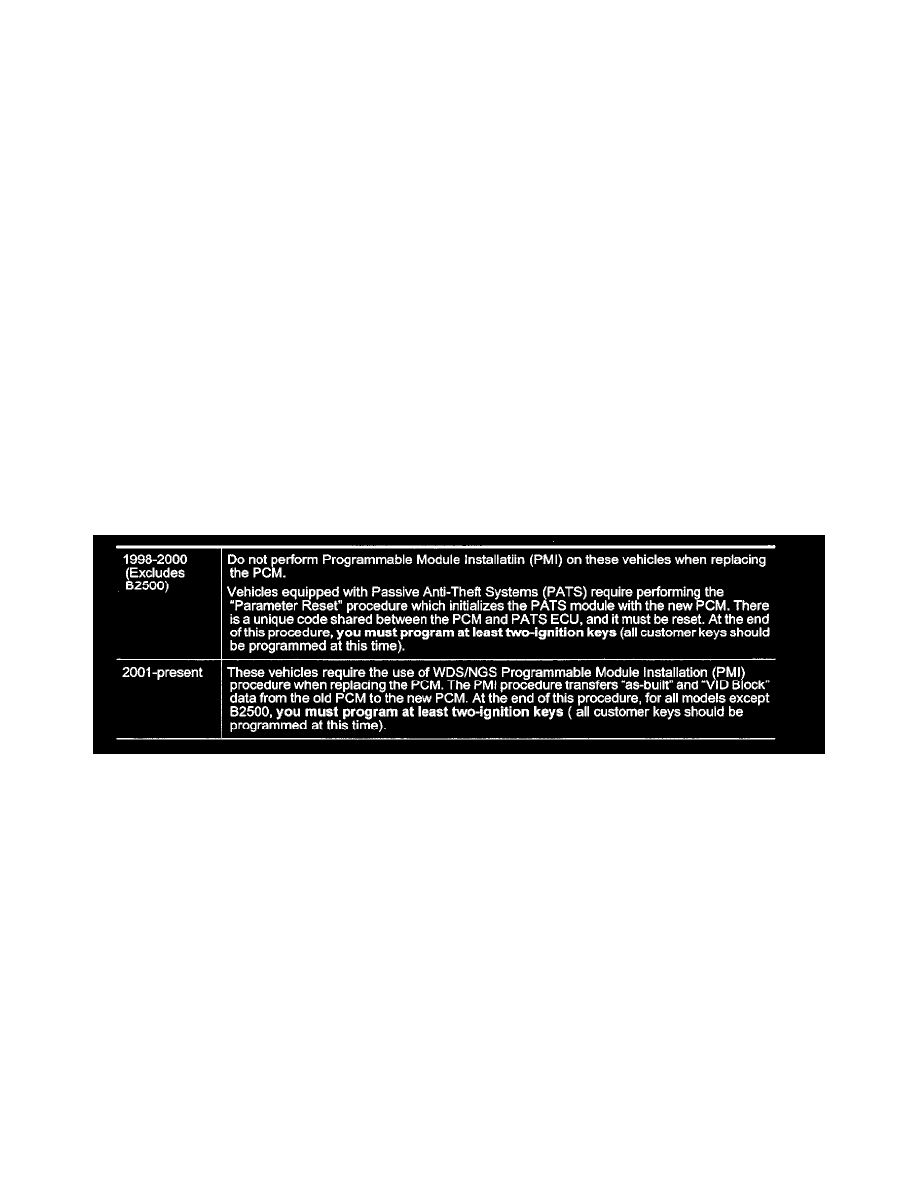 Technical Service Bulletin # 0103002
Date: 021220
Computers/Controls - Correcting Programmable Parameters
Bulletin No: 01-030/02 
Last Issued: 12/20/2002
Subject:
PROGRAMMABLE PARAMETERS RESET FOR GEM/CTM
MODULES, ABS MODULE, OR PCM AFTER MODULE REPLACEMENT OR 
RE-PROGRAMMING WITH WDS OR NGS
APPLICABLE MODEL(S)/VINS
1998 to 2002 Truck (All Models)
DESCRIPTION
The GEM / CTM modules, ABS module and the PCM need to know accurate programmable parameters. Programmable parameters include: tire size,
wheel diameter, axle size, axle ratio, and revolutions per mile (Rev/ Mile), and ABS type. This information is used by the modules to compute accurate
vehicle speed. Additionally the modules need to know which ABS system the vehicle was built with (RWABS or 4WABS).
It is important to update the programmable parameters whenever the GEM / CTM modules, ABS module or PCM is replaced and whenever tire size,
wheel diameter, axle size or axle ratio is changed. You should also confirm correct programmable parameters after performing module programming and
re-programming.
If programmable parameters are not programmed, you may end up with DTC's that are difficult to diagnose or module communication errors. If the
programmable parameters are incorrect, the vehicle systems will not operate as designed.
PCM replacement is done differently based on model year. Some vehicles require a Programmable Module Installation procedure (PMI). Other vehicles
require "Parameter Reset" procedure. The table identifies which years each procedure applies to.
ABBREVIATIONS
Programmable Parameters = This data includes tire size, wheel diameter, axle size (7.5" or 8.8"), axle ratio, revs/mile, and ABS type. This information is
programmed into the vehicle after build to make sure the correct options are programmed for diagnostics as well as the all vehicle speed related data.
This assures that all control modules will recognize the correct vehicle speed.
GEM* = Generic Electronic Module. The GEM holds programmable parameters on vehicles with power equipment (power door locks, power windows,
power mirrors, 4X4 etc.) from 1998 to 2000.
CTM* = Central Timer Module. The CTM holds programmable parameters one vehicles without power equipment from 1998 to 2000.
PCM* = Powertrain Control Module. The PCM holds "Backup" programmable parameters for all trucks manufactured from 2001 on.
ABS = The Anti-lock Braking System module holds its own programmable parameters for ABS system operation. There are 2-types of ABS: 4WABS =
4-Wheel Anti-lock Braking System and RWABS = Rear Wheel Anti-lock Braking System.
* = As of 2001 all vehicles regardless of power equipment, have a GEM and all programmable parameters are stored in the PCM.
WARRANTY INFORMATION
< PREV PAGE
NEXT PAGE >