< PREV PAGE
NEXT PAGE >
500SL (129.067) V8-5.0L (119.972) (1993)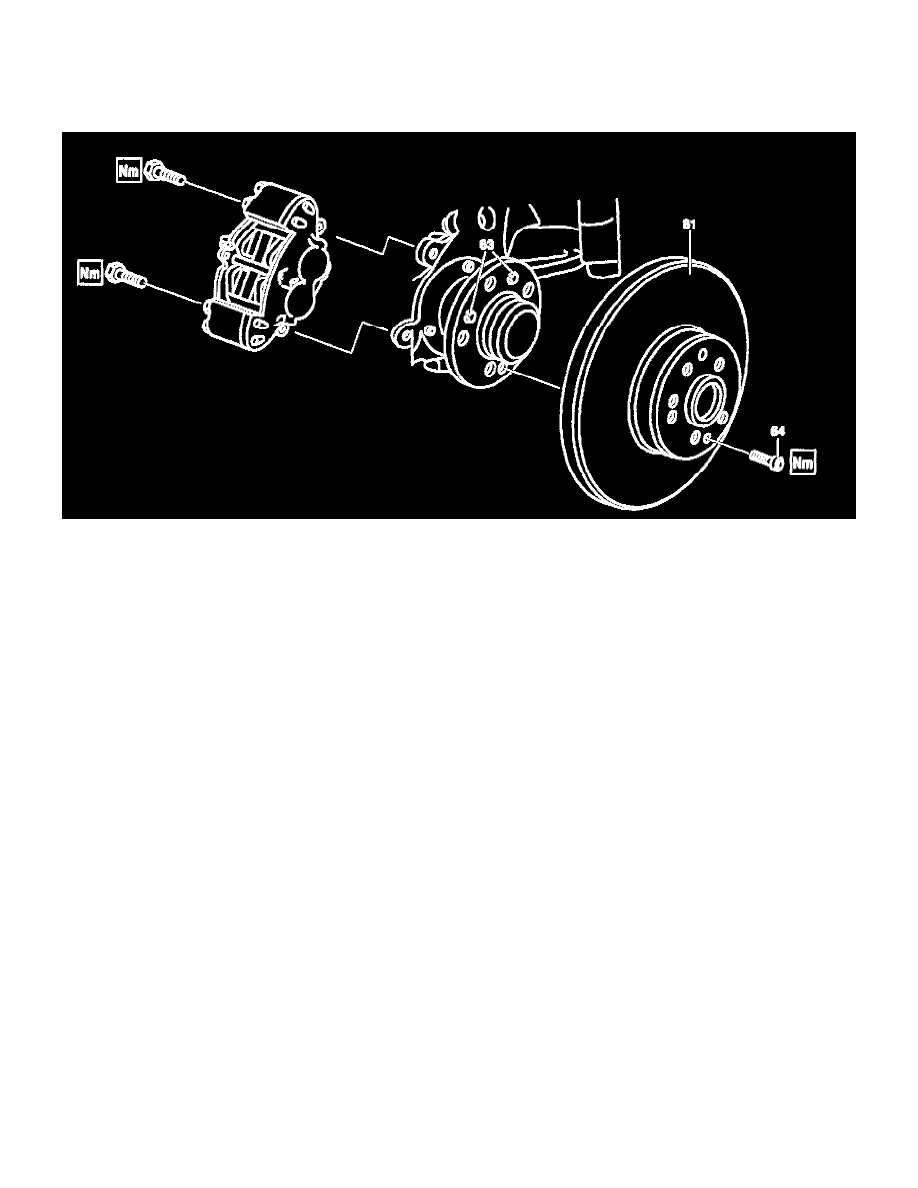 Brake Rotor/Disc: Service and Repair
AR42.10-P-0220A Remove/Install Brake Disk
NOTE: For model name/model number cross reference refer to Model Designation Table. See: Application and ID
Checking
1. Check lining thickness of brake pads and condition of brake discs.
-
If the brake pads have worn beyond the permissible wear limit, the land between the sealing groove and dust cap may be damaged, therefore,
check brake system for leaks using pressure tester, refer to Leak Test. See: Hydraulic System/Testing and Inspection
Removal
Front Axle Brake Caliper
2. Remove front axle brake caliper, refer to Replacement. See: Brake Caliper/Service and Repair
-
Do not disconnect brake hose
Rear Axle Brake Caliper
3. Remove rear axle brake caliper Models, refer to Replacement. See: Brake Caliper/Service and Repair
4. When removing the brake discs, loosen parking brake.
5. Unscrew locking bolt (64) and remove  brake disc (61).
Installation
6. install in reverse sequence, noting the following:
-
Brake discs must only be replaced in pairs.
-
Lightly lubricate to ensure the snug fit on brake discs (61) using long-life grease.
-
Replace locking bolt (64), tighten to 10 Nm
-
Tighten locking screw of rear brake disc (as equipped) to: 10 Nm.
-
Models 129, 140 and 202:
Ensure that the dowel pin or roll pins (63) fit correctly in the brake disc.
-
Models 202.033/093, 210.072 with CODE (957a) E50 AMG and 210.074/274:
The brake discs are different on the left and right.
Identification:
AMG HWA 210 421 02 12 right side
AMG HWA 210 421 01 12 left side
-
Model 129.067/076 as of 01.06.94, brake discs are directional for cooling purposes and are marked with arrows to denote rotation direction
-
Model 140 up to 3.9.93 (front axle), withdraw roll pins on front wheel hub when installing new brake discs.
7. Adjust parking brake Models 129, 140, 170, 202 and 208,210
< PREV PAGE
NEXT PAGE >