< PREV PAGE
NEXT PAGE >
CLK 55 AMG (208.374) V8-5.5L (113.984) (2001)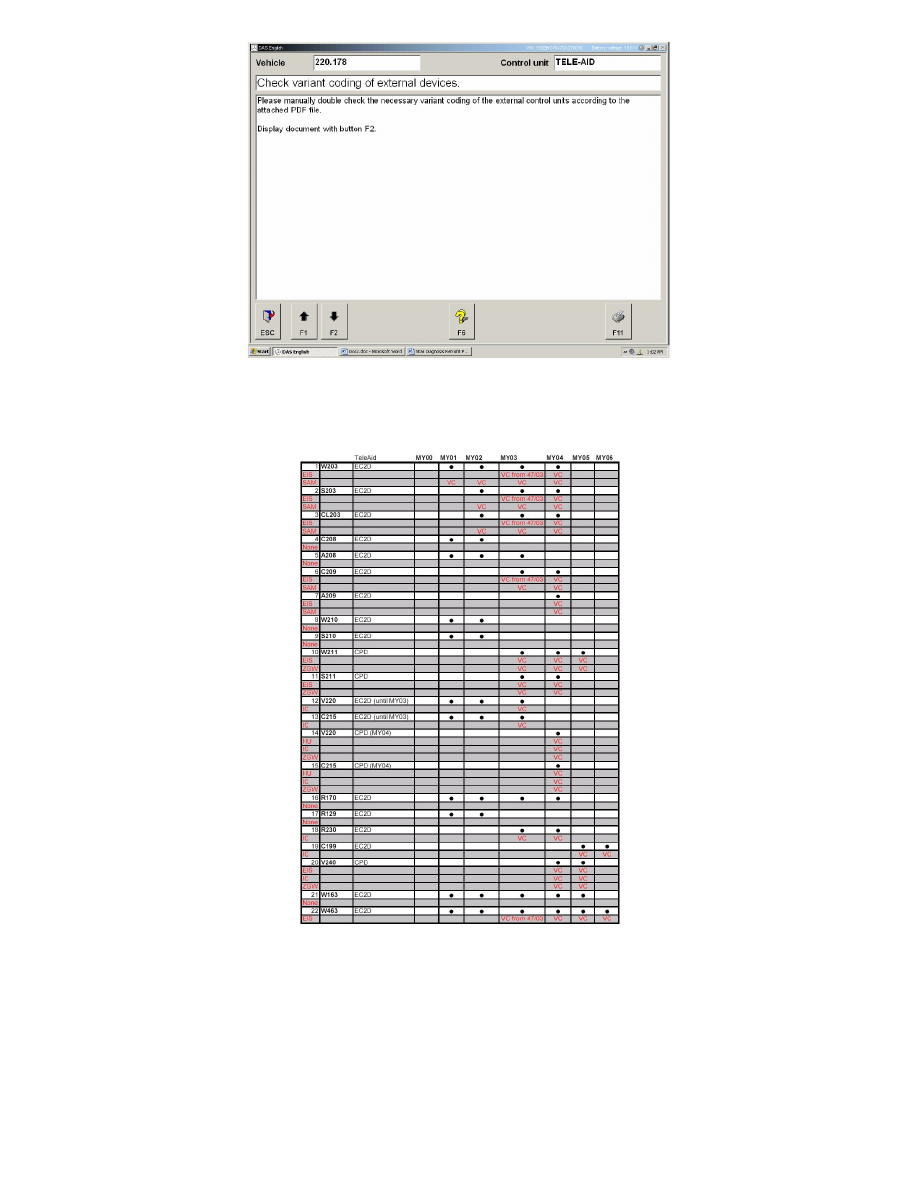 The PDF file can be opened upon pressing the F2 button, and the following table is displayed. The table lists all possible vehicle models along with the
Model year information for retrofitting the Tele Aid. For each vehicle model, the listed electronic control units needs to be accessed through the DAS
tool and Tele Aid variant coding has to be enabled (if in disabled state) for appropriate model years of the vehicle model shown in the table.
-
In case of CP Digital cars with the CTEL Portable holder set as fitted the Head Unit (HU) and the Audio Gate Way (AGW) software have to
be updated to the latest available. The AGW can be updated through DAS. The tool compares the version of software in the ECU with the
latest official version in DAS and updates only when necessary. For HU software update, insert the latest DVD, and the software updates only
if it detects that the original software version is older.
-
The unit becomes activated only after receiving the fax back from ATX. Only after receiving the fax, proceed with the 3-button procedure. The 3
button procedure involves the pressing and holding of the info button, road side assistance button, and the SOS button together for about 5
seconds until the button LEDs are flashing. The audio in the car is muted and a network announcement that the phone is being programmed is
heard. After a few of the same announcements, it finishes, and the audio of the car comes up again. This indicates the 3 button procedure is
successful. In case nothing is heard, or if the network announcement indicates that the programming of the phone could not be carried out, then it
indicates that the 3 button procedure is not successful. Please try this 3 button procedure again at least 3 times until it becomes successful. If the 3
< PREV PAGE
NEXT PAGE >