NEXT PAGE >
CLK 55 AMG Cabriolet (208.474) V8-5.5L (113.984) (2002)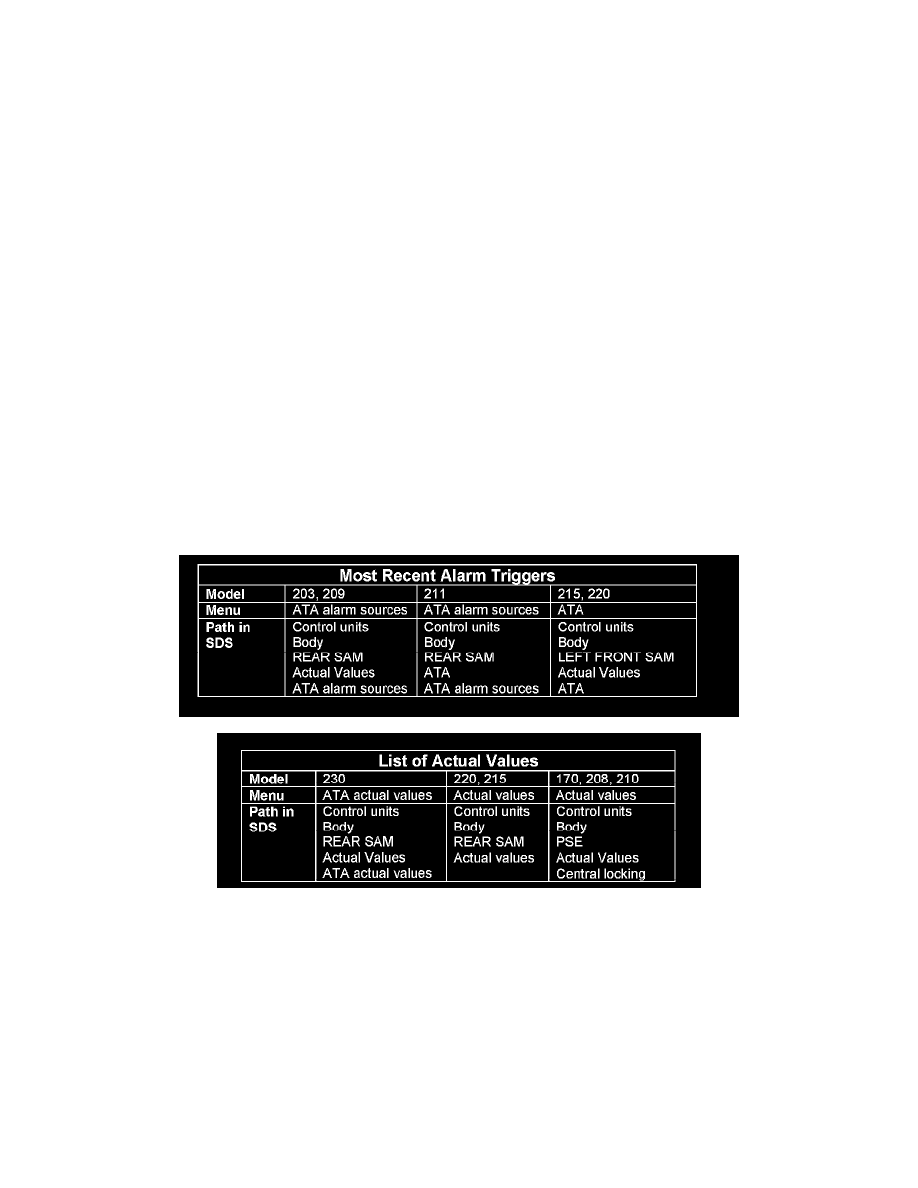 Emergency Contact Module: Customer Interest
Emergency Contact/Alarm System - System 'Runaway'
Date: February 13, 2004
Order No.: P-B-82.95/305
Supersedes:
Group: 82
SUBJECT:
Models 170, 203, 208, 209, 210, 211, 215, 220 and 230 
Model Years 2001 through 2004
TeleAid Runaway
If you receive customer reports in the above model vehicles of TeleAid Runaway, please note a TeleAid "Runaway" is defined as a vehicle that has the
TeleAid control unit perform either Alarm Activation Notification (AAN) or Remote Door Unlock (RDU) calls more than 10 times per day. In most of
these cases, fault is found with components other than the TeleAid. For example, a runaway that is making RDU calls might have a malfunctioning trunk
latch, or a short in the SAM.
The following is a method to determine the root cause for TeleAid runaways. It is always helpful to determine the type of runaway signal that the vehicle
was transmitting. The only two options are Alarm Activation Notification (AAN), or Remote Door Unlock (RDU). If the runaway status of the vehicle is
not known, then obtain the Mobile Identification Number (MIN), Electronic Serial Number (ESN), and VIN, and call the ATX Call Center at
800-756-9018. When you provide this vehicle specific information, the call center representative will be able to provide you with the type of signal and
the occurrence of each signal.
I.
HOW TO DETERMINE LAST TRIGGERED ALARM SIGNALS:
In some models, Star Diagnosis can be used to determine what anti-theft alarm components triggered the most recent AANs. Other models list the
real-time current status of the alarm and door contacts. Use the following tables to determine what device triggered the alarm, or what device is being
activated.
The "ATA alarm sources" page will list the last 5 alarm activations along with the description of the component that caused the alarm activation. If in the
last 5 activations there is a high frequency of one particular component, then it is very probable that component or its circuitry is responsible for the
activations.
The "Actual Values" and Central locking" page will list the real4ime current status of the ATA contact switches. This can help determine if a switch is
being activated inadvertently.
II.
HOW TO DETERMINE REMOTE DOOR UNLOCK MALFUNCTION USING DAS:
NEXT PAGE >