< PREV PAGE
NEXT PAGE >
CLK 55 AMG Cabriolet (208.474) V8-5.5L (113.984) (2002)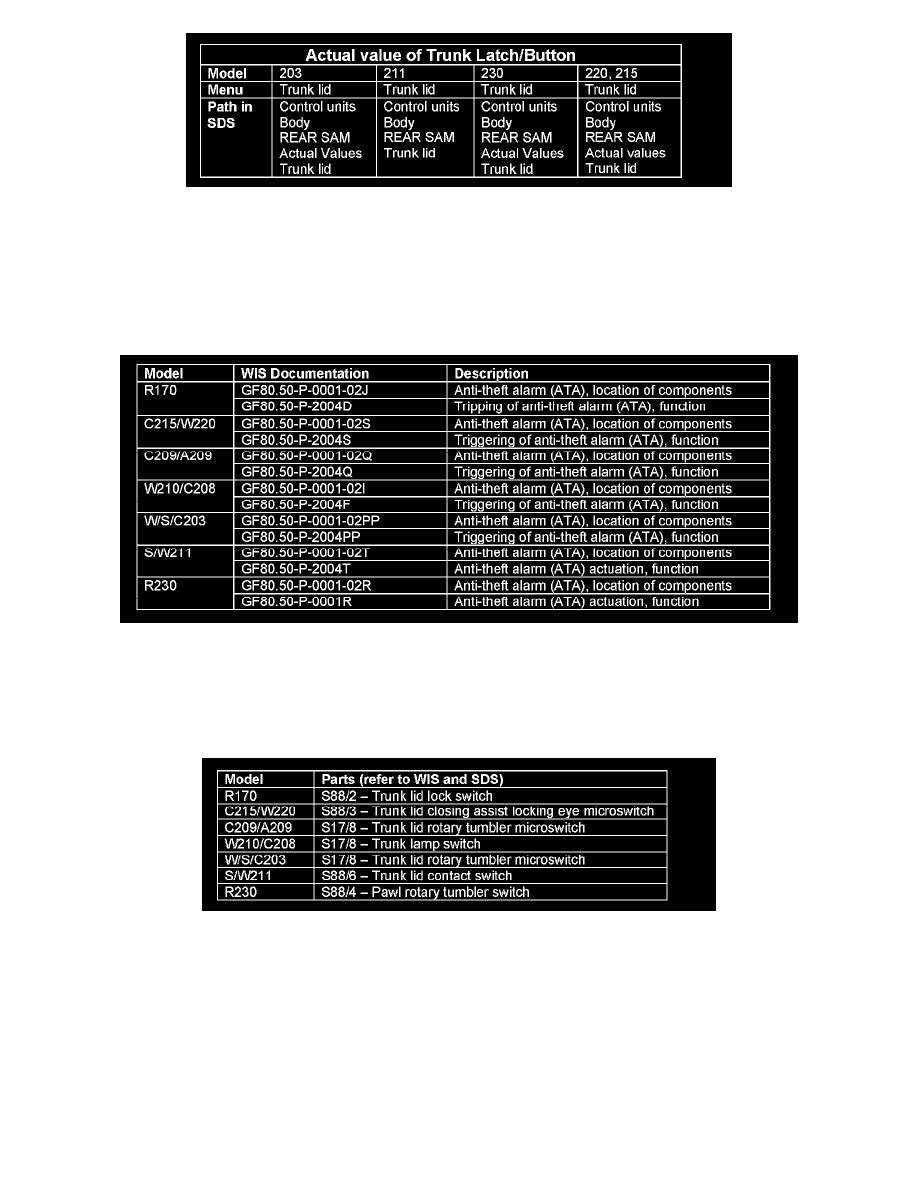 Star Diagnosis can also be used to determine if an unwarranted RDU signal is being transmitted. Use the following table to determine the actual value of
the trunk latch or button. For models 170, 208, and 210, use the List of Actual Values" table shown above. There is no information for the trunk lid on
209.
Observe the status of the switches. If problem is intermittent, then manipulate switch and/or wiring in order to provoke failure. If any of the Actual
Values register as OPERATED or ON, while the trunk is closed, then further inspection is required of the trunk latch assembly.
III.
DIAGNOSIS USING WIS DOCUMENTATION:
There are many components in the anti-theft alarm (ATA) system connected with the TeleAid control unit. There is the case where any one of these
components could become faulty and cause an unwarranted AAN signal to the TeleAid control unit. The following WIS documentation lists information
regarding the anti-theft alarm (ATA) system in different models. These control units can be found in WIS under group 80.50: Anti- theft alarm system
(ATA), interior motion sensor/Tow sensor for all models. Here are more specific documents found in group 80.50:
IV. SUPPLEMENT FOR RDU DIAGNOSIS
In all of these documents, it is possible to find the trunk latch/button. Not only is this a component of the ATA, but it also responsible for the triggering
of a Remote Door Unlock. The following table lists all the trunk latch/button respective to all models taken from the WIS documentation. The trunk
latch/button should be the FIRST component diagnosed. Use this in RDU cases:
V. DETECTING DISCRETE RDU AND AAN SIGNALS FROM TELEAID CONNECTOR:
Note: 
The following method only apples to vehicles with TeleAid 2 units. All vehicles with a CP (e.g. 211) only transmit RDU and AAN signals via CAN).
< PREV PAGE
NEXT PAGE >