< PREV PAGE
NEXT PAGE >
Sentra Sedan L4-1597cc 1.6L SOHC (E16S) (1986)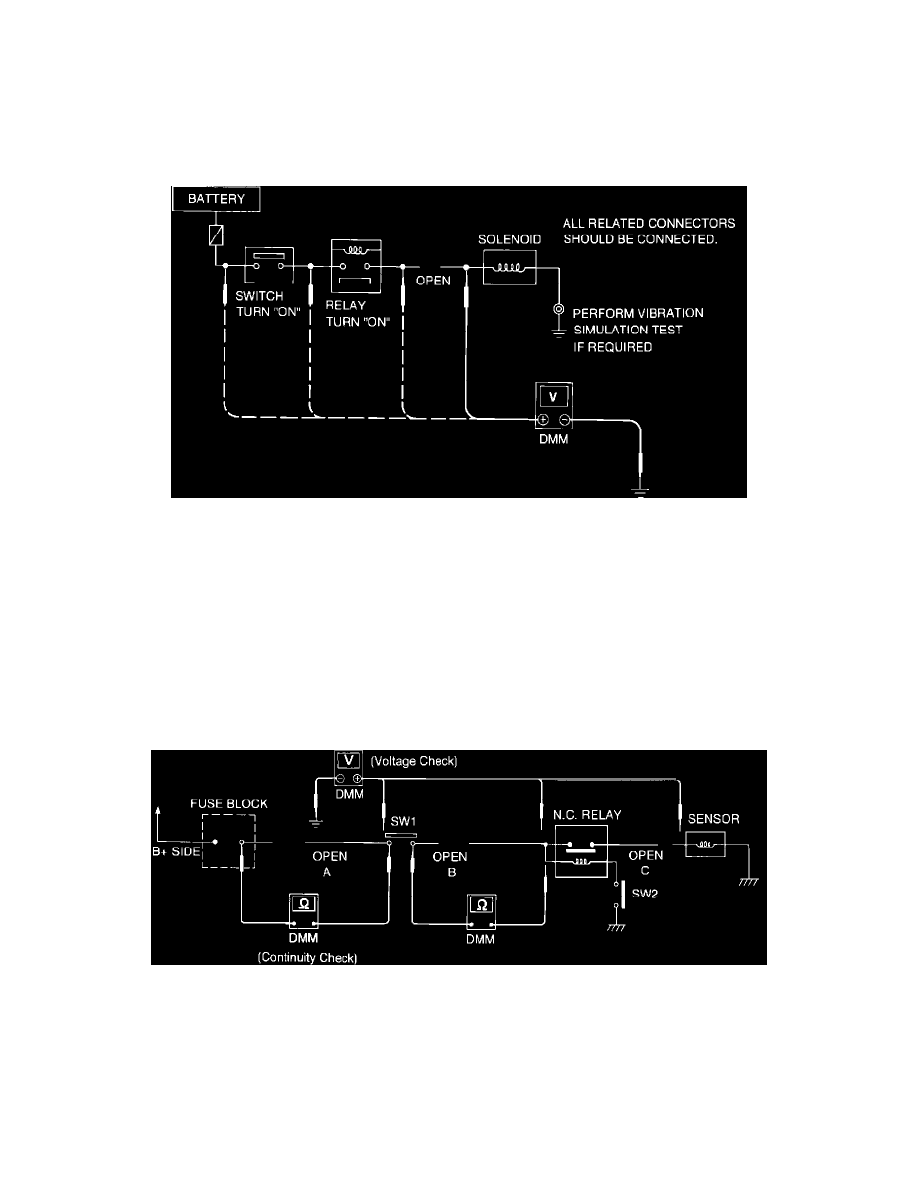 In general testing electrical circuits is an easy task if it is approached in a logical and organized method. Before beginning it is important that you have
all available information related to the system you are going to test. You should also have a thorough understanding of how the system operates so that
you use the appropriate test procedure and equipment.
While testing electrical components, if the incident is reported as intermittent, it may be necessary to gently shake the wiring harness or electrical
component to simulate vehicle vibrations.
DIAGNOSTIC TOOLS AND EQUIPMENT
A Digital Multimeter DMM (10 megaohm input impedance) can safely be used to diagnose and test most vehicle systems.
Test lights are not recommended due to the possibility of inadvertently tapping into a computer or air bag circuit and causing damage.
Before attempting to diagnose a circuit for an open or a short, it is important that you:
1.
Have the proper reference material available. Power Supply Routings Applicable Service Manual sections Fix Tips
2.
Understand how the system works.
3.
Have a good understanding of what condition you are diagnosing Situation when the problem occurs (weather, loads, etc.) What systems interact
with the one you are diagnosing Is it intermittent or a consistent problem
4.
Have proper equipment to perform the diagnosis such as a digital voltmeter, alligator clips, and probe leads.
TESTING FOR OPENS IN THE CIRCUIT
Before you begin to diagnose and test the system, you should rough sketch a schematic of the system. This will help you to logically walk through the
diagnosis process. Drawing the sketch will also reinforce your working knowledge of the system. Refer to the attached drawing for sample schematics.
Continuity Check Method
The continuity check is used to find an open in the circuit. The Digital Multimeter (DMM) set on the resistance function will indicate an open circuit as
over limit (OL, no beep tone or no ohms symbol). Make sure to always start with the DMM at the highest resistance level.
To help in understanding the diagnosis of open circuits please refer to the attached diagram.
< PREV PAGE
NEXT PAGE >