< PREV PAGE
NEXT PAGE >
405 L4-1905cc 1.9L (1989)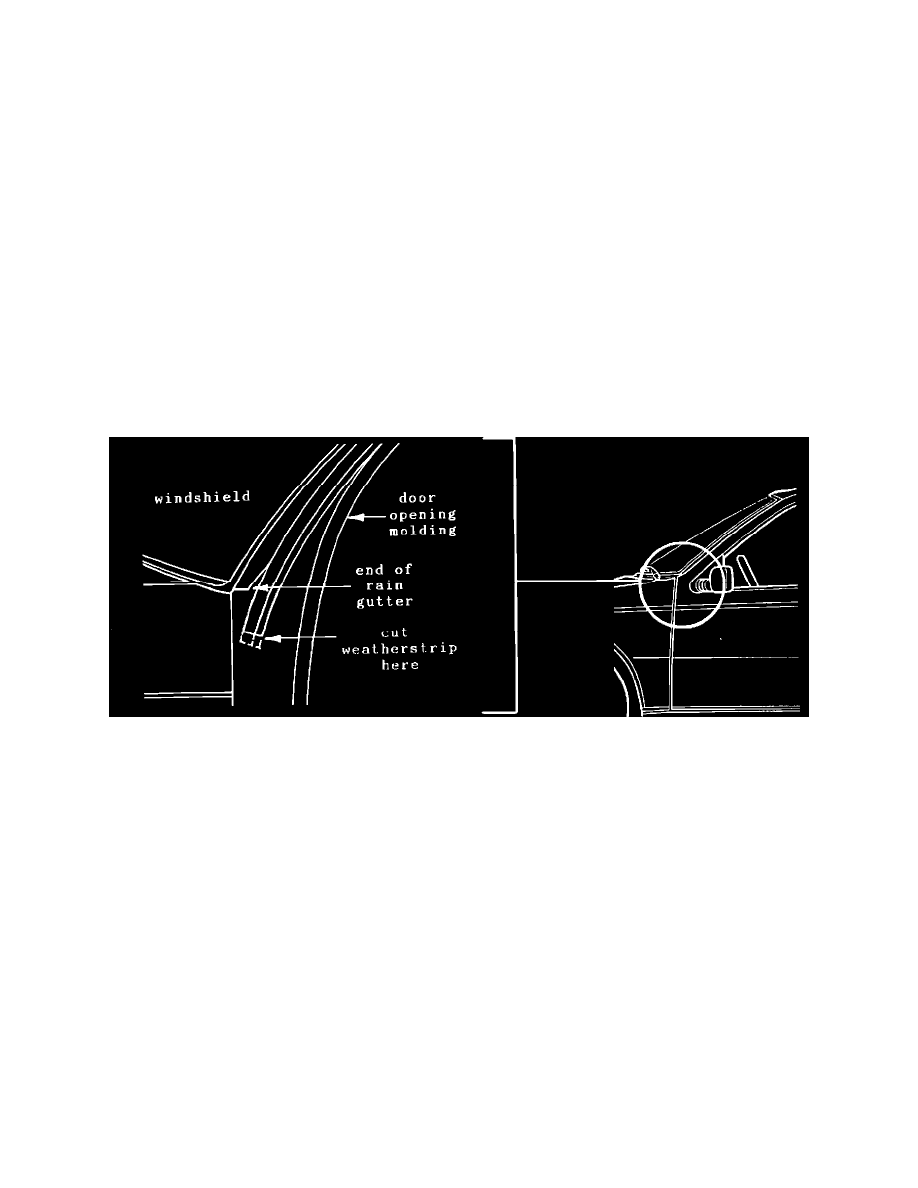 Weatherstrip: All Technical Service Bulletins
Doors - Rub On Rain Gutter
BULLETIN NO. 317
DATE:
December, 1988
SUBJECT:
405 FRONT DOORS RUB ON LOWER/FRONT END OF RAIN GUTTER WEATHERSTRIP
THIS BULLETIN SUPERCEDES SERVICE BULLETIN NO. 302 DATED SEPTEMBER 1988
AFFECTED VEHICLES:
ALL 405 SEDANS
DESCRIPTION:
-
Upon opening or closing front doors, the door's outer and/or inner skins may come in contact with the rain gutter weatherstrip, inhibiting free
movement of the door.
-
In some cases, this condition could cause the paint to wear off at the contact points over time. It could also cause a slight "squeak" as the door rubs
across the weatherstrip.
-
Also, the weatherstrip could be cut open by the door edge, exposing the steel reinforcement insert, which in turn could cause oxidation and
staining of the painted area.
REMEDY:
During PDI or at the customer's first visit to the dealership:
-
Check both front doors to see if the vehicle has this problem Modify only where necessary.
-
Mark the weatherstrip at the point of interference with the door (see drawing below).
-
Lift the weatherstrip from the lower/front end and cut weatherstrip straight across just above the mark between 2 ribs in the steel reinforcement
insert, using a razor blade for the rubber and then a pair of cutter pliers for the steel reinforcement insert.
IMPORTANT:
DO NOT CUT AWAY MORE THAN IS ABSOLUTELY NECESSARY TO ELIMINATE THE INTERFERENCE WITH
THE DOOR
Typical values are 2 cm cut away, leaving 11 cm below the end of the rain gutter (see drawing above).
-
Touch up any paint damage.
-
Reinstall weatherstrip and the door opening mouldings, making sure that the lip of the door opening moulding wraps over and lays flat on top of
the rain gutter weatherstrip.
WARRANTY INFORMATION:
Damage Code:
902393
Operation Number:
991305
Time Allowance:
0010 hours (for one or both sides)
< PREV PAGE
NEXT PAGE >