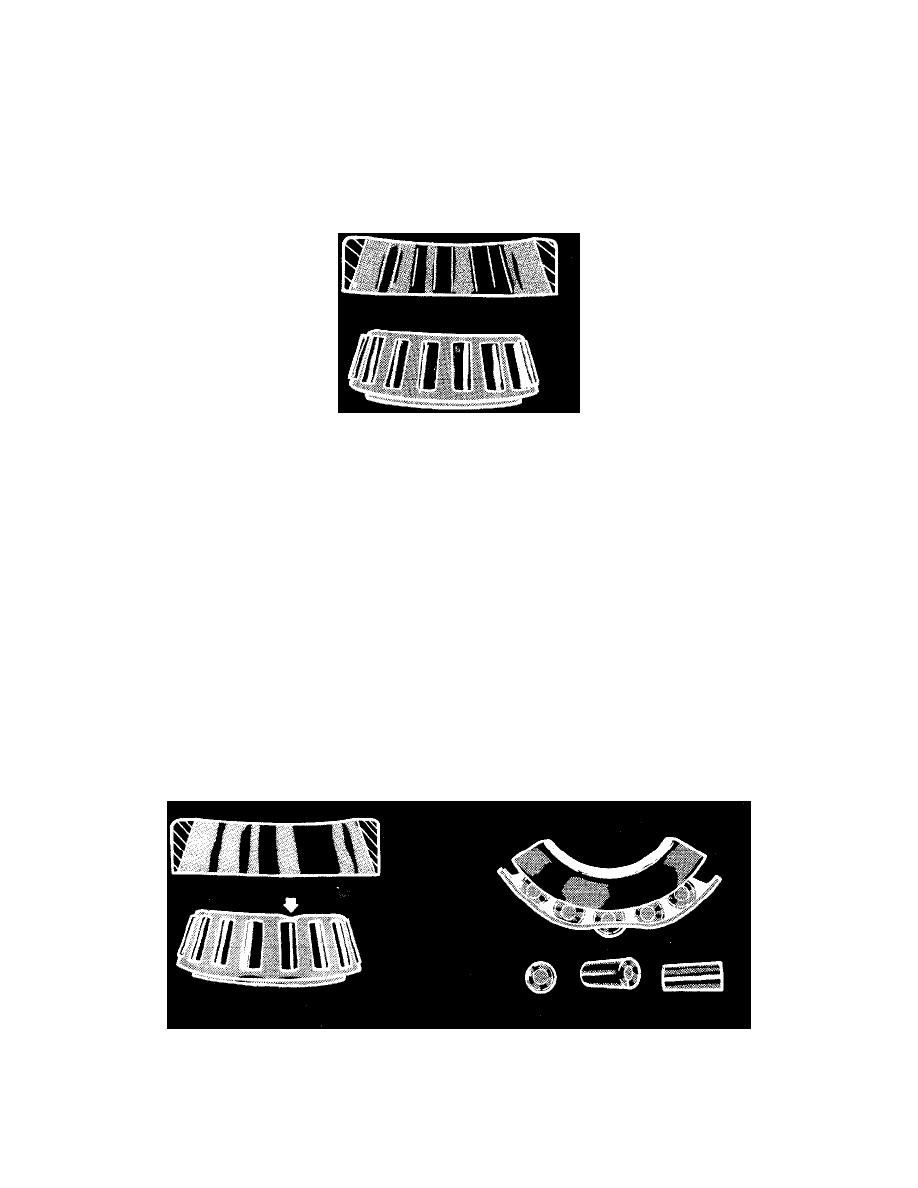 Brake Disc: Fundamentals and Basics
Wheel Bearing Inspection and Repacking
WHEEL BEARING INSPECTION
Inspect the wheel bearing closely for the following:
Fatigue Spalding
Look for small flakes of shiny metal (babbit) embedded in the grease. This can easily be done by dragging the bearing across a clean shop
towel. Any metal flakes will be readily visible in the grease deposited on the shop towel. If any flakes are found the wheel bearing should be
replaced.
Brinelling
Look for a series of vertical indentations on the races. This is caused by impact loading or vibration while the bearing is not rotating. Replace
the bearing if the indentations are severe or the bearing is noisy.
Heat Discoloration
Heat discoloration can range from faint yellow to dark blue. This results from the bearing being adjusted too tightly or an insufficient amount
of lubricant/grease.
Excessive heat can cause the races and rollers to soften. To check for a loss of temper on the races or rollers a simple file test may be
performed. A file drawn lightly over a race or roller which has lost its case hardening will grab and cut metal, whereas a file drawn lightly
over a hardened part will glide readily without scratching the metal.
Replace the bearing and race if softening is indicated.
Cracked Outer Race
Cracked races often result from the race being driven in cocked or at an angle. Replace the bearing and race and be careful to drive the new
race in evenly.
Loose Outer Race
Check to see that the race is tight and secure in the hub. If there is any evidence of movement or slippage, replace both the hub assembly and
the bearing.
Bent or Damaged Cage
Verify that the cage has not been bent or distorted. Bent or damaged cages are often the result of improper bearing and grease seal removal
techniques.
When removing the inner wheel bearing use a seal puller to remove the grease seal. The inner bearing should then just slide out of the hub.