< PREV PAGE
NEXT PAGE >
PB 150 V8-318 5.2L VIN T 2-BBL (1983)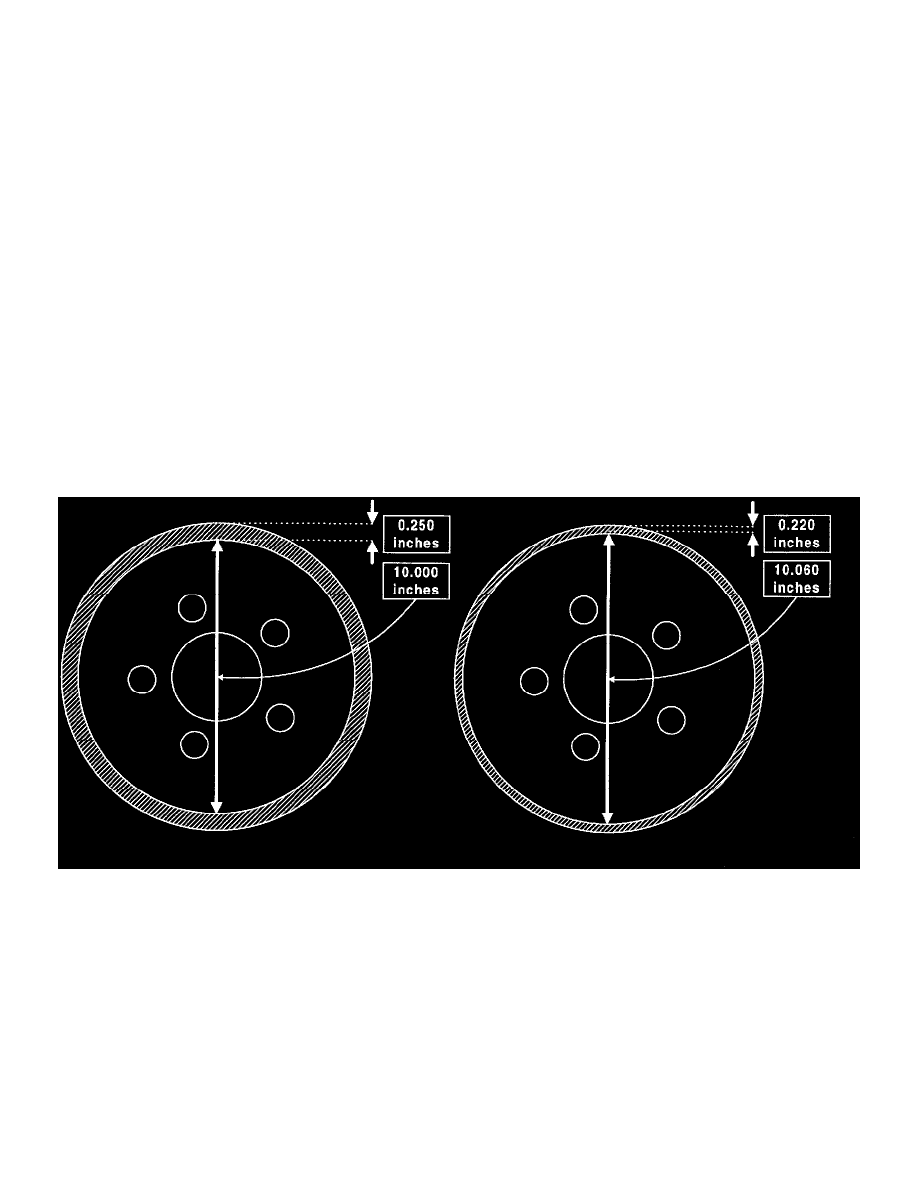 Brake Drum: Testing and Inspection
VISUAL INSPECTION
Inspect the drum for cracks. If any large, through-the-drum cracks are located the drum must be replaced.
NOTE:  Cracks in drums are often difficult to locate. To quickly determine if a drum is cracked lightly drop the drum (from a height of 4-5
inches) onto a flat hard surface. A cracked drum will make a dull thud sound while a good drum will make a ringing sound.
Inspect for signs of overheating. An overheated drum will often be discolored (blue/gold), warped, or heat checked. Heat checks are small cracks
in the drum friction surface. 
-
If drums are cracked or heat spotted, they must be replaced.
NOTE:  The cause of the overheating should be determined prior to replacing the shoes/linings or drums.
Inspect for scoring. Any grooves or scores in excess of 0.008 inches should be resurfaced.
SPECIFICATIONS - 
MAXIMUM DIAMETER
Purpose
The thickness of the drum friction surface is directly proportional to the drums ability to absorb and release heat during braking. As the drum
becomes thinner due to normal wear and resurfacing it looses its ability to absorb and release heat and is more prone to brake fade, distortion,
and cracking.
As the drum wears the inside diameter of the drum increases. The amount of drum thickness lost to wear is equal to 1/2 the increase in
diameter.
There are two specifications related to drum thickness.
Discard Diameter - This is the maximum diameter at which it becomes unsafe to operate. A drum which has reached this thickness should
not be machined and should be discarded.
Maximum Refinish - This is the maximum diameter to which a drum may be machined or resurfaced to. This diameter is smaller (thicker)
than the Discard diameter because it assumes the drum will need to have a sufficient thickness left, after machining, to allow for further
wear from a new set of shoes/linings.
Which One Should Be Used?
If you install a new pair of shoes with the drum diameter at or less than the "Maximum Refinish" specification the drums should have a
sufficient thickness to last the normal life of the new shoes/linings.
The "Discard Diameter" should be used to determine if a drum needs to be replaced at the present time of inspection.
< PREV PAGE
NEXT PAGE >