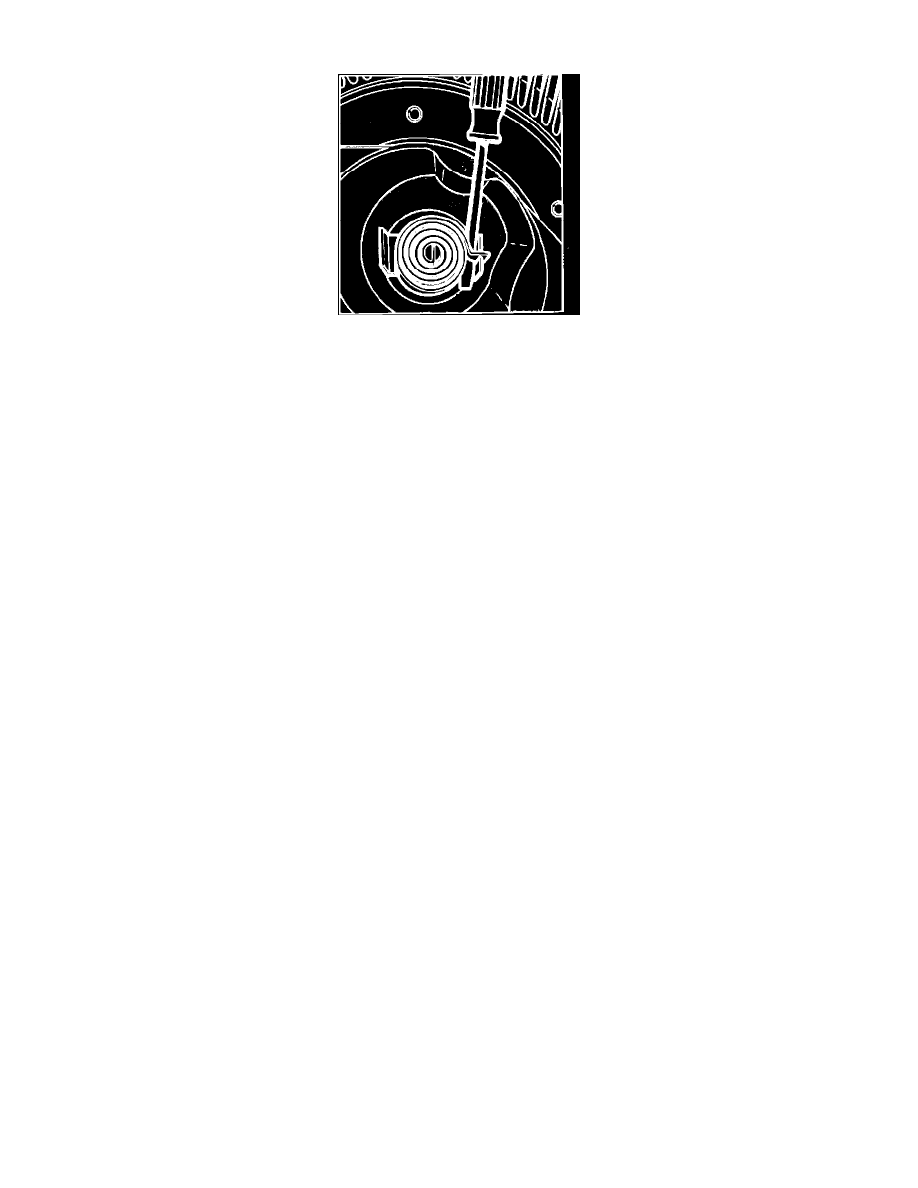 Fan Clutch: Testing and Inspection
Fig. 3 Bimetallic coiled spring removal
FAN DRIVE CLUTCH TEST
Do not operate the engine until the fan has been first checked for possible cracks and separations.
To check the clutch fan, disconnect the bimetal spring and rotate 90° counterclockwise. This disables the temperature-controlled, free-wheeling
feature and the clutch performs like a conventional fan. If this cures the overheating condition, replace the clutch fan.
FAN CLUTCH NOISE
Fan clutch noise can sometimes be noticed when clutch is engaged for maximum cooling. Clutch noise is also noticeable within the first few minutes
after starting engine while clutch is redistributing the silicone fluid back to its normal, disengaged operating condition after settling for long periods of
time (overnight). However, continuous fan noise or an excessive roar indicates the clutch assembly is locked-up due to internal failure. This condition
can be checked by attempting to manually rotate fan. If fan cannot be rotated manually or there is a rough, abrasive feel as fan is rotated, the clutch
should be replaced.
FAN LOOSENESS
Lateral movement can be observed at the fan blade tip under various temperature conditions because of the type bearing used. This movement should
not exceed 1/4 inch (6.5 mm) as measured at the fan tip. If this lateral movement does not exceed specifications, there is no cause for replacement.
CLUTCH FLUID LEAK
Small fluid leaks do not generally affect the operation of the unit. These leaks generally occur around the area of the bearing assembly, but, if the leaks
appear to be excessive, engine overheating may occur. Check for clutch and fan free-wheeling by attempting to rotate fan and clutch assembly by hand
five times. If no drag is felt, replace clutch.
FAN BLADE INSPECTION
Place fan on flat surface with leading edge facing down. If there is a clearance between fan blade touching surface and opposite blade of more than
0.090 inch (2 mm), replace fan. (See caution at beginning of chapter.)