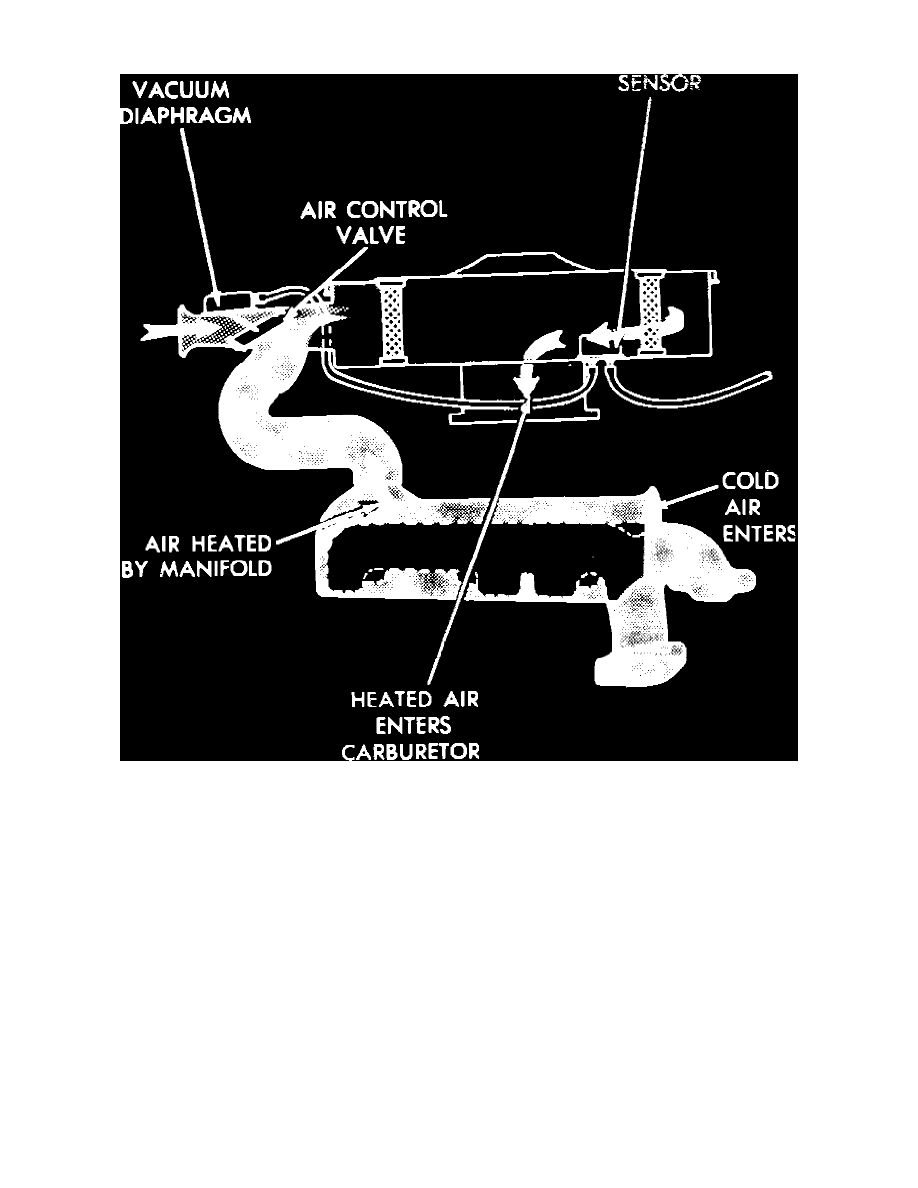 Thermostatic Air Cleaner: Description and Operation
Fig. 19 Heated Air Inlet System. All Models With 6-225 & V8 Engines & Dakota 4-135 & V6-238
    These systems, use a thermostatically controlled air cleaner to maintain a predetermined air temperature entering the carburetor or throttle body when
underhood temperatures are less than a predetermined temperature. By maintaining this temperature, the carburetor or throttle body can be calibrated
leaner, improving engine warm-up and minimize icing. Temperature is controlled by intake manifold vacuum, a temperature sensor and a vacuum
diaphragm which operates the heat control door in the snorkel.
    During engine warm-up, air is heated by a shroud surrounding the exhaust manifold, then the air is piped to the air cleaner snorkel and into the 
carburetor. The vacuum diaphragm controls the air control valve which is closed to outside air. Therefore all air entering the carburetor is heated.
    On engines except 4-156, when ambient air temperature is 15°F or more above the control temperature, air will flow through the outside air inlet.
When ambient air temperature is below the control temperatures, there will be air flow through both circuits after the engine has been started and the
exhaust manifold starts to give off heat. The colder the ambient air the greater the flow of air through the stove, and the warmer the air the greater the
flow through the snorkel.
    On models with 6 and V8 engines, during normal operation, as the air entering the air cleaner increases, the air control valve opens to allow heated air
to mix with cold air to keep the air entering the carburetor at a specified temperature.
    On models exc. 4-156 engine, with the vacuum diaphragm opposed by spring force, temperature modulations will occur only at road load throttle
positions or when intake manifold vacuum is greater than the operating vacuum of the vacuum diaphragm.
    A dual snorkel air cleaner is used on some vehicles. This unit functions the same as the single snorkel air cleaner except that during deep throttle