< PREV PAGE
NEXT PAGE >
PB 150 V8-318 5.2L VIN T 2-BBL (1983)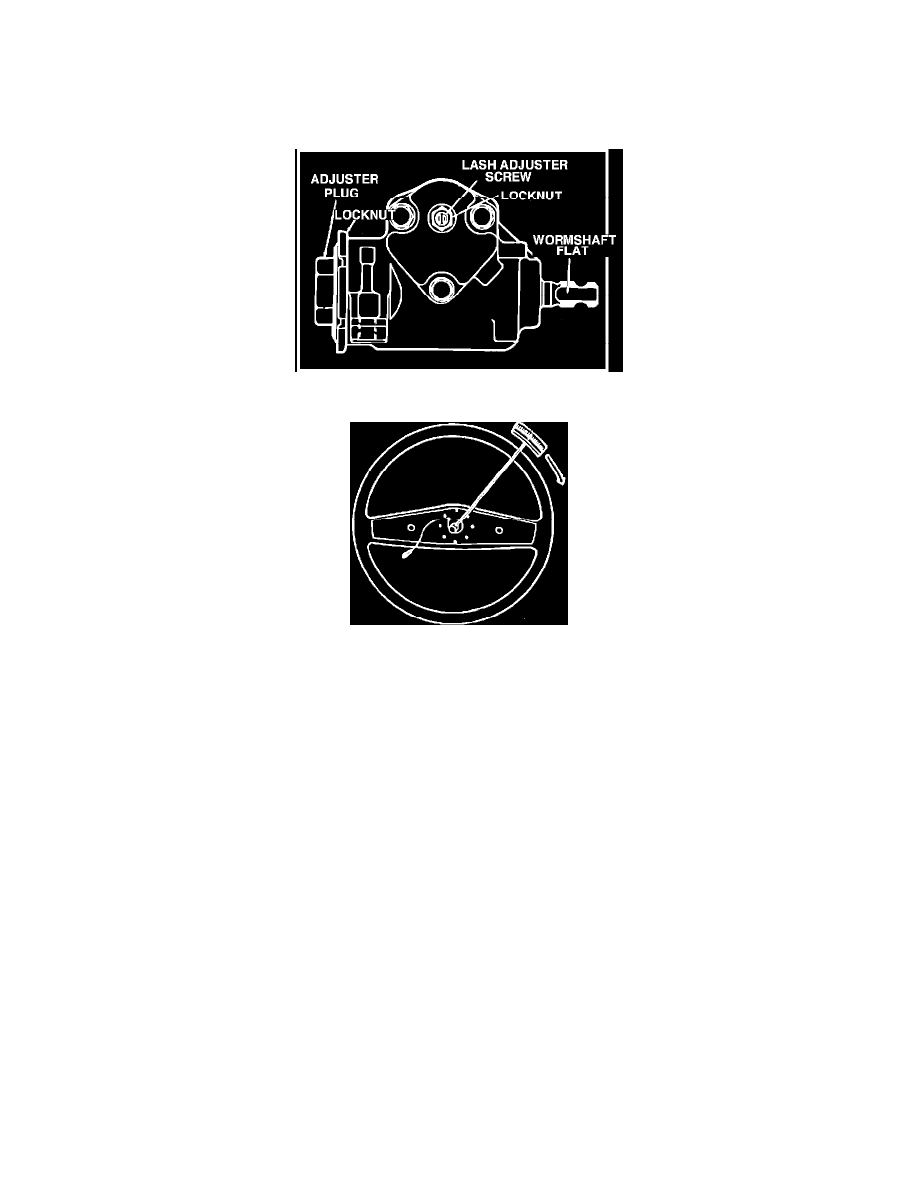 Steering Gear: Adjustments
Manual Steering Gear
There are two adjustments on the steering gear: worn bearing preload and pitman shaft overcenter preload. Prior to adjusting the steering gear, all
outside loads must be removed.
Fig. 3 Steering gear adjustments
Fig. 4 Checking adjustment with an inch pound torque wrench
WORM BEARING PRELOAD, ADJUST
1. Disconnect battery ground cable, then raise and support vehicle.
2. Remove pitman arm nut, then mark relationship of pitman arm to pitman shaft to aid during reassembly.
3. Remove pitman arm using a suitable puller.
4. Loosen steering gear adjuster plug lock nut, then back off adjuster plug 1/4 turn.
5. Remove horn pad or button to gain access to the steering wheel attaching nut.
6. Turn steering wheel gently in one direction to stop, then turn back 1/2 turn to position steering gear away from "high point" load position. Do not
turn wheel hard against steering stops with pitman arm disconnected as damage to the gear ball guides can result.
7. Position suitable inch pound torque wrench on steering wheel hub nut, then while rotating steering wheel with inch pound wrench through a 90
degree arc, record and measure "bearing drag." Do not use an inch pound wrench of more than 50 inch pound capacity.
8. Adjust worm bearing preload to specifications listed at end of section by turning adjuster plug while measuring turning torque at steering wheel
hub with inch pound wrench. Worm bearing preload specification is in excess of "bearing drag" determined in previous step.
9. Torque adjuster plug lock nut to 25 ft lb, then recheck preload. Rotate steering wheel from stop to stop. If steering gear feels "lumpy",
bearing damage is indicated. Gear should be disassembled and inspected as necessary.
PITMAN SHAFT OVERCENTER PRELOAD, ADJUST
1. Perform steps 1 through 9 of "Worm Bearing Preload, Adjust" procedure.
2. Turn steering wheel from one stop to the other while carefully counting the total turns required, then turn wheel back exactly halfway to position 
steering gear at "high point."
3. Loosen lash adjuster screw lock nut, then turn adjuster screw clockwise to remove gear lash between ball nut and pinion shaft. Tighten lock nut.
4. Check steering wheel turning torque with suitable inch pound wrench at steering wheel hub, and compare to specifications listed at end of section.
5. If measurement is not within specifications, loosen lock nut and readjust adjuster screw to obtain proper turning torque. Tighten lock nut and
check turning torque through center of steering wheel travel. If maximum turning torque exceeds specifications, turn adjuster screw
counterclockwise, then come up on adjustment by turning in a clockwise direction.
6. Assemble pitman arm to pitman shaft.
< PREV PAGE
NEXT PAGE >