< PREV PAGE
NEXT PAGE >
PB 150 V8-318 5.2L VIN T 2-BBL (1983)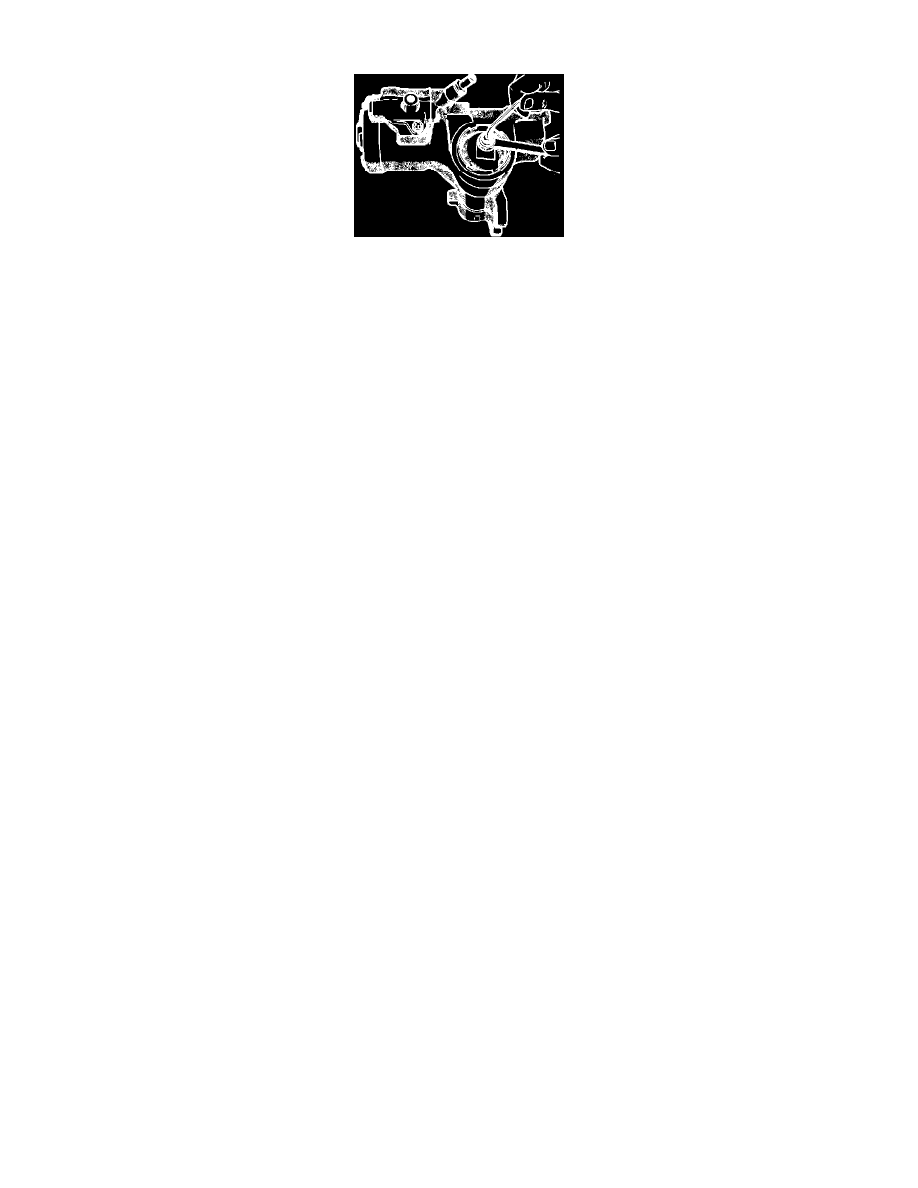 Steering Gear: Testing and Inspection
Fig. 10 Adjusting steering gear mesh
1. Fill reservoir to level mark.
2. Connect test hoses to hydraulic pump on car with pressure gauge installed between pump and steering gear to register pressures.
3. Start engine and operate at idle to bring steering gear to normal operating temperature.
4. Center the valve until unit is not self steering. Tap valve body retaining screw heads to move valve body up on steering housing, or tap end plug to
move valve body down.
5. Rotate worm shaft through range of travel to bleed air from system, then refill reservoir.
6. With steering gear on center, tighten sector shaft adjusting screw until backlash is removed from steering arm. If the power train was removed,
tighten adjusting screw an additional 11/4 turns, then tighten locknut.
7. Operate unit through several cycles, aligning piston rack and sector teeth.
8. With gear on center, readjust sector shaft backlash. Loosen adjusting screw until backlash is present, then tighten adjusting screw until backlash is
removed. Tighten adjusting screw an additional 3/8 to 1/2 turn and torque lock nut to 28 ft lb
9. Ensure torque at sector shaft required to turn unit through center at 2 RPM in each direction, starting from a point at least one full turn of the worm
shaft to either side of center does not exceed 20 ft lb or vary more than 5 ft lb from left to right. Adjust valve to equalize torque in both directions,
then torque valve body adjusting screw to 200 inch lbs.
10.  With gear fully deflected in either direction, attempt to center unit by applying torque torque wrench at steering gear shaft. Hold worm shaft until
sector shaft torque reaches 50 ft lb, then release worm shaft and maintain a steady pull at 2 RPM on the gear shaft. If sector shaft torque does not
drop to 20 ft lb or less at the unit passes through center, check for excessive internal drag, binding spool valve or tight sector shaft adjustment.
11.  Ensure, with unit under power and no load applied, torque required to rotate worm shaft 90 degrees to either side of center at 6 RPM is 6 - 10 inch
lbs.
< PREV PAGE
NEXT PAGE >