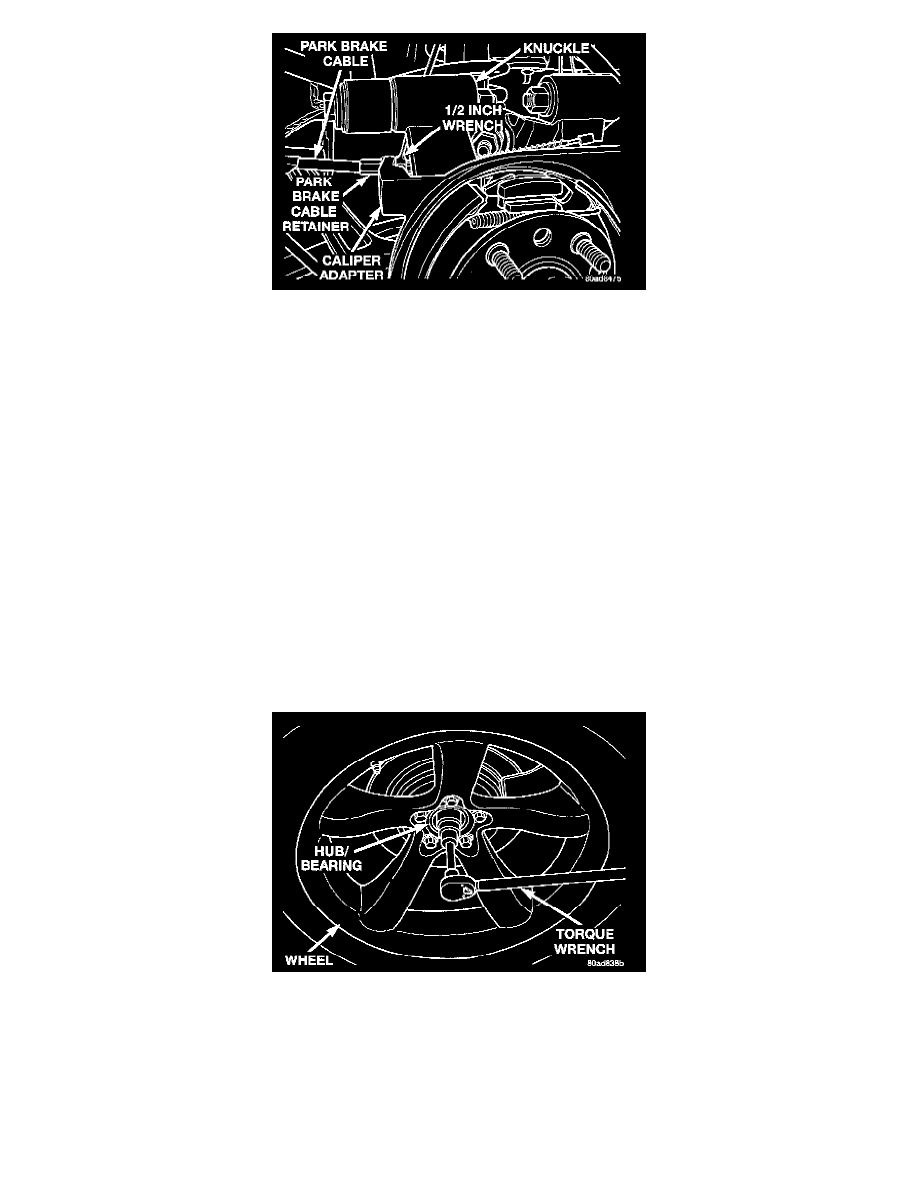 Park Brake Cable Removal From Caliper Adapter
15. Remove park brake cable from caliper adapter. Park brake cable is removed from caliper adapter by pushing a 1/2 inch box wrench over the end of
park brake cable retainer. This will collapse retaining fingers on park brake cable retainer and push park brake cable out of caliper adapter.
16. Remove caliper adapter and park brake shoes as an assembly from the knuckle.
Install 
1. Install the 3 hub/bearing attaching bolts into the knuckle.
2. Install caliper adapter on knuckle using the 3 hub/bearing bolts to hold it in place.
3. Install the hub/bearing on the stub shaft of the outer CV joint. Align the hub/bearing with its 3 mounting bolts and hand start the bolts in to the
flange of the hub/bearing. Equally tighten the 3 mounting bolts pulling the hub/bearing onto the stub shaft and into the knuckle. Continue to
equally tighten the 3 mounting bolts until caliper adapter and hub bearing are squarely seated on knuckle. Then tighten the 3 mounting bolts to a
torque of 61 Nm (45 ft. lbs.).
4. Install the stub axle to hub/bearing retaining nut. Snug the retaining nut at this time but do not attempt to tighten it to the required torque
specification.
5. Install park brake cable into caliper adapter. Be sure locking tabs on cable retainer are expanded to ensure cable is held securely in adapter.
6. Install park brake cable on park brake shoe actuator, located on rear of caliper adapter.
7. Install bake rotor on hub/bearing.
8. Install disc brake caliper on caliper adapter, reversing the removal procedure.
9. Install bolts mounting disc brake caliper to caliper adapter. Tighten mounting bolts to a torque of 27 Nm (20 ft. lbs.).
10. Install wheel and tire
11. Lower the vehicle so its full weight is supported by the suspension. Apply the park brake and have a helper apply the vehicle brake system to keep
the vehicle from moving.
Stub Shaft To Hub Bearing Nut
12. Tighten the stub shaft to hub bearing retaining nut to a torque of 142 Nm (105 ft. lbs.).
13. Tighten the wheel mounting nuts in the proper sequence until all nuts are torqued to half specification. Then repeat the tightening sequence to the
full specified torque of 122 Nm (90 ft. lbs.).
14. Install center cap on wheel.