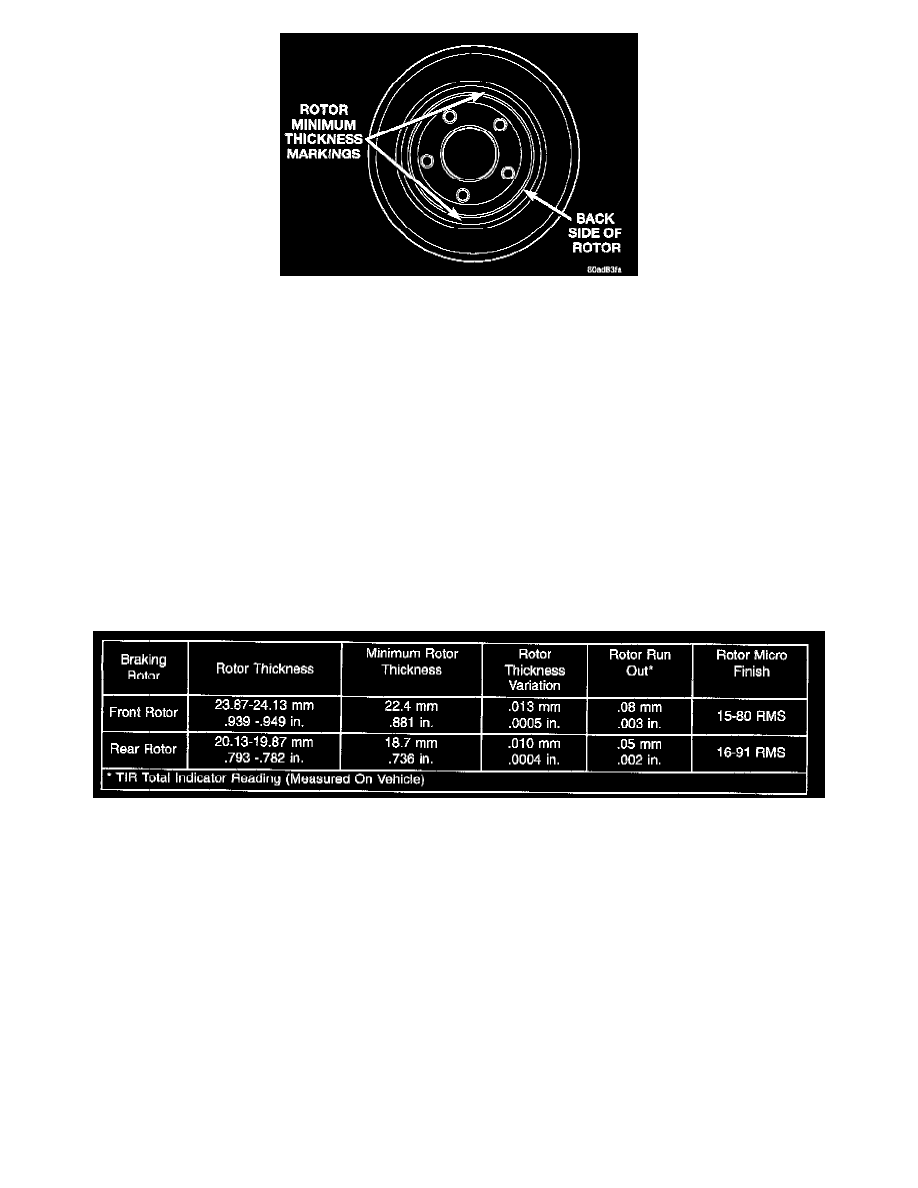 Front Rotor Minimum Thickness Marking
All rotors have markings for minimum allowable thickness cast on an unmachined surface of the rotor.
Minimum allowable thickness is the minimum thickness which the brake rotor machined surface may be cut to.
Caution:  Do not machine the rotor if it will cause the rotor to fall below minimum thickness when being properly machined.
The collets, shafts and adapters used on the brake lathe and the bearing cups in the rotor MUST be clean and free from any chips or contamination.
When mounting the front rotor on the brake lathe, strict attention to the brake lathe manufacturer's operating instructions is required.
If the front rotor is not mounted properly, the lateral runout will be worse after refacing or resurfacing than before.
Refacing Brake Rotor 
Refacing of the front rotor is not required each time the brake pads are replaced.
When refacing a front rotor the required 0.08 mm (0.003 inch) TIR (Total Indicator Reading) and 0.013 mm (0.0005 inch) thickness variation limits
MUST BE MAINTAINED. Extreme care in the operation of rotor turning equipment is required.
The use of a double straddle cutter that machines both sides of the rotor at the same time is highly recommended.
Resurfacing Brake Rotor 
This operation can be used when a rotor's surface has rust, lining deposits, excessive lateral runout or thickness variation on it's braking surface.
Rotor Refinishing Limits/Tolerances
Rotor Refinishing Limits/Tolerances 
A sanding rotor attachment will remove surface contamination without removing much rotor material.
It will generally follow variations in thickness that are in the rotor.