< PREV PAGE
NEXT PAGE >
Prowler V6-3.5L VIN G (1999)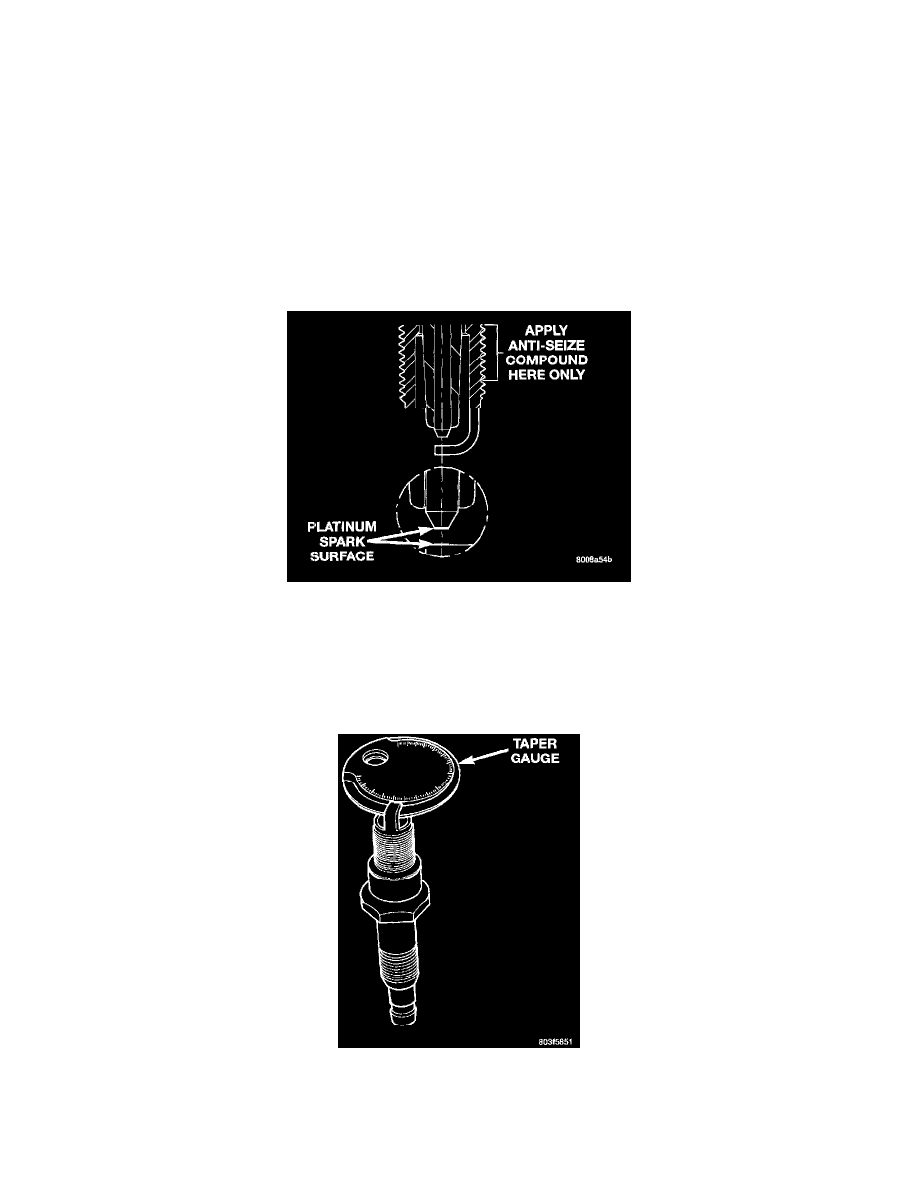 ^
Use an OSHA approved air nozzle when drying gas fouled spark plugs.
If gap adjustment is required of platinum plugs, bend only the ground electrode. DO NOT TOUCH the platinum pads. Use only a proper gapping
tool and check with a taper gap gauge.
CAUTION: Cleaning of the platinum plug may damage the platinum tip.
Spark Plug Inspection
PLATINUM PLUGS
Remove the spark plugs and examine them for burned electrodes. Also check for fouled, cracked or broken porcelain insulators. Keep plugs
arranged in the order in which they were removed from the engine. An isolated plug displaying an abnormal condition indicates that a problem
exists in the corresponding cylinder. Replace spark plugs at the intervals recommended in the Maintenance Schedules.
The spark plugs are platinum and have a recommended service life of 100,000 miles for normal driving conditions per Maintenance Schedule A.
The spark plugs have a recommended service life of 75,000 miles for severe driving conditions per Maintenance Schedule B.
Platinum Pads
A thin platinum pad is welded to electrode ends. Extreme care must be used to prevent spark plug cross-threading, mis-gapping and ceramic
insulator damage during plug removal and installation.
Caution: Never attempt to file the electrodes or use a wire brush for cleaning platinum plugs. This would damage the platinum pad which would
shorten spark plug life.
Setting Spark Plug Electrode Gap
Adjust the spark plug gap to 0.048 to 0.053 in.
Apply a very small amount of anti-seize compound to the threads when reinstalling the vehicle's original spark plugs that have been determined
< PREV PAGE
NEXT PAGE >