Antitheft - Automatic Door Lock Feature Programming|Page 8 >
Echo L4-1.5L (1NZ-FE) (2000)
Relays and Modules
Relays and Modules - Accessories and Optional Equipment
Alarm Module, (Vehicle Antitheft)
Component Information
Technical Service Bulletins
Antitheft - Automatic Door Lock Feature Programming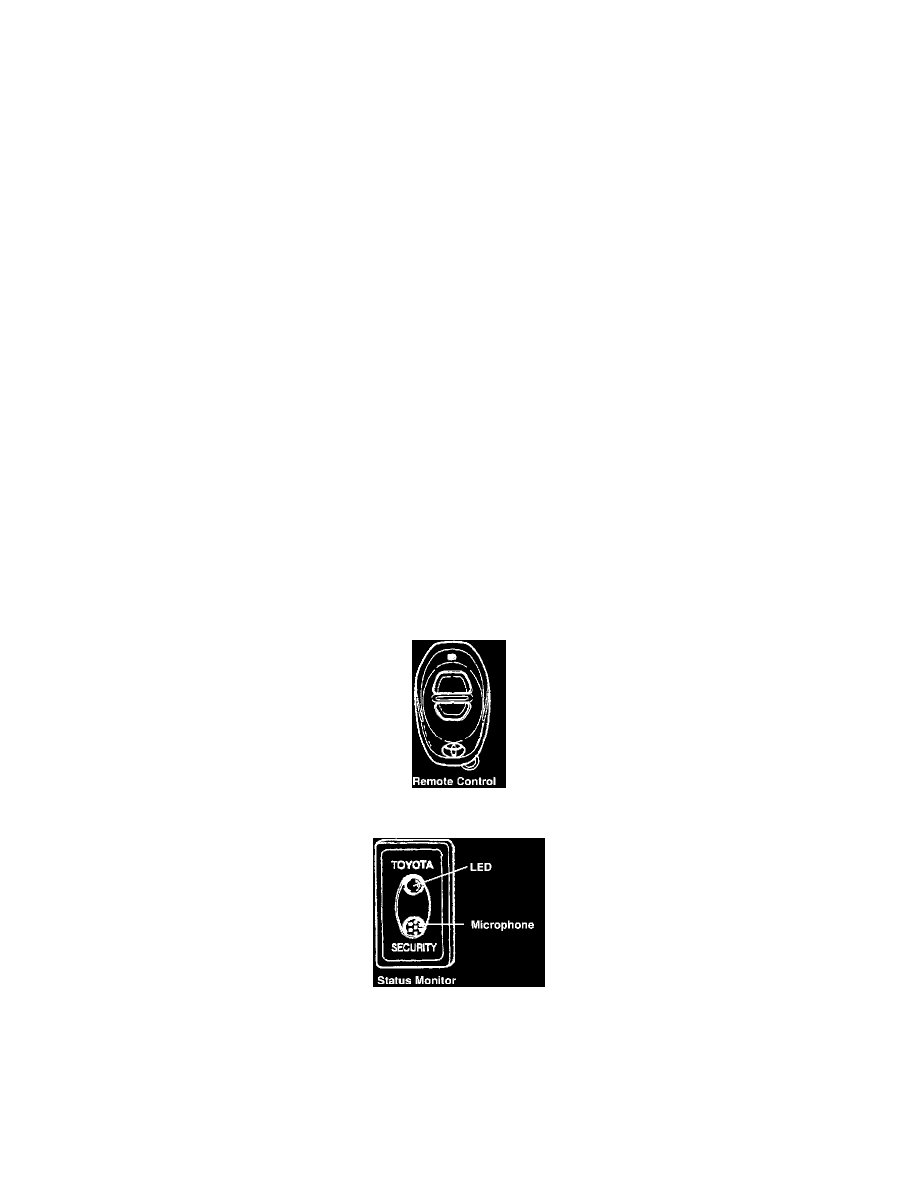 Alarm Module: Technical Service Bulletins
Antitheft - Automatic Door Lock Feature Programming
BULLETIN NUMBER:
AX005-00
DATE:
April 14, 2000
TITLE:
RS3OOO TVIP AUTOMATIC DOOR LOCK FEATURE PROGRAMMING
MODELS:
All Models
Introduction
As a convenience feature, the RS3OOO TVIP system is programmed to automatically lock all of the vehicle's doors (for vehicles equipped with power
door locks) when the ignition key is turned to "ON" or "START", and unlock them when the key is turned back to "ACC" or "LOCK". The initial factory
setting of this programmable feature is "ON". For some customers however, this feature is not desirable due to instances of passenger lockout when the
driver enters the vehicle first and starts the ignition.
For vehicles equipped with RS3OOO TVIP, this bulletin advises the dealers to communicate the following information to the customers at vehicle
delivery:
1.
Inform the customers of the RS3OOO system's automatic (ignition controlled) door lock/unlock feature.
2.
Inquire about the customers' preference for it to be set "ON" or "OFF".
3.
Reprogram the feature's setting according to the customer's preference.
To change the feature's operation mode, follow the programming procedures.
Verification of the Dealer-Installed Option (DIO) or Port-Installed Option (PIO) RS3OOO TVIP System can easily be performed by identifying the
status monitor and remote transmitter.
The remote transmitter has two buttons, Top and Bottom.
The status monitor has a Toyota label, LED, and microphone.
APPLICABLE VEHICLES
All models equipped with DIO or PIO RS3000 TVIP
Relays and Modules
Relays and Modules - Accessories and Optional Equipment
Alarm Module, (Vehicle Antitheft)
Component Information
Technical Service Bulletins
Antitheft - Automatic Door Lock Feature Programming
Antitheft - Automatic Door Lock Feature Programming|Page 8 >