NEXT PAGE >
< PREV PAGE
Pickup 4WD L4-2366cc 2.4L SOHC (22R) (1984)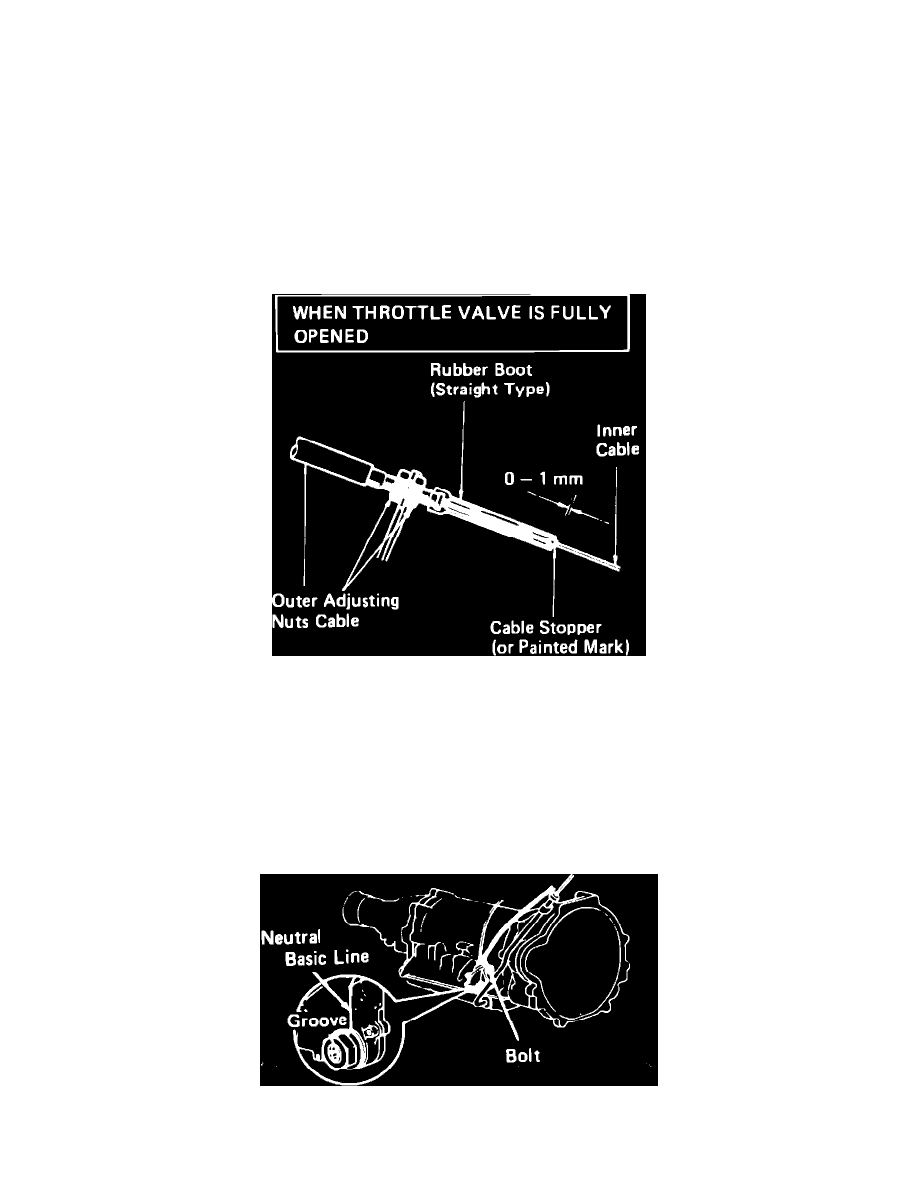 Neutral Safety Switch: Adjustments
MANUAL SHIFT LINKAGE
1.
Loosen locknut securing slotted adjuster on connecting link or shift cable.
2.
Move selector lever on transmission into neutral position.
3.
Position shift selector lever at ``N.''
4.
Press shift selector lightly toward ``R'' position and tighten nut on linkage.
5.
Check transmission operation in all selector positions.
THROTTLE CABLE
1.
Remove air cleaner, fully depress accelerator pedal and inspect throttle plate.
2.
If throttle plate does not open fully with accelerator pedal depressed, adjust accelerator linkage.
Fig. 1 Throttle cable adjustment
3.
With accelerator pedal held fully depressed, loosen adjusting nuts on throttle cable, 
Fig. 1.
4.
Adjust cable to obtain 0-0.04 inch (0-1 mm) clearance between cable housing and cable stop or painted mark, 
Fig. 1. Service replacement cables
do not have a cable stop, and a mark must be painted on the inner cable for adjustment reference. If cable installed in vehicle does not
have the stop or reference mark, refer to ``Throttle Cable, Replace.''
5.
Tighten adjuster nuts and release accelerator pedal.
6.
Fully depress accelerator pedal and recheck adjustment, then install air cleaner.
NEUTRAL SAFETY SWITCH
1.
Loosen lock bolt, then set shift selector in N position.
Fig. 2 Neutral safety switch adjustment
NEXT PAGE >
< PREV PAGE