< PREV PAGE
NEXT PAGE >
Van Wagon 2WD L4-2237cc 2.2L (4Y-E) (1989)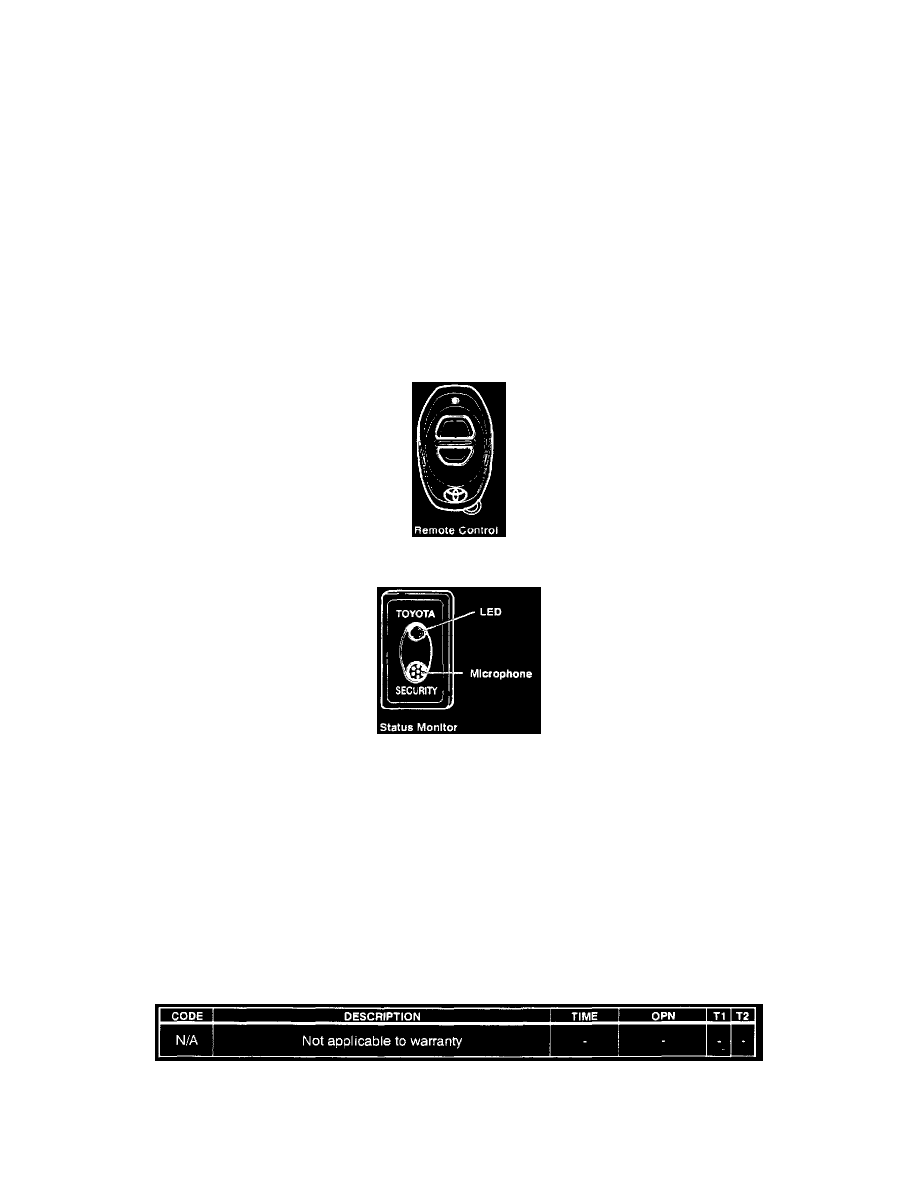 Technical Service Bulletin # AX005-99
Date: 990409
Antitheft - Programing the Remote Control
ACCESSORIES
AX005-99
April 09, 1999
Title:
TOYOTA VIP RS3000 PROGRAMMING
Models:
All Models
Introduction:  
This bulletin describes the procedures that are used to program the two-button remote control for vehicles that are equipped with the dealer or port
installed option (PIO), not the factory security system. For factory security system remote control programming, refer to the appropriate vehicle repair
manual.
Verification of the dealer or PIO Toyota VIP can easily be performed by identifying the status monitor or remote transmitter.
The remote transmitter has two buttons, Top and Bottom.
The status monitor has a Toyota label, LEO, and microphone.
Starting with 1998 MY, the remote controls for the RS3OOO System were revised with new coding logics. The color of the remote control cases was
changed from Black to Gray to help identify the new remote controls. The new (Gray) remote controls will not work with the R53000 ECU's produced
prior to 1998 MY. The old (Black) remote controls are still available for Service Parts.
NOTE:
The TVIP is programmed to operate with the two remote controls that come with the vehicle. The ECU (computer) can be programmed to operate
with up to four different remote controls. For customer satisfaction, request that any existing remote be furnished when programming a new or
replacement unit.
Affected Vehicles
-
All models with dealer or PIO equipped Toyota VIP (RS3OOO)
Warranty Information
Programming Procedure
< PREV PAGE
NEXT PAGE >