< PREV PAGE
NEXT PAGE >
Astra J
Paint Information on the Vehicle Identification Plate
Agila, Corsa-B, Tigra, Corsa-C, Meriva, Astra-F, Astra-G, Zafira, Vectra-B, Vectra-C, Omega-B, Signum
In most production vehicles, the vehicle identification plate is located in the area of the door pillar on the right-hand side of the car. During production, the identification plate is incorporated by means of a laser system on a durable self-adhesive film.
On vehicles from other productions the identification plate may still be of the conventional type, with the vehicle data stamped on the top front or in the wheel housing under the bonnet.
Information on paint quality and paint number is in the bottom row.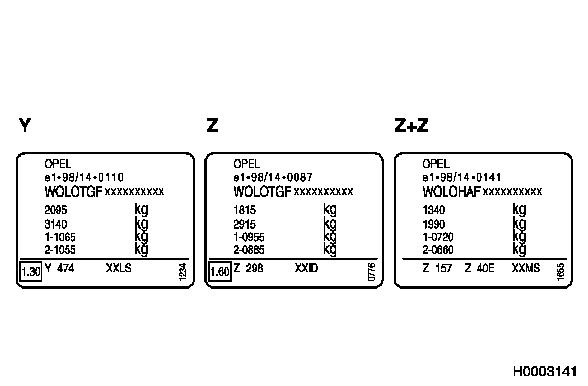 To date there is the following paint quality data:
| | | |
| --- | --- | --- |
| Y | = | applies to single-coat painting |
| Z | = | applies to two-coat painting (as 2 coats of a plain colour; 2 coats metallic and 2 coats pearlescent) |
| Z+Z | = | applies to two-colour painting. The main colour of the car and the secondary colour appear next to each other |
---
Related Literature Units
-
< PREV PAGE
NEXT PAGE >