< PREV PAGE
NEXT PAGE >
Eos (1F7) V6-3.2L (BUB) (2008)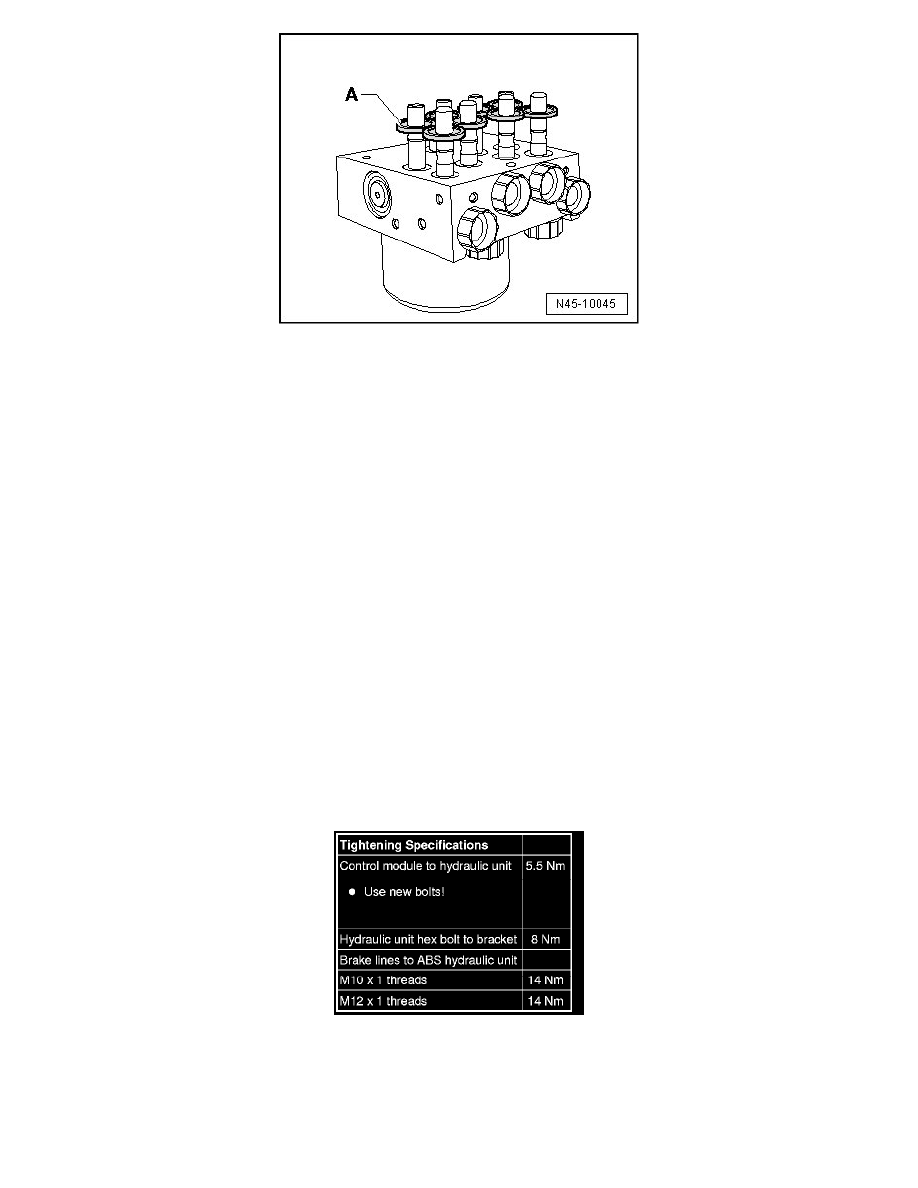 -
Place the control module without tilting it onto the hydraulic unit. 
The sealing rings are then brought into their end position.
-
Bolt the hydraulic unit and control module together with the new inner Torx bolts supplied.
‹› A new control module may be installed a max. of two times to a used hydraulic unit, to ensure that the elastic gasket seals sufficiently.
‹› A control module which was once in driving operation must not be installed a second time.
Installing Control Module and Hydraulic Unit
‹› Do not remove sealing plugs from the new hydraulic unit until the corresponding brake line is about to be installed.
‹› If the sealing plugs are removed too early, brake fluid can leak out. If this occurs, unit may not be sufficiently filled or adequately bled.
‹› When installing, make sure that rubber insulators are not pressed out of the bracket.
-
Installation is performed in the reverse order of removal.
-
Remove the brake pedal actuator (V.A.G 1869/2 ).
-
Bleed the brake system. Refer to => [ Brake System Bleeding General Information ] See: Brake Bleeding/Service and Repair/Brake System
Bleeding General Information. 
-
Enter radio code.
-
Code the Anti-lock Brake System (ABS) control module with the in "Guided Fault Finding".
ABS Mark 60, ABS,EDL ASR and ESP, Through 05.08
Control Module and Hydraulic Unit
Sealing Plug Repair Set, Part No. 1H0 698 311 A
< PREV PAGE
NEXT PAGE >