< PREV PAGE
NEXT PAGE >
Eos (1F7) V6-3.2L (BUB) (2008)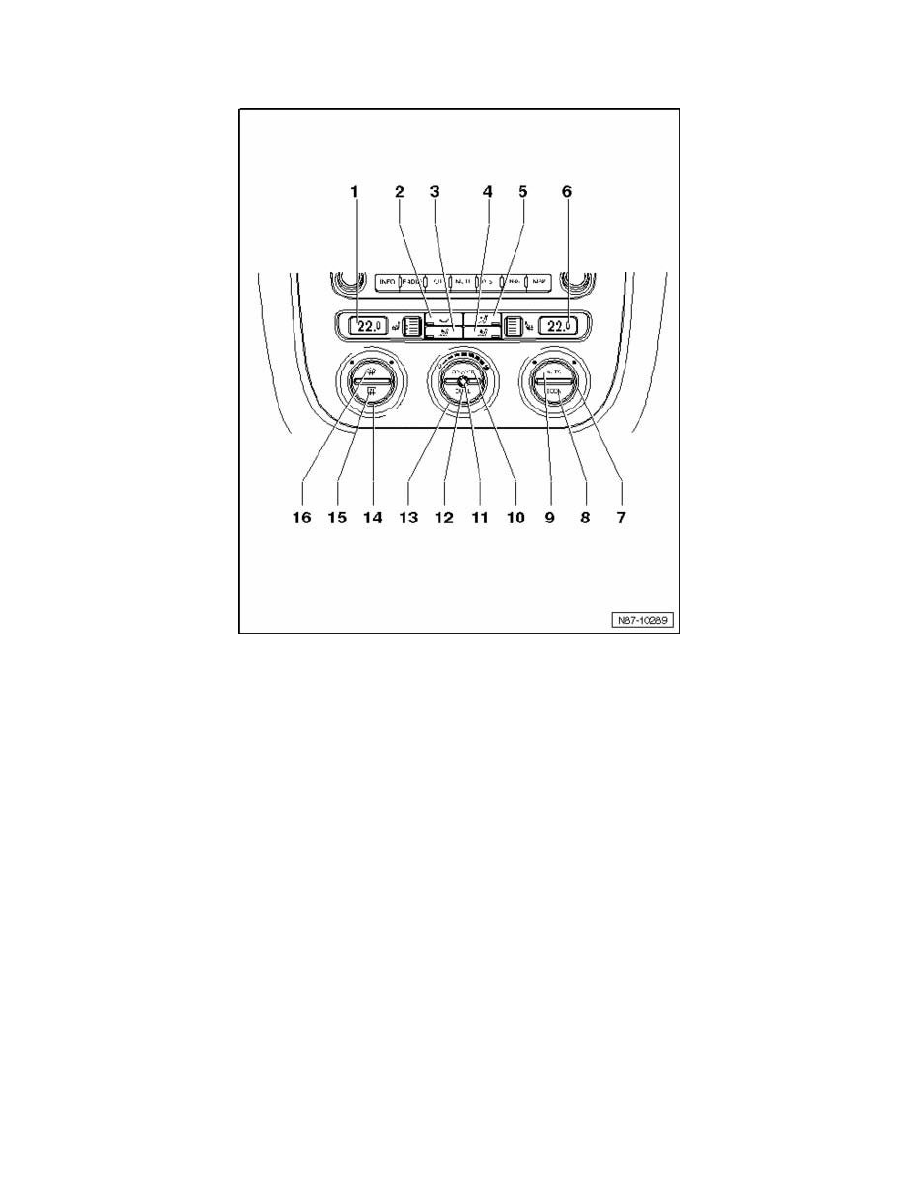 Control Assembly: Description and Operation
Climatronic A/C Display Control Head Display And Functions
1
-
Display of selected interior temperature, left side
2
-
Push button for air recirculation
-
Press the button for recirculating air function to prevent polluted air from entering interior.
3
-
Push button - center air distribution
4
-
Push button - lower air distribution
5
-
Push button - upper air distribution
6
-
Display of selected interior temperature, right side
7
-
Right side interior temperature rotary control
8
-
Push button ECON
-
By pressing the ECON button, compressor is set to almost zero delivery. The heating and ventilation operation continues to be controlled
electronically.
9
-
Push button AUTO
-
By pressing the AUTO button, Climatronic maintains the selected vehicle interior temperature completely automatically. With this setting
the vent air temperature, the blower speed and the air distribution are controlled automatically.
10
-
Push button for A/C system on/off
11
-
Interior temperature sensor
12
-
Dual function push button
-
If the indicator lamp in the button lights up, different temperatures can be set for the left and right sides.
-
If the button is pressed (indicator lamp goes out) the temperature setting for the driver side is also transferred to the front passengers side.
NOTE:
-
On vehicles with auxiliary heater (parking heater function), the Immediate Heating Button E537 is in this location.
-
To switch on the dual-function, the AUTO button must be pressed for 3 seconds.
13
-
Blower rotary control
-
Rotate to change blower speeds.
14
-
Left side interior temperature rotary control
15
-
Push button for rear window defroster
16
-
Push button for windshield defroster
< PREV PAGE
NEXT PAGE >