< PREV PAGE
NEXT PAGE >
Eos (1F7) V6-3.2L (BUB) (2008)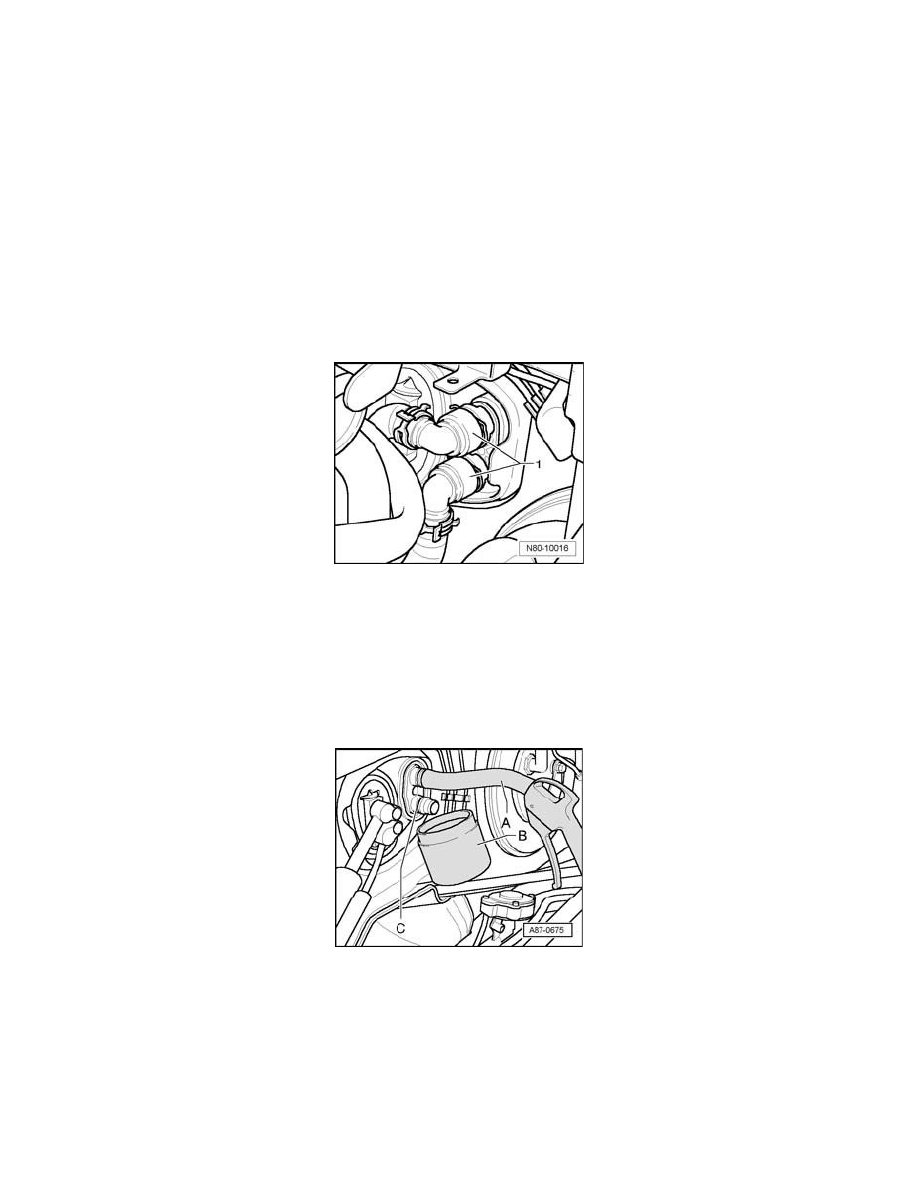 Housing Assembly HVAC: Removal and Replacement
Heating And A/C Unit
Special tools, testers and auxiliary items required
-
Refrigerant recycling/recovery unit Kent-Moore ACR4 (or UL approved equivalent)
-
Drip tray V.A.G 1306
-
Hose Clamps, Up to 40 mm. 3093
-
Compressed air gun, standard
NOTE:  Depending on engine version, improved accessibility may require the removal of the engine cover.
Removing
-
Extract refrigerant e.g. using refrigerant recycling/recovery unit Kent-Moore ACR4 (or UL approved equivalent), only then open the refrigerant
circuit. Observe notes.
-
Remove instrument panel.
-
Remove rear channels for right and left footwells.
-
Place Drip tray V.A.G 1306 under the engine.
-
Mark coolant hoses - 1 -
CAUTION:
-
Frostbite danger.
-
High pressure refrigerant may leak out if refrigerant circuit is not discharged.
-
Always evacuate refrigerant prior to opening refrigerant circuit. If refrigerant circuit is not opened within 10 minutes after
extracting, pressure may build up in refrigerant circuit by renewed evaporation. Extract refrigerant once more.
-
Clamp off coolant hoses - 1 - using Hose Clamps, Up to 40 mm. 3093 and disconnect coolant hoses to heater core.
-
Connect a section of hose - A - onto upper connection.
-
Hold a container - B - under the lower connection - C -.
-
Using a compressed air gun, carefully blow residual coolant out of heater core at the heater core connection.
< PREV PAGE
NEXT PAGE >