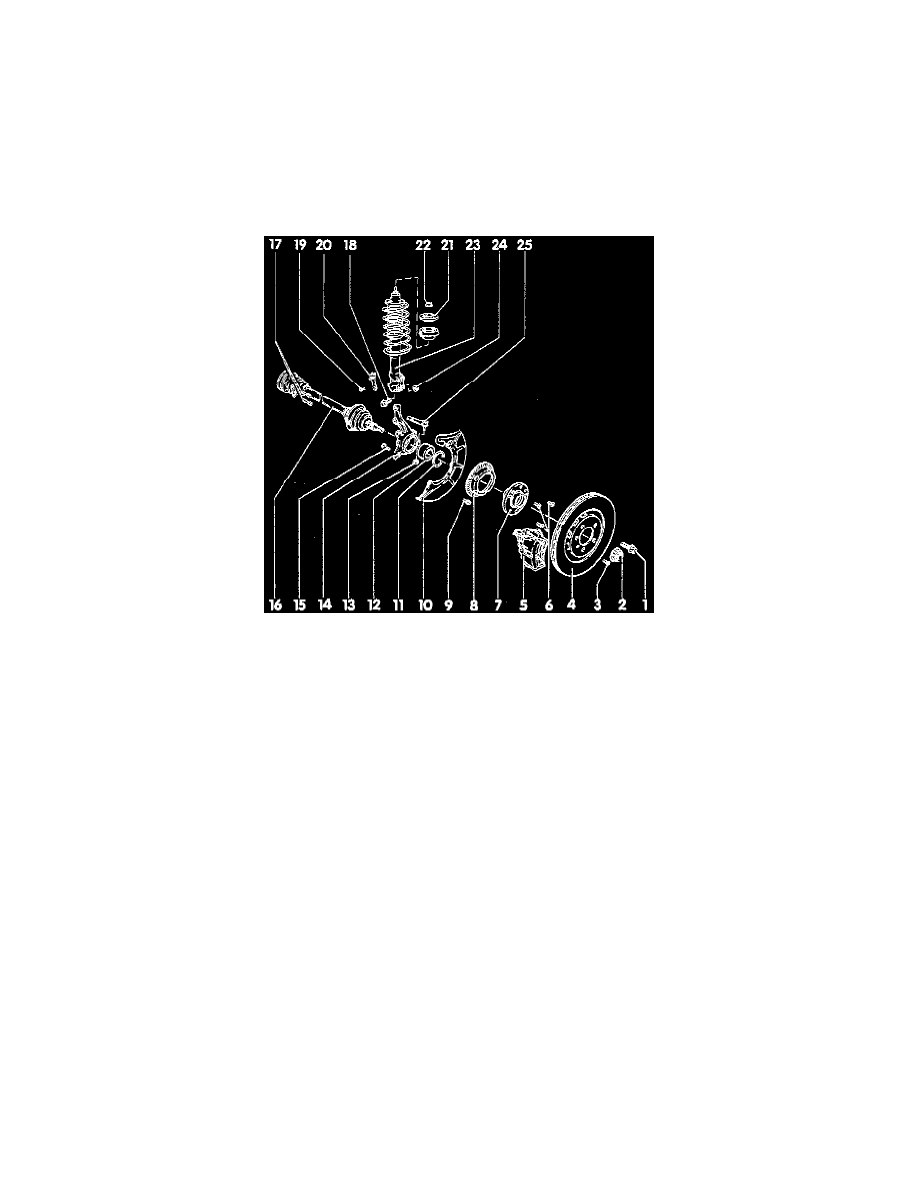 (Plus Suspension)
CAUTION:
-
If a vehicle has to be moved after removing the axle shaft, install an outer constant velocity joint and tighten to 50 Nm (37 ft lb) to prevent
damage to wheel bearing.
-
DO NOT attempt to straighten or weld suspension strut, wheel bearing housing, control arm or any other wheel locating or load bearing
components of the front suspension.
-
Always replace self-locking bolts.
-
Always replace corroded bolts/nuts.
-
Directly below the component legend are the Fig. numbers. Please refer to these for information regarding removal and installation instructions.
1
Lug Bolt
-
Tighten to: 110 Nm (81 ft lb) 
2
Self-Locking Nut (12-point)
-
Revised wheel hub, See: Wheel Hub/Application and ID
-
Tighten to: 90 Nm (66 ft lb) plus additional 1/8 turn (45°)
-
Loosening/tightening, refer to Transmission and Drivetrain
-
Paint and/or corrosion on threads of outer constant velocity joint must be removed before nut is installed.
3
Screw
4
Brake Disc
-
Refer to Brakes and Traction Control
5
Brake Caliper
-
Do not loosen hydraulic connection when working on suspension
-
Do not let caliper hang by brake hose; tie up with wire
-
Replacing brake pads, refer to Brakes and Traction Control
6
Screw
7
Wheel hub
-
Pressing out, refer to Fig. 2
-
Pressing in, refer to Fig. 7
-
Removing bearing inner race, refer to Fig. 3
8
Rotor For ABS Wheel Speed Sensor
9
Splash Shield Mounting Bolt
-
Tighten to: 10 Nm (82 inch lbs.)