< PREV PAGE
NEXT PAGE >
Passat Sedan V6-3.6L (BLV) (2008)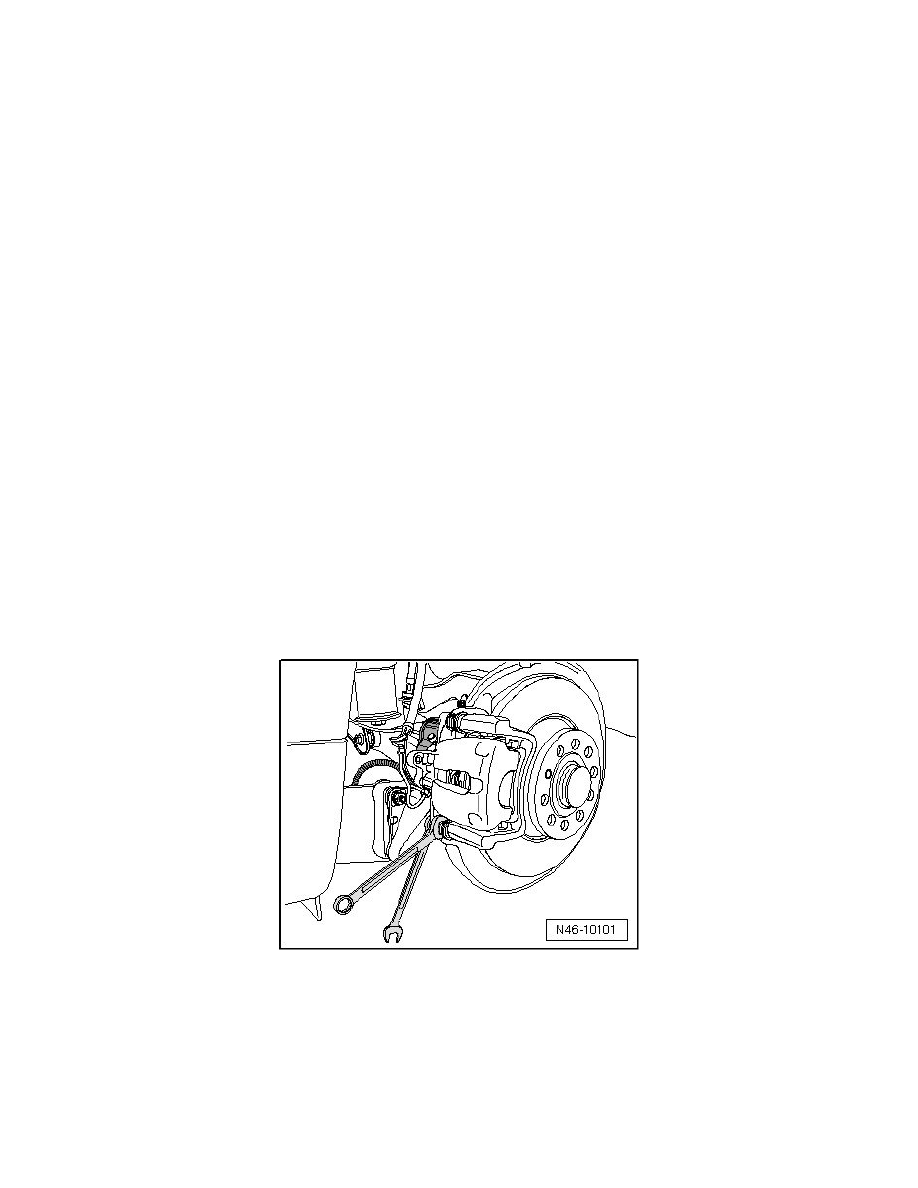 Brake Pads
Special tools, testers and auxiliary items required
‹› Vehicle Diagnostic, Test and Information System (VAS 5051)
‹› Diagnostic Cable (VAS 5051/1) or (VAS 5051/3)
‹› Torque Wrench (V.A.G 1331)
‹› Piston Resetting Tool (T10145)
Removing
When removing, mark brake pads that will be used again. Install in the same position, otherwise braking effect will be uneven!
‹› Do not disconnect the connectors from the parking brake motors.
‹› Electro-mechanical parking brake not actuated.
-
Remove wheels.
The pistons on the electro-mechanical parking brake must be driven back using the (VAS 5051).
Before pressing piston back, draw off brake fluid from reservoir using a bleeder bottle. Otherwise, especially if reservoir has been topped off, fluid
will overflow and cause damage.
-
 (VAS 5051), connecting and selecting functions => [ VAS 5051, Connecting and Selecting Functions ] See: Antilock Brakes / Traction Control
Systems/Testing and Inspection/Scan Tool Testing and Procedures.
-
Select the electro-mechanical parking brake and the function Moving piston of parking brake motor out and in.
-
Drive the pistons back using the (VAS 5051). 
-
Then, remove the bolts from the brake caliper, while counter-holding the guide pins.
-
Remove brake caliper downward from brake carrier.
‹› Resetting the piston with (VAS 5051) is often not sufficient but necessary! The pressure nut in the piston is a floating mount so the piston can only
be pressed and cannot be pulled back. Only the spindle with the pressure nut is moved back.
CAUTION!
 The piston must first be reset with (VAS 5051).
-
Now press piston all the way back with (T10145). 
< PREV PAGE
NEXT PAGE >