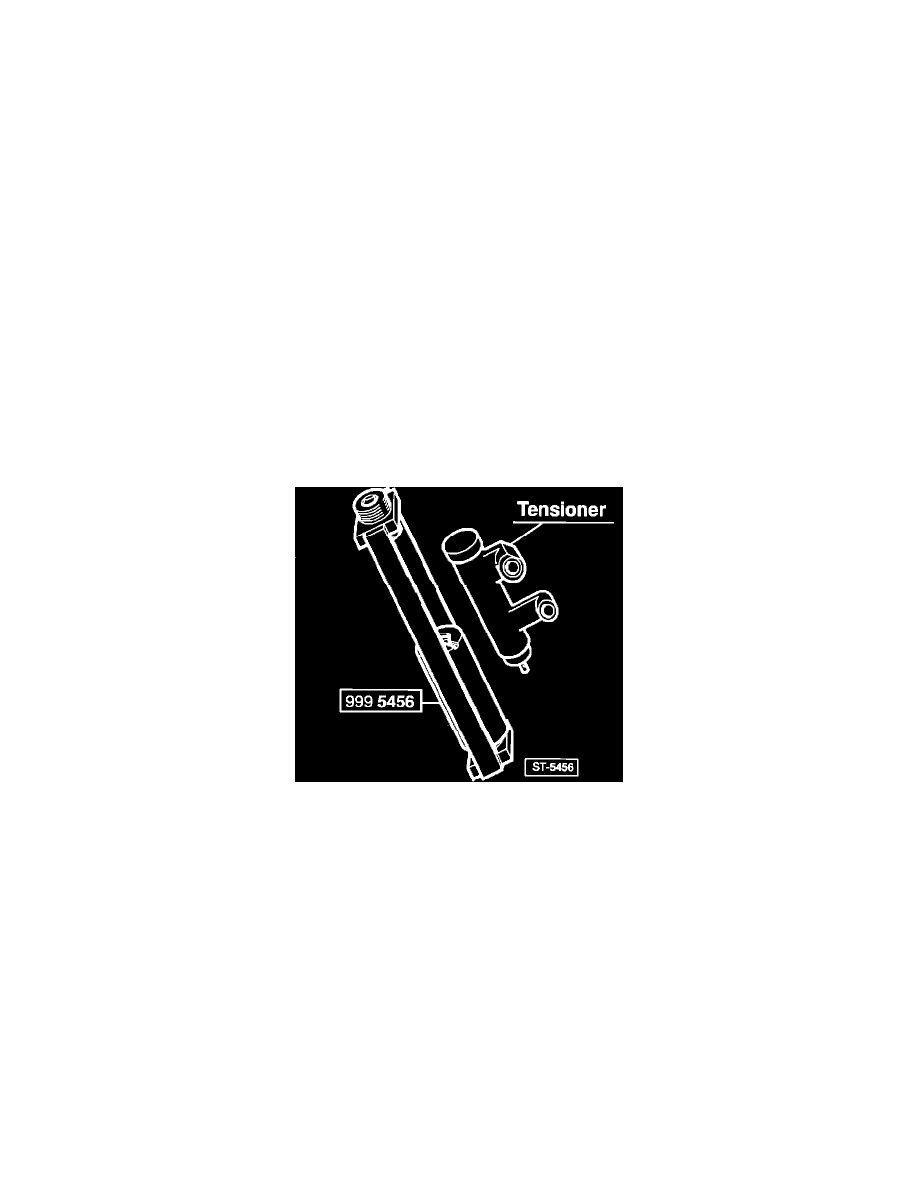 Timing Belt Tensioner: Technical Service Bulletins
Tool - Cam Belt Automatic Tensioner
MODEL
GROUP
NUMBER
700/900
21
713
TITLE
CAM BELT AUTOMATIC
TENSIONER TOOL
B234 740, 1990;
B234 940, 1991 ->; B6304 960
MARKET
DATE
US and Canada
October 1991
REFERENCE:
TP 31975/1 (ENGLISH); 08/91; 1992 SERVICE PROGRAM BOOK 2 
TP 31714/2 (ENGLISH); 05/91; B6304 ENGINE 
TP 31311/1 (ENGLISH); 12/88; B234 ENGINE 
TP 31458/1 (ENGLISH); 09/89; B234 ENGINE; reconditioning 
SB 21-706; JUNE 1990; B234F TIMING BELT REPLACEMENT
Cam Belt Automatic Tensioner Tool
A new method has been developed to compress automatic belt tensioners. New tool, 999 5456-2, is used to ensure that the automatic tensioner is not
damaged when compressing it prior to installation. A spring in the tool maintains a constant pressure on the tensioner plunger, pressing it into the
cylinder while keeping the force on the seal within permissible limits.
This new method replaces previous instructions to compress the tensioner directly in a vise.
Procedure
CAUTION: Do not use a vise to compress the tensioner.
Mount tool in vise. Place belt tensioner in tool and tighten tool center nut down fully.
When tensioner is fully compressed (i.e., hole in plunger is opposite hole in cylinder), insert locking pin through holes.
Unscrew center nut to remove tensioner from tool.
Inspect tensioner to ensure that no leakage is present.