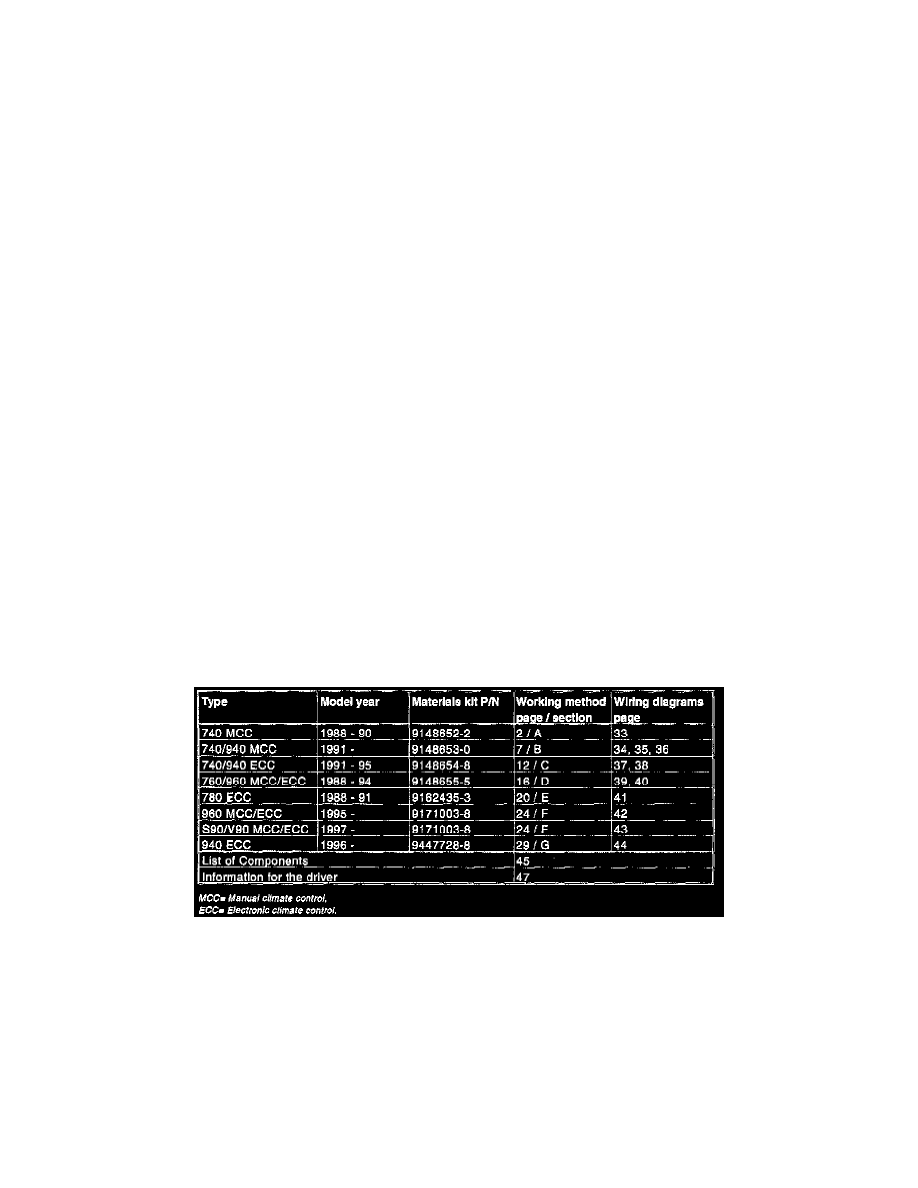 Technical Service Bulletin # 887955
Date: 970901
A/C - Unpleasent Odor On Startup
SECTION    
8
GROUP    
87
NO.    
955
DATE    
Sept. 1997
RE:    
Odor from evaporator 700/900/S90/V90 1988-
REFERENCE:
TP 8701201, SECTION 8(87) CLIMATE UNITS: 700/900 1992-
TP 3701201, SECTION 3(37) WIRING REPAIRS, AND REPLACEMENT OF CABLE TERMINALS; 850900 TP 3502201, SECTION 3(35-39)
LIGHTING, INSTRUMENTATION AND OTHER ELECTRICAL EQUIPMENT; 700/900 1982-
SERVICE BULLETIN 87-948, EVAPORATOR ODOR TREATMENT
This Service Bulletin replaces earlier Service Bulletin 87-955 from September 1996, which should be discarded.
Odor from evaporator, installation of blower fan control module
Under humid conditions the ECC unit can cause an unpleasant odor on start-up, especially when the temperature outside is high. This Odor often
disappears when humidity levels drops. The Odor can be caused by dirt or micro-organisms in the evaporator.
A control module can be installed to eliminate the recurrence of the Odor. This starts the blower fan and airs residual dampness out of the evaporator.
If the compressor has been running more than 4 minutes and the ignition is then turned off for 50 minutes, the control module starts the blower fan
automatically and runs an airing out cycle at max. Blower speed for approximately 5 minutes.
Special tools needed: Wiring repair kit, P/N 9814235-9
NOTE: 
After installing the airing cycle unit, copy and attach the last page.
Installing Control Module and Cables/740 MCC 1988-90
Installing control module and cables 740 MCC model year 1988-90
A1
Preparations
-
Clean evaporator according to Service Manual:
Section 8(87)
Climate control