< PREV PAGE
NEXT PAGE >
S60 L5-2.4L VIN 64 B5244S6 (2003)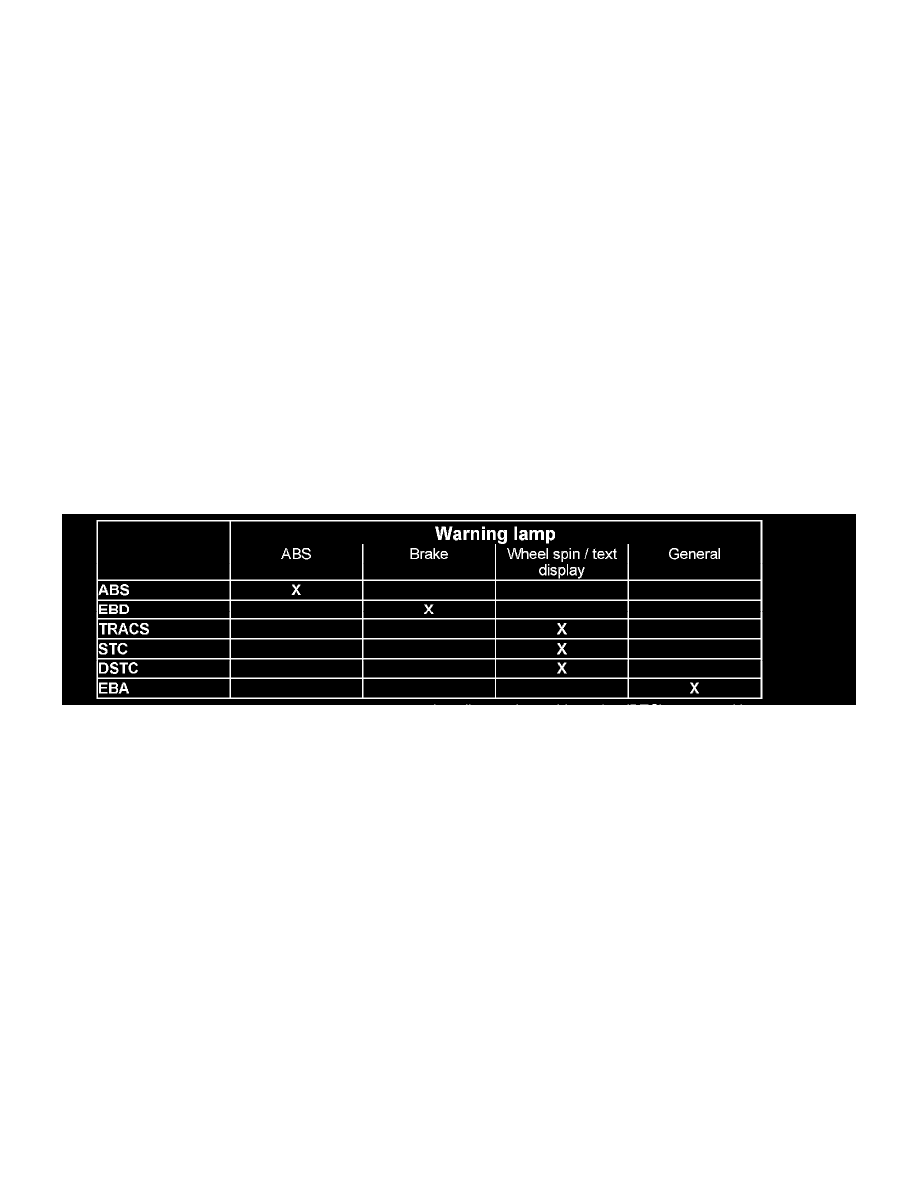 Electronic Brake Control Module: Description and Operation
Control module 
The control module is integrated in the ABS hydraulic modulator and is located in the engine compartment. The control module contains the electrical
valve coils for the different hydraulic valves.
The main function of the control module is to process the signals from the different sensors and to control the hydraulic pump and the electromagnetic
hydraulic valves (inlet and outlet valves) in the ABS hydraulic modulator when controlling the:
-
ABS
-
EBD
-
TRACS 
-
STC or
-
DSTC
Control modules with the DSTC (dynamic stability and traction control) function also have external sensors which sense the driver's steering wheel
movements and the directional behavior of the car.
The control module communicates with directly connected components and other control modules via the Controller Area Network (CAN).
The control module checks calculations and all input and output signals via the built-in diagnostic functions. When the control module detects a fault
certain functions are completely disengaged depending on the severity of the fault. At the same time a warning light comes on or a text message will
be displayed depending on the fault (see table). When manually disengaging by activating the STC (stability and traction control) / DSTC (dynamic
stability and traction control) switch (pressed in for approximately 1/2 second) all functions are disengaged except for the ABS, Electronic Brake force
Distribution, emergency brake assistance and vehicle speed signal. In the event of the temperature of the brake discs being too high traction control is
switched off to prevent damaging the brake caliper and brake discs. The general warning lamp is only lit by the Brake Control Module (BCM) in the
event of faults which affect the emergency brake assistance function. However it can be lit by other control modules which have been affected by
faults in the brake control system.
From model year 2003 inclusive, only the traction control system can be disengaged manually. A traction loss warning lamp and a text message in the
combined instrument panel are also used for models from this date.
Any Diagnostic Trouble Codes (DTC) are stored in the control module memory. This information can be read off using VADIS/VIDA via the Data
Link Connector (DLC) in the car. When the car is driven the control module checks that a signal is received from the wheel sensors. When the car
reaches 20 km/h for the first time (40 km/h if the stop (brake) lamp switch is activated) the control module checks the pump motor and the hydraulic
valves by quickly activating them. A noise is then heard from the hydraulic pump, this is completely normal. The ABS function is first activated when
the speed of the car exceeds approximately 7 km/h. Traction control functions from start.
< PREV PAGE
NEXT PAGE >