< PREV PAGE
NEXT PAGE >
V50 L5-2.4L VIN 39 B5244S7 (2005)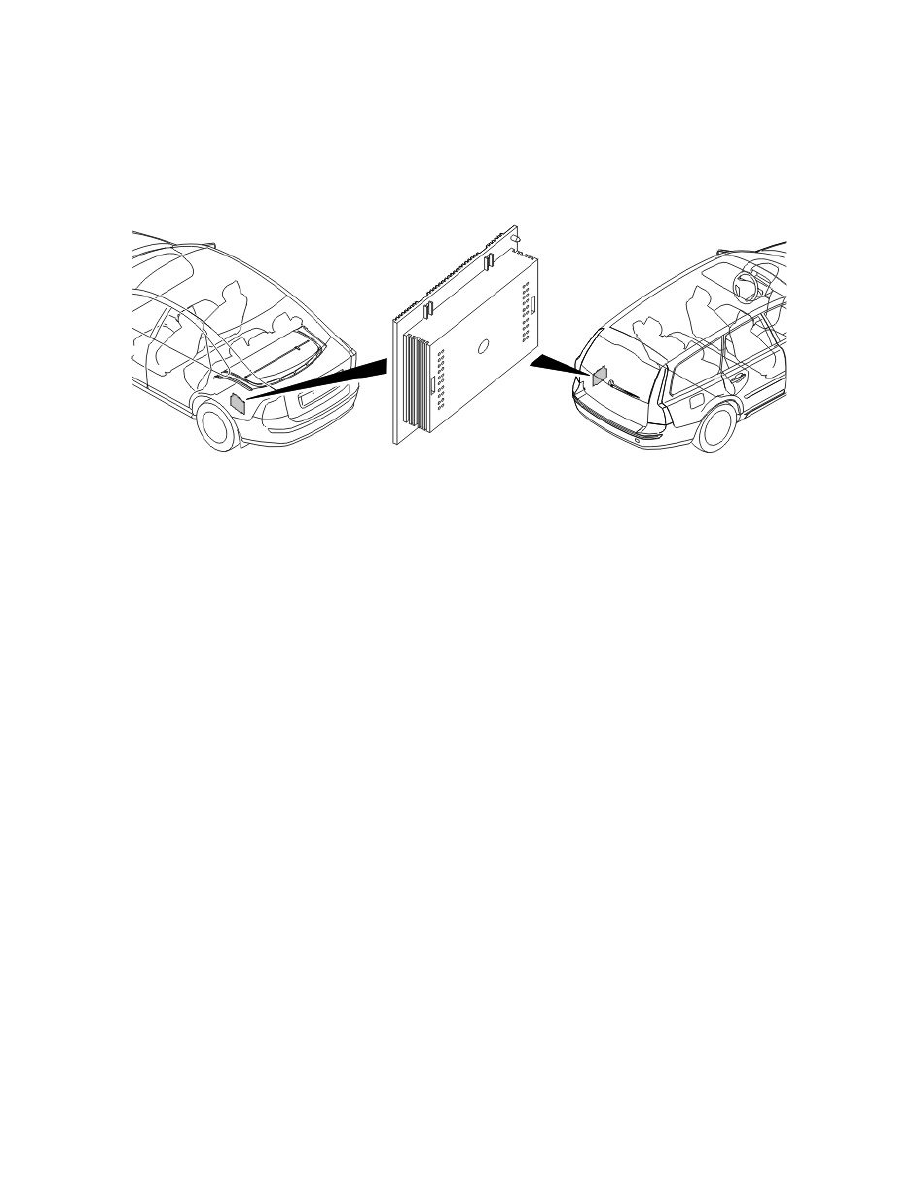 Communications Control Module: Description and Operation
Audio Module (AUD)
System Overview
System overview
Control module
The primary task of the audio module (AUD) is to manage the functions for:
-
front, center and rear loudspeakers
-
subwoofer module (SUB)
-
the microphone.
The audio module (AUD) communicates with directly connected components and with other control modules and components via the MOST network, a
fiber optic network used for communication.
The audio module (AUD) uses built in diagnostics to check all activations and the input and output signals. A diagnostic trouble code (DTC) is stored if
the control module detects a fault. Any diagnostic trouble codes (DTCs) are stored in the control module memory. This information can be read off using
VIDA via the data link connector (DLC) in the vehicle.
In order to work correctly on the MOST network, the infotainment control module (ICM) checks that the serial number in the audio module (AUD) is
correct. The audio module (AUD) will not function if the number is incorrect. Try switching the ignition off and on if there are problems when replacing
the control module.
A simple way to check whether the control module is functioning is to switch on the radio and to then change the volume. The volume from the
loudspeakers should rise and fall with the changes.
The Audio module (AUD) is a slave module on the MOST network. The infotainment control module (ICM) is the master control module.
There are three versions of the audio module (AUD):
-
Performance (introduced after structure week 2004w46 in the Integrated Audio Module (IAM))
-
High Performance
-
Premium Sound.
The number of functions and loudspeaker outlets varies between the versions. The power output of the versions is also different.
The control module is located in the cargo compartment, behind the left wheel arch.
For further information, also see Signal specifications.
Signals
The table below summarizes the input signals to and output signals from the audio module (AUD). The signal types are divided into directly connected
signals and MOST communication. The illustration below displays the same information with the Volvo component designations.
< PREV PAGE
NEXT PAGE >