< PREV PAGE
NEXT PAGE >
V50 L5-2.4L VIN 39 B5244S7 (2005)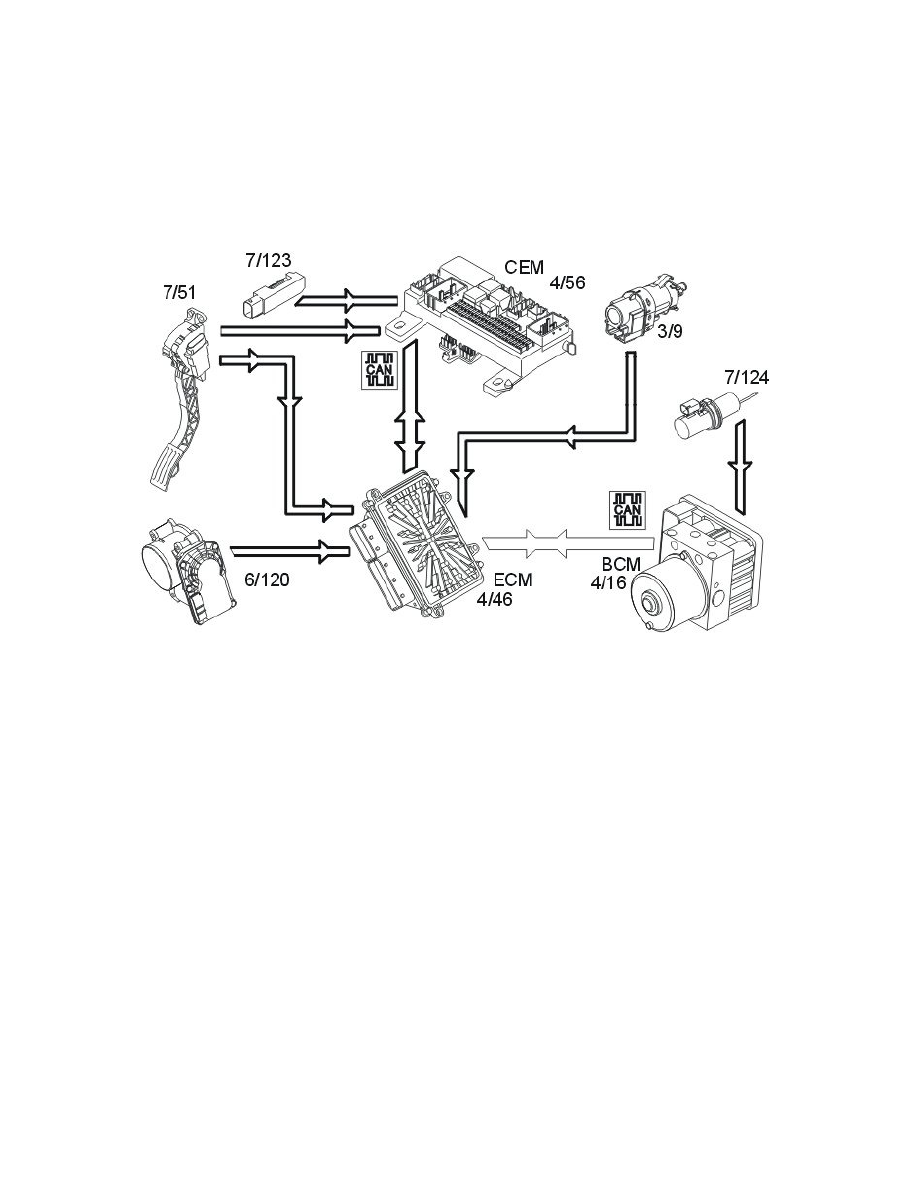 There is high pressure before the engine is started. This high pressure means that the valve in the by-pass valve opens and the system is "flushed".
Passive safety
For safety reasons, the engine control module (ECM) shuts off the fuel pump (FP) if the supplemental restraint system module (SRS) detects a collision.
Part 2
Function (Continued)
Throttle control
To ensure that the correct throttle angle is reached, the engine control module (ECM) controls the throttle shutter in the throttle unit (6/120), mainly
using the signal from:
-
accelerator pedal (AP) position sensor (7/51)
-
clutch pedal sensor (7/123) via central electronic module (CEM) (4/56)
-
stop lamp switch (3/9)
-
the throttle position (TP) sensor on the electronic throttle unit (6/120)
-
brake pedal sensor (7/124) via brake control module (BCM) (4/16).
Additional signals and parameters are used to ensure optimum throttle control. By example by compensating for:
-
the load from the air conditioning (A/C) compressor
-
the load from the transmission depending on the selected gear mode (automatic)
-
engine coolant temperature (ECT).
In a combustion engine, the difference between the minimum and maximum airflow is considerable. The smaller air flows need more thorough regulation
(for example during idle air trim), so the throttle position (TP) sensor signal 1 is amplified approximately 4 times in the engine control module (ECM)
before it reaches the Analog/Digital converter in the engine control module (ECM). This means that there are three, two real and one fictitious, input
signals available to the engine control module (ECM). These signals are used to determine the position of the throttle disc and to control the throttle
motor to the correct throttle angle.
Because the signal is amplified, it reaches its maximum value at approximately a quarter of maximum deployment.
The engine control module (ECM) primarily uses the signal from throttle position (TP) sensor 1 as a measurement of throttle opening. The signal from
throttle position (TP) sensor 2 is mainly to check that throttle position (TP) sensor 1 is working. The engine control module (ECM) then uses the signal
to calculate a throttle angle (actual value). This is the actual throttle angle. The value for the actual throttle angle is used by those functions in the engine
control module (ECM) which depend on this information so that the throttle can be correctly regulated.
There is an adaptation (learning) in the engine control module (ECM) so that the control module can calculate how the damper motor needs to be
controlled. See "Adaptation of the electronic throttle unit" below. This adaptation occurs automatically when necessary. The engine control module
(ECM) moves the throttle disc to the different positions and reads off and registers the actual values from the throttle position (TP) sensors.
The throttle angle is regulated so that the actual angle (actual value) is the same as the angle calculated by the engine control module (ECM) (desired
value). The engine control module (ECM) also uses the values that were stored during adaptation of the throttle angle, and the actual signals from the
throttle position (TP) sensor.
The damper motor is deployed by the integrated power stage in the engine control module (ECM) using a pulse width modulation (PWM) signal. The
< PREV PAGE
NEXT PAGE >