< PREV PAGE
NEXT PAGE >
V70 2.4 L5-2.4L VIN 61 B5244S (2001)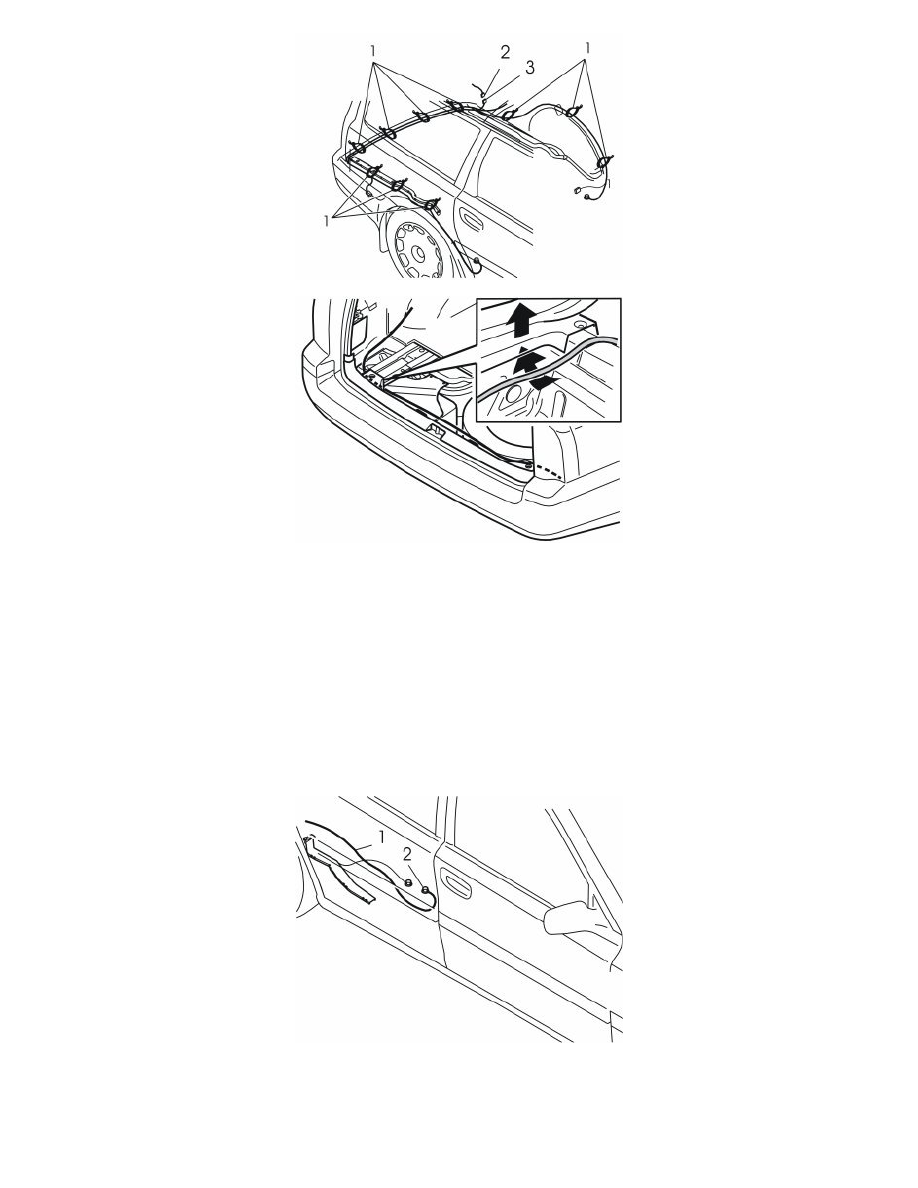 -
Push the insulation panel to one side under the seat cushion on both sides
-
Route the cable harness along the sides of the cargo compartment and out into the passenger compartment as illustrated
-
Position the end of the cable with the two large grey connectors on the left-hand side of the car under the seat cushion by the cable duct
-
Route the cable harness from the left-hand cable duct under the seat cushion over the wheel arch and continue to the rear edge of the left-hand
floor support
-
Pull up the tailgate sill trim panel on the left-hand side. Insert the cable harness between the floor support and the sill trim panel (Illustration B)
-
Slide the cable harness in towards the rear crossmember as far as possible. Ensure that the cable harness does not get trapped (Illustration B)
-
Then route the cable harness along the existing cable harness by the rear crossmember and over to the right-hand side of the car
-
Insert the cable harness towards the rear crossmember (over the right-hand side member) as far as possible
-
Route the cable harness along the right-hand side of the cable duct and forward to the existing ground terminals under the seat cushion
-
Secure the cable harness at the existing cable harnesses and cable duct. Use the tie straps (1) (from the kit)
-
Find the pre-routed grey connector (2) by the left-hand tail lamp. Connect the grey connector to the corresponding connector (3) from the routed
cable harness.
-
Connect the black ground lead (1) to the front ground terminal (2). Use the existing ground terminal. Tighten to approximately 10 Nm (8 lbf.ft.)
-
Clamp any excess cable. Use a tie strap from the kit
-
Fold the insulation panel back into place.
< PREV PAGE
NEXT PAGE >