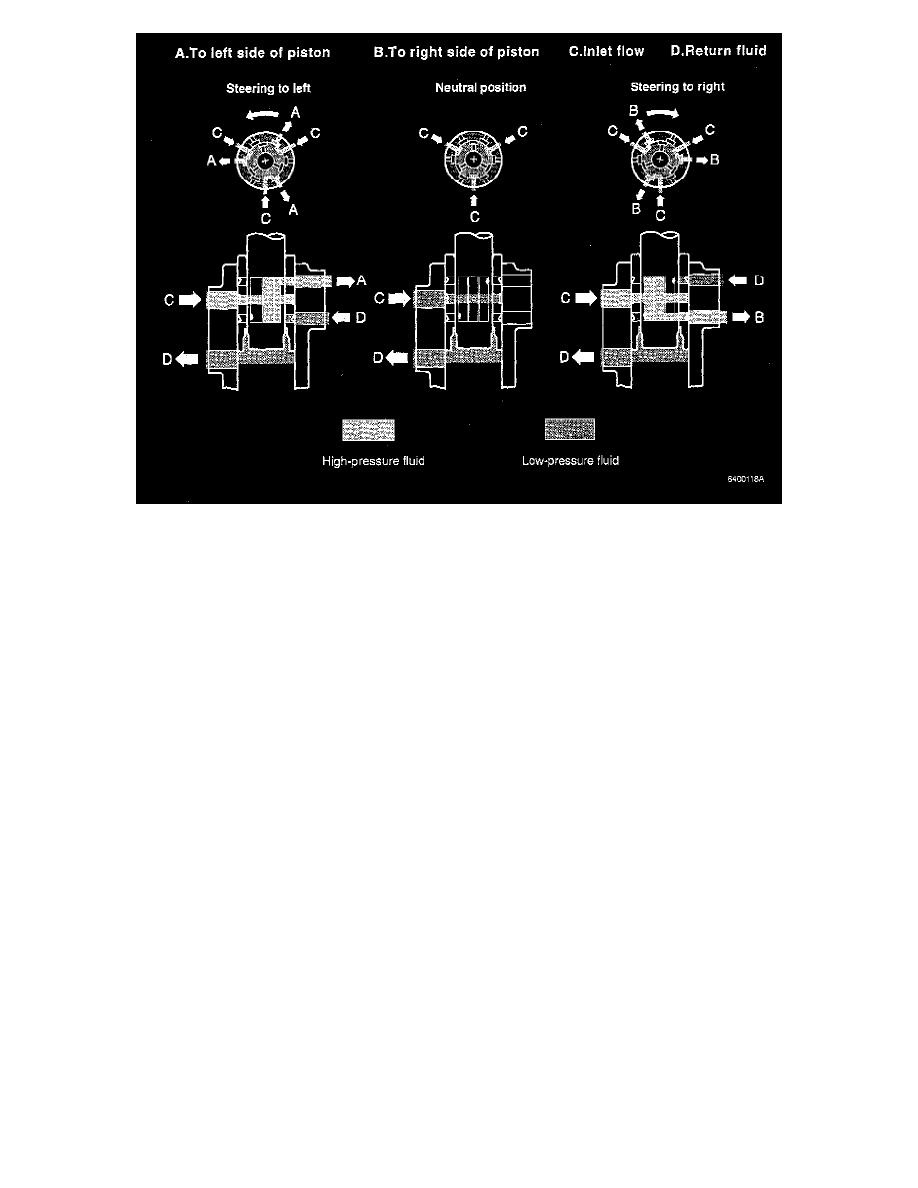 Rotary Valve Assembly 
The input shaft actuates the pinion through two drivers, each of which is provided with a circumferential clearance on either side. When no steering
effort is exerted on the input shaft, a torsion rod connecting the shaft and pinion acts to maintain the drivers in a position in which the clearance is the
same on each side. The torsion rod is a press fit in the pinion and is secured to the shaft by means of a pressed-in locking pin. A valve sleeve in the
valve housing is attached to the pinion by a locking pin. The fluid flows radially through the valve between six narrow, vertical grooves in the sleeve
and six milled grooves in the input shaft. The valve is balanced as a unit and cannot be rebalanced. The valve is open when the engine is running and
no steering effort is exerted on the steering gear. In this position, only a small, equalized leakage flow is admitted to the outlets supplying each side of
the power piston and hydraulic fluid circulates freely through the valve When the steering wheel is turned to the left and the road wheel friction is
sufficient to overcome the resistance of the torsion rod, the input shaft rotates to the left relative to the rod within the clearance afforded by the drivers.
This movement of the input shaft interrupts the free flow of fluid through the valve and admits high-pressure fluid to the external (upper) line
supplying the left-hand side of the rack piston. The fluid pressure displaces the piston to the right as long as the torsion rod is subject to the steering
force providing power assistance. If the steering effort is reduced, the torsion rod will spring back and the valve will return to the position in which the
fluid circulates freely through the valve housing. The action is basically the same when steering to the right, the only difference being that the
high-pressure fluid is admitted to the right-hand side of the rack piston through the lower external supply line.