< PREV PAGE
NEXT PAGE >
V70 XC AWD L5-2.4L Turbo VIN 56 B5254T (1998)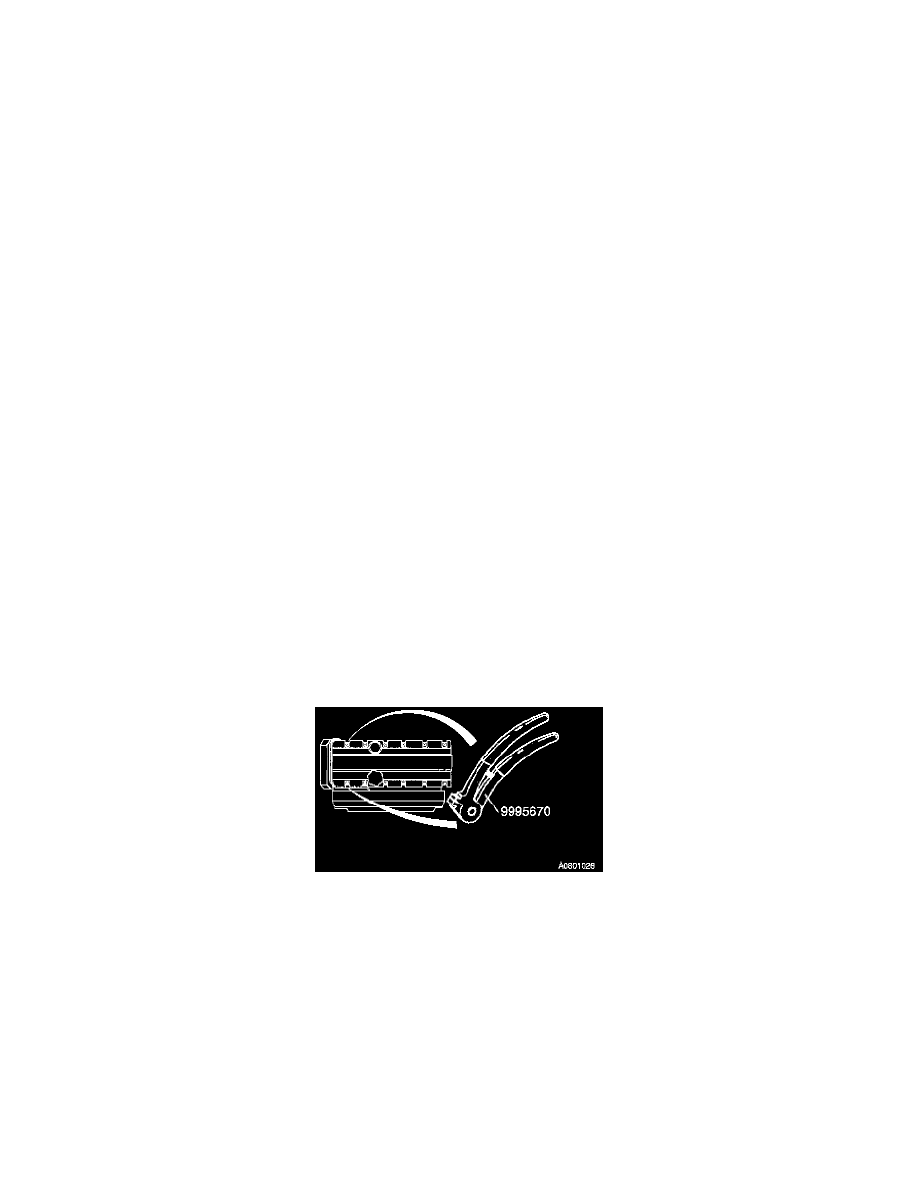 Camshaft: Technical Service Bulletins
Tools - Removing Camshafts
SECTION
2
GROUP
21
NO.
0008
YEAR
1997
MONTH
12
REFERENCE:
TP 2102201, Section 2(21) Reconditioning, Engines B5202, B5204, B5234, B5252, B5254; 850 1992- 
This Service Bulletin replaces the earlier SB 21-823 of May 1996 which should be discarded.
Removing camshafts
Background:
The tools and method that should be used to remove the camshaft housing cover are shown.
This method prevents damage to the camshaft housing thrust bearing.
Tools:
2 valve engines:
999 5508, 999 5454
(x2)
4 valve engines:
999 5453, 999 5454
(x2)
2/4 valve engines:
999 5670
(x1)
Method:
Install tool 999 5453 or 999 5508 to secure the front of the camshafts.
Install tool 999 5454 with a few millimeters play to the camshaft housing cover, remove all screws.
Disconnect camshaft cover with pliers 999 5670 at stop lugs. Start with cylinder 1 and work alternately backward.
Open and slacken off tool 999 5454 step by step so that parallel movement is ensured when removing camshaft housing cover.
Changes in Service Manual
The labels in this Service Bulletin must be stuck into the Service Manual according to instructions. After that this page should be removed from the
Service Bulletin and discarded.
Applies to Service Manual Section 2(21) Reconditioning Engines B5202, B5204, B5234, B5252, B5254; 850 1992-
C.
Cylinder head, removal
< PREV PAGE
NEXT PAGE >