< PREV PAGE
NEXT PAGE >
V70R AWD L5-2.3L Turbo VIN 52 B5234T6 (1998)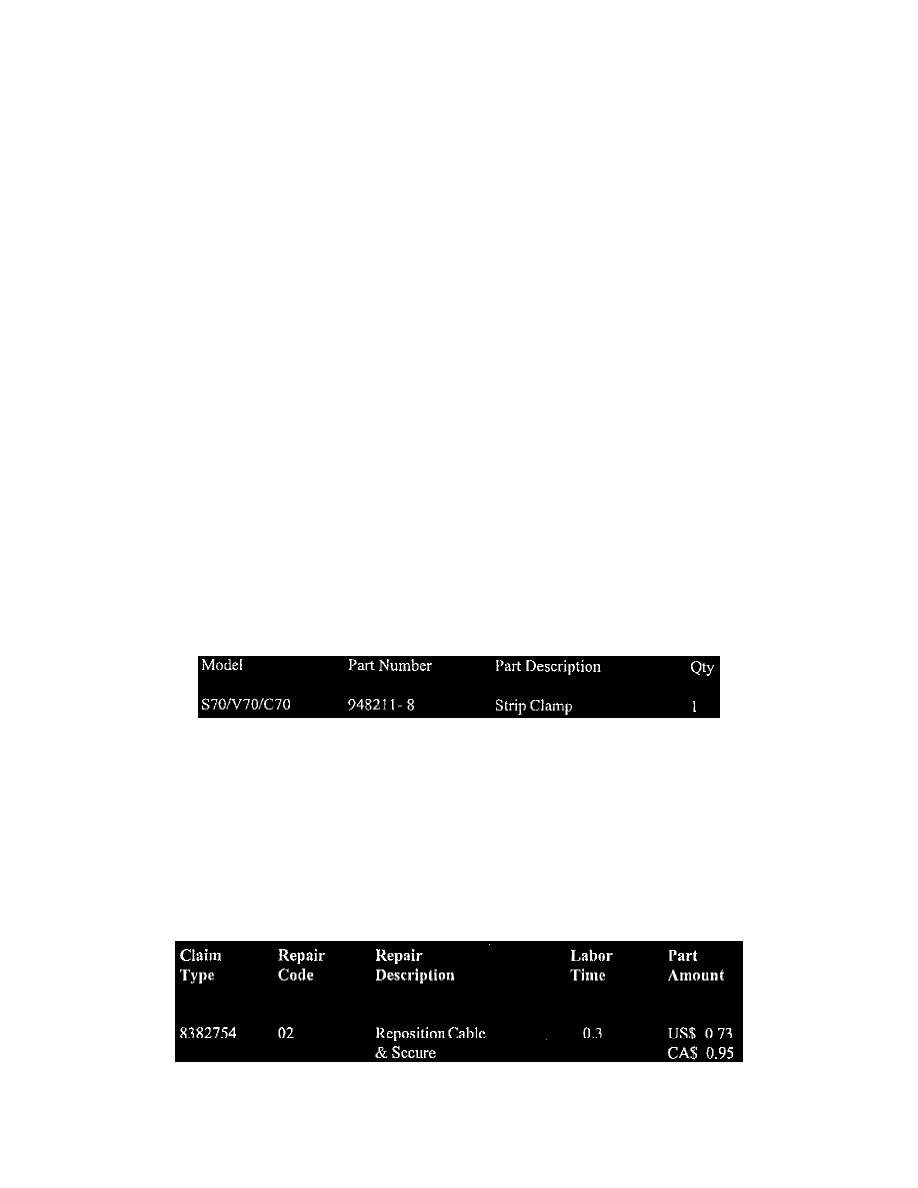 Assy plant 1
Assy plant 2
874 409466-489615
874
408556-489482
875/876
342001 - 434252
Assy plant 3
Assy plant J
874 422325-484420
872 000339-000691
875 356958-428582
Engine variant code: 52, 53, 56
Note:
The chassis numbers above give only an indication of chassis number range affected.
Prior to the release of this Service Campaign, this repair was performed on vehicles within the affected vehicle chassis range. This service campaign has
been marked as performed on those vehicles.
NOTE: 
RETAILERS MUST CONFIRM VEHICLE ELIGIBILITY PRIOR TO BEGINNING THIS CAMPAIGN.
Vehicle eligibility should be confirmed:
1)
Refer to DCS Vehicle Inquiry
2)
Refer to the Vehicle Campaign Listing
C. Retailer Vehicle Campaign List
"A Retailer Vehicle Campaign List" will be sent separately identifying the specific vehicles eligible for this campaign. This list details all affected
vehicles that are on record as being retailed or currently in stock at your facility. This Vehicle Campaign List will be the only written material you will
receive from Volvo.
A separate listing office vehicles listed in this service campaign is included in this Service Manager Bulletin.
D. Parts Return
Please refer to Parts Bulletin Group: 23 No: 83C Dated May, 1998
 
There are no parts to return.
E. Owner Notification
During the week of June 1, 1998 an announcement letter will be sent directly to Volvo owners.
F. Stock Vehicles
All vehicles in retailers stock and qualifying for this campaign must be inspected/repaired prior to a customer taking possession of the vehicle.
G. Retailer Responsibility
Retailers are to perform this campaign on eligible vehicles regardless of mileage/kilometers or vehicle age. The campaign work covered under Service
Campaign 83C is free of charge to the owner.
In the event that the original announcement letter is lost or misplaced, the owner is not to be refused this important campaign work. Your Aftersales
< PREV PAGE
NEXT PAGE >